5 Questions To Improve Your Workflow, Customer Retention & Sales
When it comes to commercial interiors, a balance between functionality and visual appeal are key goals to achieving success – and a pharmacy counter design is no exception.
Commercial drivers, product sale-ability, space and positioning are all important elements to take into consideration when designing for a pharmacy shop fitout or renovation.
In fact, store appearance is key to not only the successful sales and marketing of your products but also the future retention of your customers going forward. Put simply, a pharmacy counter design that is easy to navigate as well as easy on the eye gets the shoppers.
---
Why Is Pharmacy Counter Design Important For Customer Experience?
In a 2019 Report by retail customer experience experts, 70% of shoppers complained of a negative shopping outing attributed to "empty or broken shelves, disorganised inventory and poor physical appearance."
Of those 70% unhappy customers who were surveyed, 64% left without making a purchase. Not great for your bottom line.
Even though a great quality pharmacy fit out or renovation can be a costly exercise, statistics have shown that it is an investment worthwhile if your pharmacy design and process are carefully researched.
These statistics have revealed an important fact to note – that even though growth of the online market continues to rise, shop front businesses, including pharmacies, are still frequented by the consumer.
According to data from the National Retail Federation, almost 79% of consumers surveyed still go into the shops for their pharmacy needs.
So before you begin the process of designing a new pharmacy counter, we recommend taking a look at our top five questions to ask yourself when considering a modern pharmacy counter design.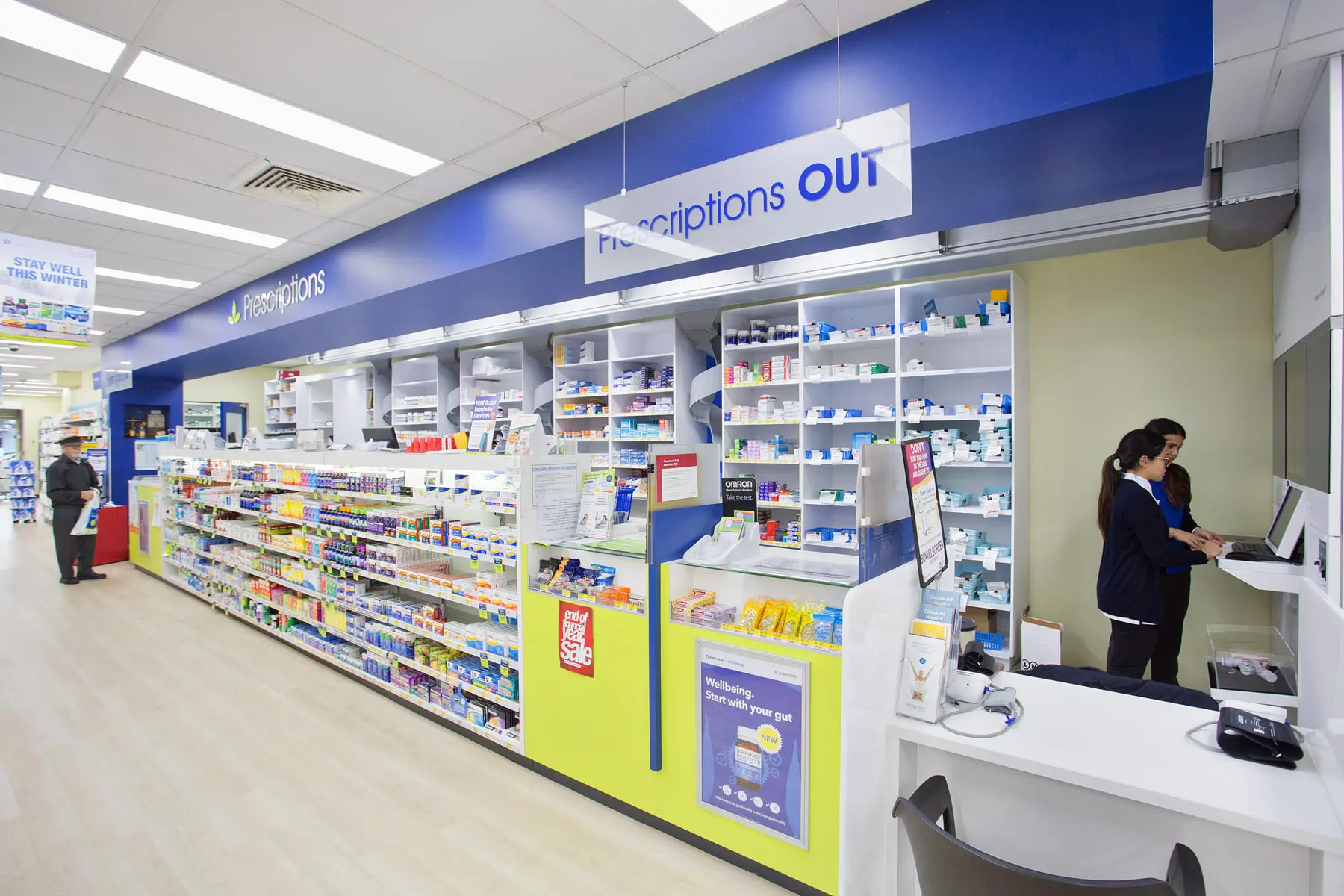 ---
Question #1
Why Should You Do Research Before Your Pharmacy Counter Design?
Research and development will give you the insight and knowledge to design a counter that is best suited for your pharmacy fit out or renovation.
It is about discovering:
1) Your customer base: Who are your shoppers?
2) Your product base: What products are the most popular and therefore sell the most at your pharmacy counter? Alternatively, what products sell the least?
Once you have this data, you can look at designing a pharmacy counter that displays the products your customers want to see most.
Quite often there is a wide variety of products that require additional counter space – researching what these are will allow you to factor this essential space into your pharmacy counter design.
---
Question

#2
What Should You Consider For Your Pharmacy Counter Design Budget?
Working within a budget your business can afford to spend is crucial to the next phase of the new counter design in your pharmacy.
When setting your pharmacy counter design budget, consider the following:
• Return on investment – when will you see your money back?
• Pharmacy turnover. There is no need to install the grandest pharmacy counter when your business financials cannot justify the investment.
• Product count. Is your pharmacy counter displaying too many unprofitable products? Likewise, is your counter drastically under-stocked?
• Does every part of the pharmacy counter need to be brand new? Existing pharmacy furniture can quite often be integrated into the new pharmacy counter design, saving quite a bit off your bottom line.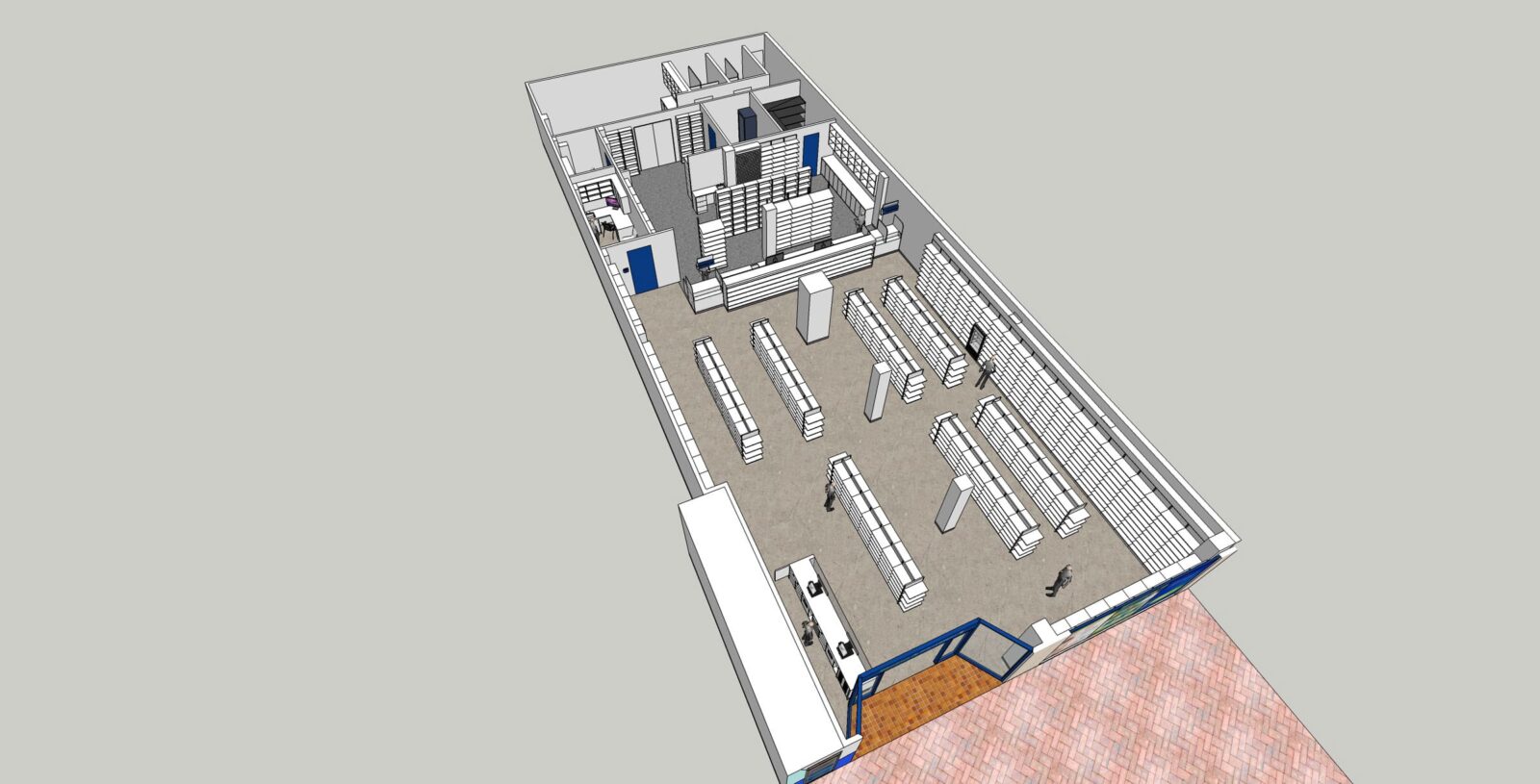 ---
Question

#3
Why Should Your Pharmacy Counter Design Incorporate Technology?
Modern-day pharmacy counter designs are as tech-savvy as any other retail store.
From iPad integration that allows customers to learn more about a product type to television screens promoting the latest supplement or vitamin, technology should be considered in your pharmacy counter design.
If budget constraints do not allow for technology right at the minute, think about incorporating the ability to add these in the future into your pharmacy counter design. This will save time and money down the track. Modern-day pharmacy counter designs are as tech-savvy as any other retail store.
From iPad integration that allows customers to learn more about a product type to television screens promoting the latest supplement or vitamin, technology should be considered in your pharmacy counter design.
If budget constraints do not allow for technology right at the minute, think about incorporating the ability to add these in the future into your pharmacy counter design. This will save time and money down the track.
---
Question #4
Why Are Space & Layout Important For Your Pharmacy Counter Design?
Space and layout are key players in the pharmacy design stakes and need to be carefully considered before installing a new pharmacy counter.
A smaller sized pharmacy with limited space in and around the counter needs planning and assessment before taking the next step with the interior pharmacy design. Customers do not want to be fighting for space around the counter if, for example the counter is too big and the pharmacy store is too small.
Alternatively, a pharmacy counter design that is undersized for an area can look awkward, under-utilising the display space for products and therefore reducing the bottom line of the business.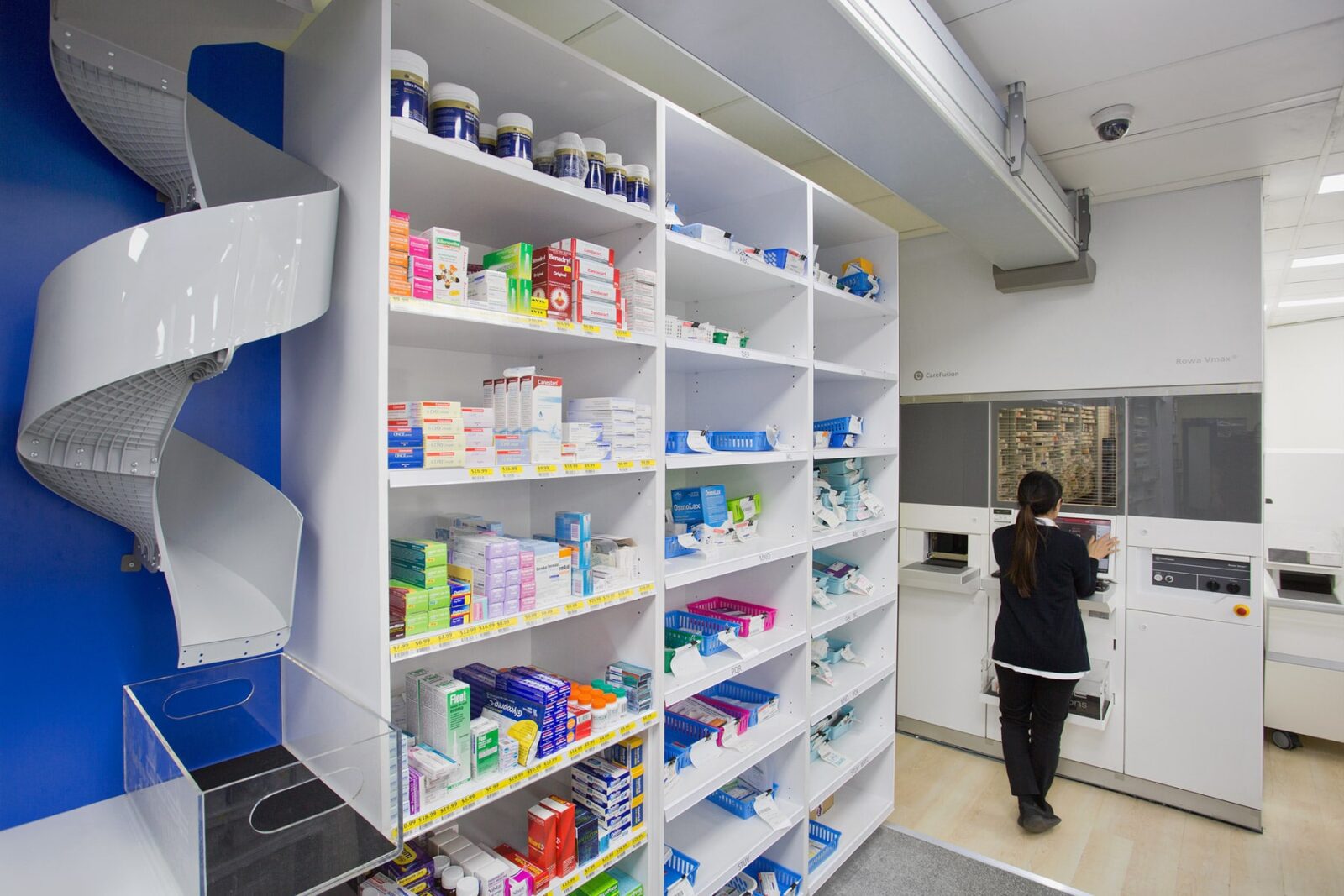 ---
Question

#5
Why Should You Future-Proof Your Pharmacy Counter Design?
Leading on from the technology aspect in question four, it is important to design a pharmacy counter that will take your business well into the future.
A newly designed pharmacy counter can be expensive, as can a new display shelf, display racks and store furniture. Thorough research and a strong consideration for the future of the pharmacy must be taken into consideration for not just the short term goals, but for well into the future of the business.
Using past and current data, as well as following market trends, assess how much your pharmacy business is likely to change down the track. Then be prepared in your modern look pharmacy store to change with it.
---
How Can You Future-Proof Your Pharmacy Counter Design?
Look at bringing into your new pharmacy counter design:
• Additional sockets, cables and lines for future technology installation
• Units that allow for additional display shelves to be added
• Store furniture that won't date, break or look shabby after such a short amount of time. Investment in quality store furniture now will save you money in the long term.
• Display areas within the pharmacy counter design that be widened, heightened or completely removed depending on product requirements and layout.
Remember, the key to a successful pharmacy counter design is making sure there is always room from growth and product expansion for the future.
---
What's The Benefit Of Working With Pharmacy Design Experts?
At the end of the day, no one is more passionate about your pharmacy and business than you are, so it's extremely important to find an experienced pharmacy design and build company that can match your enthusiasm and is just as passionate about your business's success.
For ImpeccaBuild, quality is more than a promise, it is genuine performance to all clients and we guarantee the highest level of quality across all our pharmacy design and build projects.
Put your confidence in the leading pharmacy design and construction team and only work with the experts who have your best interest at heart.
To learn more about our expert pharmacy design services or specialist pharmacy fitout solutions on offer, get in touch with us today.
---
Resources
An Impeccable Guide
Cafe Design – Owning a coffee shop business can be an incredible and lucrative career path to invest in, however it's a highly competitive industry and there are many factors you need to consider which will determine whether your cafe sinks or swims. We believe an essential element that contributes to the success of your business is the design and layout you choose.
It's a no brainer, navigating a poorly designed cafe layout can be frustrating for customers, hinder the work flow of your staff and impact the wait time of customers.
In addition to this, you might be serving great tasting coffee, but if your store lacks ambience and an enticing environment you could be losing potential customers. However, rest assured, through careful consideration and planning we can create the perfect customer design layout for your space to increase customer retention, not slow it.
We understand that for many business owners, opening your first coffee shop can be an overwhelming process and one of the main issues our clients present to us is how to choose the best layout and design for their store. However, with our guidance and assistance, this process will become much smoother, faster and stress free.
Is Your Coffee Shop Design Welcoming?
In this line of business, we simply can't overlook the importance of making an excellent first impression. And we are not just talking about the first week. From day one, and every other day after that, you'll (hopefully) meet new customers every day. Therefore, you need to ensure your design is welcoming and appealing, consistently.
Firstly, from a marketing perspective, it's important to remember to keep your target customer in mind during the design process. Your dream may be to create a cosy oasis where customers can escape to drink great coffee whilst reading the paper or work on a project in peace. If this is the case, then make design decisions that will help you achieve this goal.
If you want customers to feel at ease and relaxed as they step foot in your cafe then this will send them the right first impression. On the contrary playing loud rock music, will attract the wrong crowd.
Similarly, if you want your cafe to be more of a social hub for friends to get together and socialist, then you'll want to aim for a design with a more upbeat and cool vibe.
Consistency is key.. Your premises should be associated with a certain 'vibe' or experience. From the above, if you opt to play loud music, stick to that. This way, your clients will know what to expect when they come to your coffee shop.
The layout of your cafe places an equally as significant part on the first impressions of your customers.If a client walks into your coffee shop and starts noticing or making negative comments then you can forget about retaining him/her. One of the biggest mistakes coffee shop owners make is not considering a layout that is conducive to the customer. Put yourself in their shoes.
When you walk into a new coffee shop, do you usually know where to order? Or where you wait if you're getting takeaway? Your process should be clearly displayed to avoid customer confusion.
Customers expect ease and flow when they enter your cafe, and this is why if you mess up these minor details they stand out, and leave your customers confused and frustrated. When choosing designs, pay attention mostly to quality and customer comfort. The features of your ideal design is a key factor that contributes to creating lasting first impressions.
Tip #5
What's The Perfect Cafe Design Layout?
The ideal layout can't just come out of thin air. You must brainstorm and find something that works for you and your customers. The good news is, with the help of a skilled designer, this shouldn't be a big problem. So, what exactly is the ideal layout?
We are glad you asked!
In our opinion, the perfect layout is one that serves your customers efficiently during both peak and off-peak hours. For those that are opening a new coffee shop, coming up with an ideal layout is easier.
The biggest challenge is only for those whose shops are already in operation. You need to evaluate whether your baristas are moving efficiently and if services are being provided accordingly.
The best design for you should be both aesthetically appealing and ensure smooth service delivery during the busiest of times. Whilst all this is being done, your customers should feel relaxed and welcomed. Having a poor layout will stress your baristas as well as customers.
The perfect coffee shop layout should incorporate an ample view of the menu and pastries to take with the coffee. We recommend placing a large menu at the top so that clients can make up their minds even before they get to the cashier. This will help avoid long lines as clients try to go through the menus.
Time-savers such as the above are an integral part of a coffee shop design. And they can mean all the difference in popularising or de-popularising your coffee shop. You don't want to be labelled as the coffee shop that people wait too long to be served.
As mentioned above, it may not be easy to craft the perfect layout for your coffee shop. However, our designers can walk you through the basics of how to make your coffee shop the hottest and newest joint in town.
Coffee Shop Design Planning & Research
We understand how exciting a person may get when they come up with a brilliant idea such as opening up a coffee shop. However, that doesn't justify rushing into doing something you have absolutely no information about.
Just before you start planning on opening up a coffee shop, you should have a look around. Dedicate an entire week of visiting one shop from another. Try to find out what experience these shops are trying to give their clients.
Study the type of clients they are attracting the most and compare if the design in use has anything to do with that.
Note the positives as well as the negatives. Instead of criticising the negatives, brainstorm ideas on how you would correct these drawbacks.
If according to your plan, you intend to use machinery to attract clients, then be professional about it. Ensure that all equipment is strategically positioned within the coffee shop.
Cover and decorate these machines with bright and branded colours. Make sure that what meets the eyes of your clients is perfect.
The sight of a dirty and unattractive coffee maker can be a huge turn-off for some clients. This should be avoided at all costs.
The reason why you should conduct thorough research is to come up with a unique design. During your visits to other coffee shops, you will notice a common pattern.
Avoid these common layouts so that clients can notice the difference between your shop and the rest. You will also gain a lot of inspiration from doing research. But refrain from copying ideas.
Before doing this, you must have a certain theme in mind. Incorporate what you have learned from your research and the theme you had in mind to bring your dream coffee shop to life..
Other than the above-mentioned factors, your budget will also play a significant role in determining your coffee shop layout. This is why you need to work with a professional designer who understands how to implement necessary measures without breaking your bank.
At the end of the day, the main goal here is to come up with a conducive environment that will please your clients and make it easy for you and your baristas to serve them.
Start With Cafe Menu Design
Expert designers recommend designing your menu first and foremost. It makes sense, the foods and drinks you decide to serve at your cafe will determine not only the size of your kitchen but also which equipment you will need to purchase to prepare it all.
All this information will ensure you create and design a custom kitchen and coffee station area perfect for what you want to achieve.
Not only that, the food you chose to serve will influence the design and decorative choices for your cafe.
To further aid your designing process, and to make sure you eliminate the chance of creating a messy layout, we suggest you think about all the different scenarios and operations that could occur in your coffee shop workstation.
This will ensure you don't miss out any of the more minor details in your design such as where employees will prepare snacks such as sandwiches or pastries and where drinks can be assembled without either of the two colliding with each other.
With the proper layout, your employees will be able to work faster and won't tire easily. Their work morale will always be on top because there are no challenges they're going to run into.
By designing your coffee shop layout in this order, you have more of a chance of avoiding possible challenges as you get further along in the process.
How To Design A Cafe Menu
Menu design can often be an afterthought for many cafe business owners.
However, the way in which you display what items you sell is more important than you think, after all, the food and drink your serve are the heart and soul of your cafe, its what keeps customers coming back for more…
So don't make customers have to search your cafe to find your menu because you t haven't put in the effort and thought into their design.
Although there are lots of online tools and software that can help you create simple menus.
We advise hiring a skilled graphic designer who can create stunning looking menus as well as sign boards to be placed on top of the ordering counter or on adjacent walls.
A professional will advise you on how to de-clutter your menu and arrange food items in the proper format.
The drinks menu should be placed near the food menu. This makes both easily accessible to customers and can promote an impulse buy, boosting your sales.
Be very clear with whatever you write on your menu. Beverages and foods should be written according to their original names.
Translations can make them lose meaning. You might want to look at the menus of other coffee shops so that you can have a rough idea of what to include.
For coffee shops situated in busy cities, you should consider writing digital menus and distributing them to businesses, companies, and people working nearby.
Should You Hire Cafe Interior Design Experts?
Trust us when we say designing a cafe can be stressful at times, but by seeking the help and advice from an expert team the process becomes a lot simpler.
This allows you more time to think about all the other important stuff such as hiring employees and actually get excited about your new business.
Hiring a professional construction company who has lots of experience in cafe design is the only way to confidently invest in building a shop that will succeed.
Companies who offer end-to-end cafe fit-out solutions should be able to take your thoughts and ideas and reflect them in a unique design of a space that not only looks good, but it is durable and practical as well. Furthermore, they only work with highly skilled and experienced trade contractors, so you know your job is in good hands. 
There are countless reasons why you should choose a highly qualified plumber, electrician, carpenter or any other contractors for that matter. The main reason being, they have the skill, expertise and industry know-how to ensure you receive the utmost attention to detail. 
It would make no sense if you built an inferior coffee shop only because you wanted to avoid the costs of paying a designer.
In your search for the best coffee shop designer, please consider skill-level, experience and reliability. These are the characteristics of a coffee shop designer that will help you develop an award-winning food service business.
Companies who offer end-to-end solutions should be able to take your thoughts and ideas and reflect them in a unique design of a space that not only looks good, but it is durable and practical as well. However, some business owners choose to manage their fitout project themselves.
Cafe Floor Design – Seating & Retail Area
Since these two areas are where you will be making your money from, it is imperative that you design them accordingly. How Should You Design Cafe Comfort Areas?" A comfort area is where your clients sit to enjoy their coffee. It isn't mandatory for you to have a comfort area, but having it guarantees more sales.
Compared to a shop which sells take away coffee, one with a comfort area is more rewarding.
When designing the comfort area, lighting and seats are key elements to consider.
Drop lights can enhance aesthetics, whereas comfy seats can make the comfort area more appealing to customers.
And since there might be some clients who might try to get some work done while sipping something in your store.
You should be considerate of their needs by installing public WiFi, have extension sockets on the walls and the seats, as well as tablets, should be of moderate height.
On one corner, you can add bar stools for people looking to spend some alone time. How Should You Design Cafe Retail Areas?" The other important section of a coffee shop is the retail area. This is where orders are going to be made and most importantly, money is going to flow into your business.
When designing a retail area, visit a couple of chain stores and see what they have done with their areas.
Gain inspiration from their designs and create something unique for your store.
Should You Invest In Quality Cafe Design Finishes?
Building an excellent coffee shop from scratch doesn't have to be expensive. As long as you are creative and add a personal touch to your overall design, your coffee shop will be the envy of the entire town.
One of the ways in which you can build a stunning coffee shop is by investing in quality interior finishes.
If you have done your research well, then you can bear witness that investors aren't afraid of going all-in when it comes to interior finishes.
To be at par with your competition, you should do the same. There are many interior finish designs you can choose.
What kind of flooring should you choose? Nowadays ceramic tiles come in various patterns and you can also order customised ones.
Picking anti-slip tiles is a great choice because it will enhance safety. Acid-etched concrete is another alternative.
Although rugs can greatly improve interior aesthetics, they are hard to maintain especially after a few coffee spills.
Additionally carpets may wear out over time and require a replacement which can be a big hassle.
So we advise against these options. You may like to place mats at entry points to help keep your floors that extra bit cleaner.
You can also spice up the appearance of your walls. For example use wood panels to create a feature wall, making your store look more rustic and chic.
Alternatively, you can brighten up dull walls with colourful wallpaper and treatments such as faux finishes and murals.
Why Is An Ergonomic Cafe Design Important?
Ergonomics have grown to become an essential aspect of the workplace environment. It ensures the environment is fully compatible with the employees and clients.
Gone are the days when comfort was considered only as a luxury in the workplace. Today, ergonomic designs are part of the workplace systems and are recommended by experts worldwide.
These particular designs are formulated to meet the requirements of the human body. As a result, it ensures employees perform their duties optimally.
It also reduces employee fatigue, minimises the risk of accidents at the workplace and most importantly boosts employee morale.
Good ergonomic designs shouldn't only be limited to your employees but customers as well. The chairs and tables need to be ergonomic.
As mentioned earlier, some of your customers may like to catch up on some work or study in your cafe.
Why Is Cafe Lighting Design Important?
Lighting plays a pivotal role in running a coffee shop. Customers and employees need to clearly see what they are buying and selling respectively.
The ideal coffee shop design should be able to let in natural light all through the day. The only exception is if your shop is located in between buildings where you can't get access to natural light.
Although natural lighting can be very cost-effective, it can sometimes become an obstacle.
Direct sunlight beaming through a window for several hours a day can make temperatures unbearable for customers and staff, especially if you don't have air conditions.
Consider installing an awning outside windows. Or, put up curtains to block excess light.
If natural light is limited, fluorescent lights and incandescent bulbs are some of the best lighting options. These lights can reflect shiny surfaces or you can use coloured bulbs to warm up the interior.
You need to ensure that different areas have varying lighting intensities. Seats around corners should be dully lit to create a romantic or idyllic mood. In other areas, ensure the light is bright enough to accommodate reading.
How Should You Design Cafe Seating Areas?
The type of coffee bar you intend to open will determine the ideal seating arrangement to be installed. Coffee shops that will be serving lots of people and are located in busy locations, should have tall and hard chairs that discourage longer stays.
Whereas, a coffee shop that intends to accommodate customers for longer should have low and comfy couches.
Depending on the size of your coffee shop, you can either offer many or little seats. If the available space is big enough to accommodate a large coffee shop, then don't hesitate to get as many seats as possible.
As you do this, consider durability and cost-effectiveness. Do some digging on which seats are more durable. Delicate furniture that requires frequent will repair will mess up your finances.
Don't forget about the tables. The tables should feature a standard height and shouldn't be too far or too close to the seats. Your customers should be able to comfortably enjoy their drinks and snacks without strain.
Should You Integrate Technology In Your Cafe Design?
Coffee shops have today become working stations for people like freelancers or self-employed professionals.
If you visit a coffee shop at any time of the day, you will see a good number of people busy working on their laptops or mobile phones. Others even go to the extent of scheduling meetings there.
As a business owner, you can use this to your advantage by integrating technology for working clients in your design.
This includes offering WiFi and power plugs to working clients. This will keep them there for longer and as a result, they will buy more from you.
If you are going to offer WiFi to your customers, then you need to do it right. Don't opt for the cheapest internet package because you think it's just another expensive…you will learn to regret it.
Slow WiFi is a huge turn off for many people, especially if people are trying to do their work.
So pay a little extra and work with a reliable service provider who will offer wireless internet connectivity 24/7. We promise it will work in your favour.
The longer you keep customers in your shop, the higher the chances of them purchasing more increases.
Not to mention, a coffee shop that is always full sends a message to potential customers that it is the place to be.
If your coffee bar is located near an institution such as a college, then some of your customers might need a place to study or hold group discussions. Therefore fast internet will be mandatory.
Why Cafe Music Shouldn't Be An After-thought?
The music you play in your coffee shop dictates the mood. Slow music in the background brings about a sense of relaxation, whereas loud music psyches up your customers.
To avoid monotony, you can play different music depending on the time and clients around. If you intend on installing a music system, do it early in advance before wallpapers and other decorations are installed.
In your design, you need to plan on where you are going to put the speakers. You can allocate one of your baristas to be in control of the music.
However as you do this, know that baristas are also human and even though they may have great taste in music, it may not be suitable for your customers.
Music apps such as Spotify and Pandora can make it easier for you to play different genres from morning to evening.
How Can You Create A Unique Cafe Design?
When customers first approach us, seeking help on their coffee shop design, we always ask them research designs they life first.
This helps us gain an overall idea of the type of coffee shop they wish to create and helps us provide them with a unique design we know they'll love.
You are probably asking, why do we ask our clients to do that? Through your research, you give us a rough idea of the design you are looking for and features that matter most to you.
You are aware that there are hundreds of coffee bar designs out there. It's only through your help that we can find the perfect fit for you.
Don't be fearful of getting creative and testing out your ideas. For instance, you can decide to use local paintings as wall decorations.
By doing this, you are not only decorating your coffee shop, but you are also promoting local talent.
This will help your business establish dominance within your community and if your customers feel appreciated, they will remain loyal.
These simple touches will create a unique atmosphere in your shop. Whether you are aiming to excite, comfort or cheer customers, these unique decor ideas will do just that and convince them to visit your shop again.
Sharpen Your Coffee Making Skills
Although there are lots of large restaurants that only started as coffee shops, it is advisable for you not to forget what your main product is.
One of the perks of running a coffee shop is that you can add other beverages and meals to your menu.
However, understand that your primary identity is coffee. Therefore, before you learn to make anything else, your coffee preparation skills need to be top-notch.
No matter how beautiful your coffee shop is, if your coffee is below standard, you can say adios to your clients. 90% of coffee enthusiasts can know the value of a cup by taking the first three sips.
Fortunately for you, there are lots of coffee skills workshops that you can enrol in.
By attending these week-long workshops, you will learn relevant espresso skills and also how to manage a coffee business.
As the owner, you should pick up a habit of updating yourself with the latest trends in the coffee business industry.
How Important Is Branding For Your Cafe Design & Success?
We are living in an era where coffee shops and other types of cafes are being launched left, right and centre. All featuring fascinating designs.
This is a clear indication that coffee shop designs contribute immensely in creating a certain ambience that draws in customers.
Amidst all this competition, it might seem hard to find the best design for your coffee shop. However, staying true to yourself and your brand will turn your dream into a reality.
Accompanying this with putting your customers first, you will surely succeed in this investment.
As simple as making a cup of coffee may sound, creating a successful cafe business can be complicated.
The above elements are crucial ingredients for designing an ideal coffee shop business.
With these guidelines and the help of experienced professionals like ourselves, we are confident we can create a stunning, and unique cafe design that both you and your customers will love.
Speak With The Experts
Here at Impeccabuild, we  understand that creating the perfect cafe design for your business takes time and careful planning.
There are a lot of things to consider, and it can become overwhelming at the best of times.
Having gone through it numerous times, we are confident our experiment team will help make this process as stress free as possible.
Not only can we design the perfect cafe with your best interest at heart but we can also construct and build it for you too.
If you're ready to start your project or need some guidance, talk to our coffee shop design and cafe fitout experts today.
Resources
You may also like to read: