Pharmacy Shop Front Design
An Impeccable Guide
---

Why Is Pharmacy Shop Front Design Important?
The importance of the right pharmacy shop front design for your profits can't be overestimated. As well as forming the entrance to your premises, your pharmacy shop front design is one of your most powerful marketing tools.
Whether you're planning a complete renovation, a partial remodel or a brand new pharmacy fitout, here are five important reasons why the design of your pharmacy shop front matters.
1. First Impressions Count
The pharmacy shop front design is the first thing your customers see, which is why it's vital it stands out for the right reasons. Not only does it have to be vibrant enough to draw the eye of pedestrian traffic, but it also needs to appeal to passing motorists.
When drivers only have a split-second to register your presence, a bold and recognisable pharmacy shop front design is vital. Features such as branding, logo, colours and the condition of the shop front will all be assessed in a moment. For this reason, a high-grade pharmacy shop front design is an absolute necessity.
2. Boost Your Branding
Being able to recognise your brand is a key factor in promoting customer loyalty. Your pharmacy shop front design needs to clearly display your logo and corporate colours in a way that's easy to recognise.
It's also important that the nature of your business is clear. Since pharmaceutical products are an essential purchase, customers will be drawn by your product lines as well as by who you are.
3. Showcasing Key Messages
From unique selling points such as free prescription delivery; pregnancy testing; lifestyle assistance; blood sugar checks, through to essential information such as opening hours; pharmacy licensing, a pharmacy shop front is a prime site for displaying key messages.
A successful pharmacy shop front design needs to incorporate provision for displaying messages that customers will find of value.
4. Accessibility
Pharmacies are required by everyone at some point or another, so accessibility is a key consideration. Ensuring that the pharmacy shop front design looks (and is) accessible to people with varying abilities could be what tempts a customer to opt for you rather than the competition.
Features such as a flat approach; automatic doors; grab rails if appropriate; and considerations for the visually impaired can all make a positive impression, as well as make life easier for customers.
5. Visibility
To attract customers, people need to know that you're there!
A fresh, striking pharmacy shop front design is instantly noticeable, letting shoppers know that the pharmacy is there to provide what they're looking for.
With the potential to deliver a significant ROI, a stylish and modern pharmacy shop front design can really make a difference to business performance.
---
Pharmacy Shopfront Signage
How Should You Combine Signage & Pharmacy Shop Front Design?
Top-quality pharmacy shop front signage can have a direct impact on the number of new customers and ultimately your bottom line. The right pharmacy shop front design and signage is a might marketing tool!
Take advantage of the potential which exceptional signage and pharmacy shop front design can provide with these five professional tips: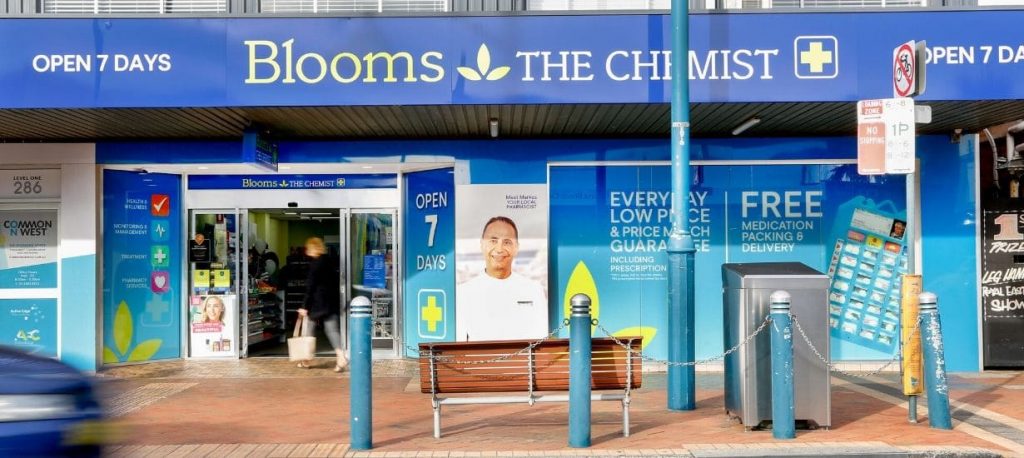 1. Check Your Pharmacy Shop Front Signage Is Legal
From permitted pharmacy shop front signage dimensions through to prohibited colours, floodlighting restrictions and more, each area has its own set of pharmacy shop front design codes.
These can vary from street to street, depending on the nature of the neighbourhood, age and architectural significance of the building and related variables.
Ensuring your pharmacy shop front design ticks the right regulatory boxes is essential to avoid trouble further down the line.
2. Keep Consistent Branding
Your customers will already be familiar with your logo and corporate colours. Similarly, if you use a particular font or other distinctive visual symbolism, customers will be used to seeing it in connection with your business.
Your pharmacy shop front design needs to give the same visual cues as your website, van wrapper, posters, flyers, adverts (digital and real-life), stationery, and anything else connected with your business.
Consistent branding is one of the hallmarks of successful marketing, so make sure your pharmacy shop front design matches the rest of your branding, whatever form that takes.
3. Ensure Your Pharmacy Shop Front Signage Is Visible
The best signage in the world is no good if customers can't see it! Before putting your pharmacy shop front signage in place, check that it's clearly visible from the road and the street.
Look out for nearby street furniture (signs, trees, telegraph poles etc) that might obscure signage and adapt the pharmacy shop front design accordingly.
Particularly if you open after dark (and many pharmacies keep late hours), it's worth considering floodlit signage to increase visibility when the lighting is poor.
4. Is Your Pharmacy Shop Front Signage Readable?
Small print, too much information or poorly placed signage can all result in confusion for customers. Keep your pharmacy shop front signage simple but clear.
The key considerations are to ensure customers recognise who you are, know your location and can see when you're open.
5. Keep Your Pharmacy Shop Front Signage In Good Shape
Tatty, broken or outdated pharmacy shop front signage is never a good look. Whether you need to replace the signage altogether, get it cleaned, add a lick of paint or repair damage, it's vital your signage appears fresh, clean and appealing.
These considerations will ensure that your pharmacy shop front signage gives you customers the visual cues they need to choose you over the competition!
---
Pharmacy Shopfront Doors
What Should You Consider For Pharmacy Shopfront Doors?
Pharmacy shopfront doors don't just need to look good, they also need to be durable, secure and offer great value. Here we take a look at what to consider when selecting pharmacy shopfront doors, as well as identifying the various types of door available.
Metal Or Glass Pharmacy Shopfront Doors?
Most commercial pharmacy shopfront doors are mainly made of either metal or glass.
Whilst some shops do have plastic or timber doors, these aren't usually secure enough for a pharmacy, where drugs or other hazardous substances are stored. Metal doors usually have the edge when it comes to durability and sheer strength.
Whilst attention needs to be paid to the type of locks which are used with metal doors (poor locks can be a weak point in the door's security), in general, metal doors are ideal for back doors, loading doors and similar entrances.
Steel is the preferred material if strength is a priority. For a more contemporary, less utilitarian look, aluminium doors offer lightweight toughness.
Why Opt For Glass Pharmacy Shopfront Doors?
Toughened glass is an extremely strong material, at the same time as looking attractive. Glass pharmacy shopfront doors enable passersby to look directly into the shop, providing an opportunity to showcase the store's interior.
This can offer a strong invitation to pop in and buy! Another major advantage of glass pharmacy shopfront doors is that they let in natural light – always welcome, particularly in shops where other sources of natural light are limited or non-existent.
To ease potential congestion problems, the glass pharmacy shopfront doors can be fitted with motion sensors for automatic opening, and are available as both single or double installations.
Installation Considerations
In addition to cost, it's also worth considering how difficult installation is likely to be, the level of traffic you are anticipating and predicted maintenance costs.
As well as the need to comply with relevant building regulations (including disabled access requirements), some pharmacy shopfront doors can only be fitted if the existing structure can accommodate them.
Pharmacy shopfront doors need to be wide enough to accommodate the number of customers you expect – a bottleneck at the entrance can be hazardous as well as deter trade.
If you're not sure which doors are going to work best on your premises, it's worth getting professional advice.
As one of the more costly parts of a pharmacy shop front design and renovation, selecting the best pharmacy doors for your business is a crucial decision.
---
Pharmacy Shopfront Glass
What Should You Consider For Pharmacy Shopfront Glass?
Security and appearance are two key shopfront considerations that can often appear to be at odds with each other. One of the biggest challenges in shopfront design is to create a frontage that looks inviting at the same time as containing powerful deterrents to theft and vandalism.
Glass is the preferred material for shop windows and doors, as it has many practical and aesthetic benefits. Glass lets in natural light, enables store owners to showcase their products. It also provides an attractive, fresh look to any shopfront.
Unfortunately, glass is also a relatively fragile material. This means it can be a weak point in pharmacy security.
Here we take a look at how glass-rich shopfronts can be constructed to be both appealing and secure.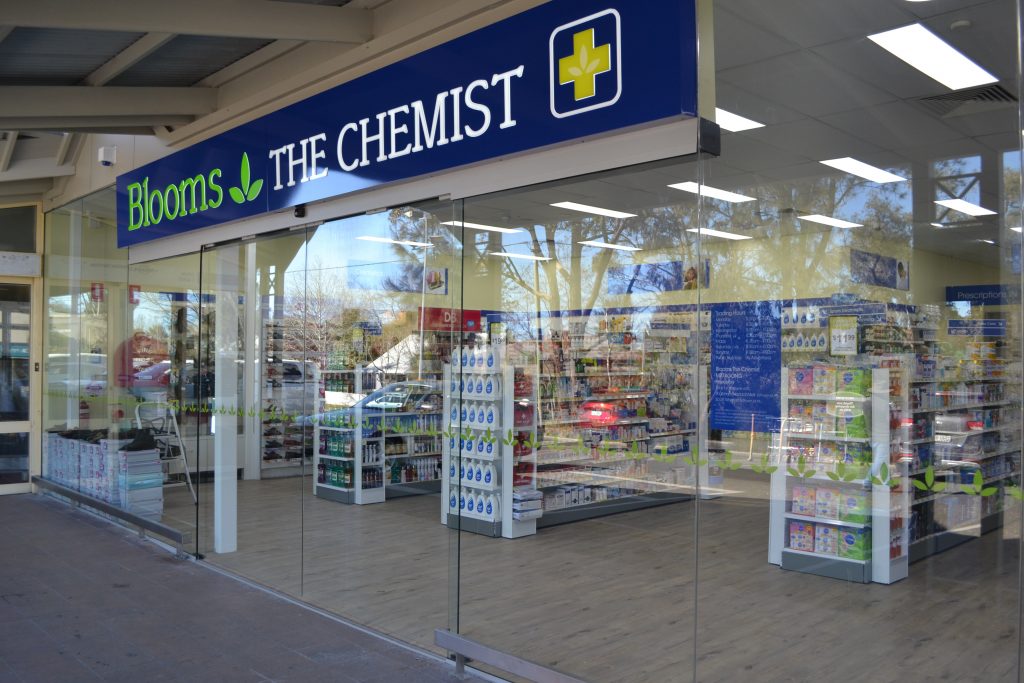 Toughened Pharmacy Shopfront Glass
Toughened glass is glass which has been heated and then cooled rapidly (tempered). The tempering process creates glass which is up to five times stronger than conventional glass.
Difficult to shatter, when a toughened glass is broken, it breaks into a myriad of small pieces, rather than sharp shards. This makes it a good safety glass as well as a more durable alternative to conventional glass.
Laminated Pharmacy Shopfront Glass
Laminated glass may or may not also be toughened glass. To create laminated glass, an additional layer of strengthening material is inserted between two glass layers. This can be heavy-duty plastic or a wire mesh.
Lamination can also be added as a retro-installation: it's possible to add lamination to existing pharmacy shop windows. A further alternative is to add a second pane of glass behind the first or install double glazing rather than a single sheet of glass.
Both types of glass reinforcement result in stronger pharmacy shopfront windows, but consideration needs to be given to the following before deciding on a pharmacy shopfront glass option:
The load-bearing capacity of the window frame/shopfront.
Your budget.
The size of the area to be covered.
The ease of installation and maintenance.
---
Pharmacy Shopfront Security
What Pharmacy Shopfront Security Options Are Available?
It's a sad fact that the type of stock which pharmacies carry means that they're a prime target for vandals and thieves. Here we look at seven cost-effective methods of enhancing your security, both in-store and on the exterior.
1. Physical barriers
From steel grilles through to roll-down shutters and physical barriers in front of a shop front, there are a wide range of options when it comes to physical barriers.
Metal doors and laminated glass are also choices which can provide further ways of reducing the risk of a break-in.
Many of these measures can be fitted retrospectively, enabling pharmacies to beef up their shopfront security with minimal disruption.
these are strong, metal grids which can be installed either inside or outside shop windows. A powerful physical barrier, grilles can be fitted retrospectively to provide added protection.
Grilles are operated manually (reducing the chance of failure) and can be used during opening hours as well as an overnight security measure. Premises continue to receive natural light whilst the grilles are in place.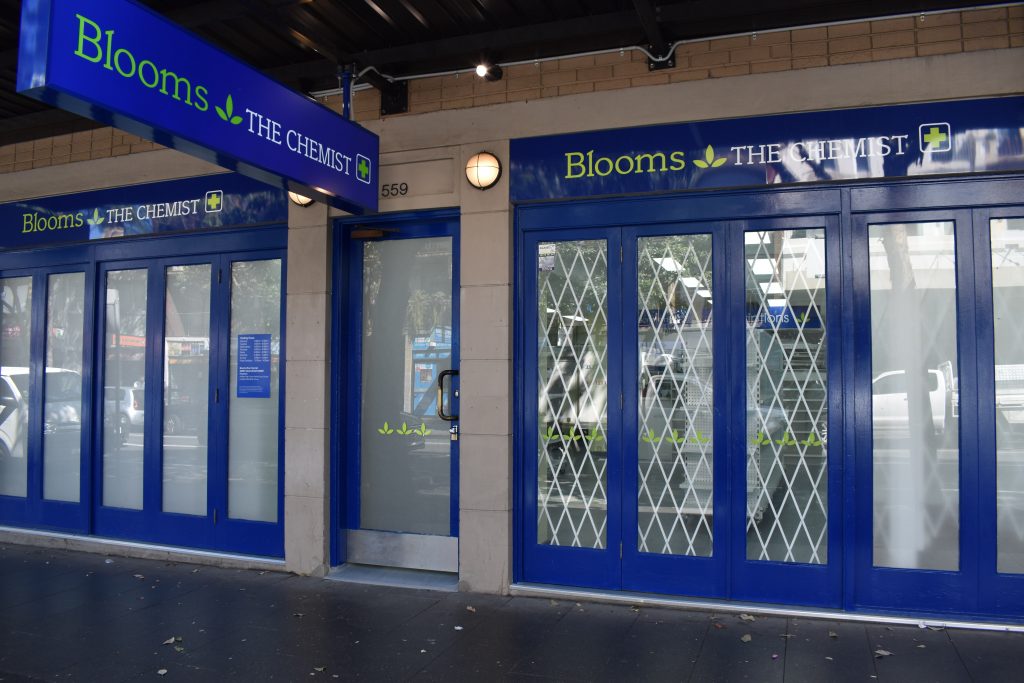 usually made of steel, shutters roll down to provide complete protection for a shopfront window or door. Able to be operated electronically or manually, these work well where high levels of security are required at night.
Designed to prevent ram raiders, bollards in front of the shop can be created in all sorts of innovative styles! Unfortunately, they don't deter thieves on foot.
There are numerous variables to consider when deciding on the right type of glass shopfront. If in doubt, seek professional assistance to ensure you obtain the best value for your investment.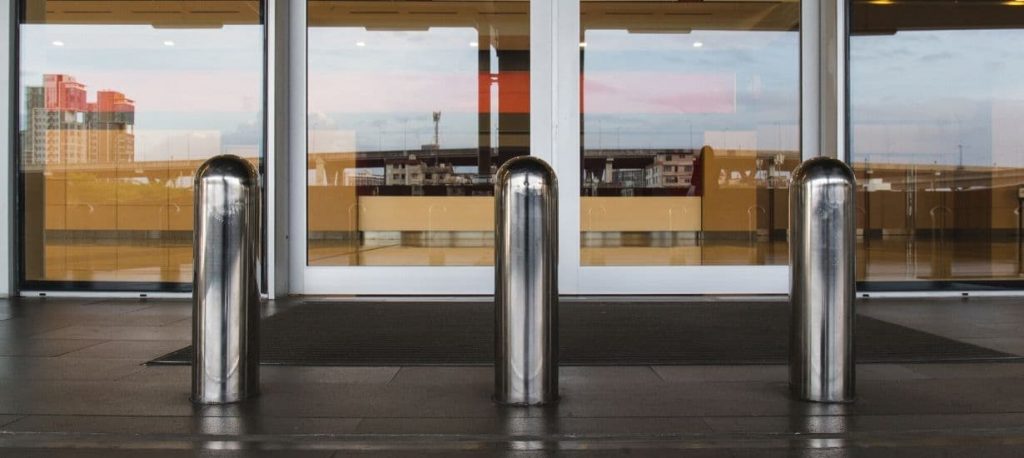 2. Deterrent Signage
Signage indicating that security measures are in place has been proven to deter criminal activity. Simply informing potential burglars that "no cash is kept on the premises" or "CCTV is in operation" may be enough to persuade them to seek an easier target.
Suitable signage is a cheap yet effective deterrent, which can make a real difference to security when used alongside other measures.
3. Alarm Monitoring
Alarms are an excellent way of sending out a clear signal that pharmacy security has been breached.
Unfortunately, because alarms can malfunction, many people don't pay attention when they hear an alarm go off.
That's why alarm monitoring is a good investment. If your alarm is triggered, an automatic alert goes through to the alarm response team.
They may send out a patrol, get in touch with you or inform the emergency services, depending on your preference.
4. CCTV
CCTV can be a powerful deterrent, as well as a source of evidence to support a prosecution if someone is caught stealing on camera.
CCTV cameras can be installed indoors or out. Some run automatically, whilst others can be monitored remotely by store owners or a security company.
5. Store Layout
There are plenty of ways to make theft much harder for would-be criminals, simply by changing how the pharmacy is laid out. These include:
Hiding away high-value products.
Making sure that customers can exit directly after check-out without needing to go back through the shop.
Keeping the pharmacy as an open plan layout, so that it's easier to spot people acting suspiciously.
Carefully placed mirrors can enhance surveillance.
Security tag more expensive products.
Uncluttered premises make it easier to see untoward behaviour.
Keep small, easy-to-steal items by the checkout.
6. Lock Security
The best steel shutter or grille in the world is going to have limited value if the lock securing it is weak or faulty.
A similar situation exists with respect to fixings: weak hinges or security measures which are attached weaker surfaces can all be vulnerable. There are now numerous lock choices, including remotely controlled locks!
7. Keep up with maintenance
Electronic security measures, in particular, can be prone to malfunction. Regular testing, monitoring and inspection are vital if your security is going to work well.
Get in touch for further information or a discussion of possible security measures for your pharmacy premises.
---
Pharmacy Shopfront Lighting
What Should You Consider For Pharmacy Shopfront Lighting?
The right pharmacy shopfront lighting can make or break your store's exterior, as well as the rest of your store's interior presentation.
Here we'll be looking at the various ways in which lighting can be altered to get the effect you want, as well as consider the four key tasks that your lighting needs to perform.
Brightness
Brightness is measured in lumens: the larger the lumens, the more light will be emitted. Various types of light bulb emit different numbers of lumens, even if their watt values are the same.
The most energy-efficient type of bulbs to opt for are LED, CFL or halogen incandescent options. These deliver more lumens/watt than traditional lighting options.
Temperature
Bulbs which burn colder emit light which has a blueish tinge. In comparison, as bulbs burn hotter, their colour changes, becoming more white or yellowish.
In general, customers will feel more at ease and welcome when warmer lighting is used, particularly for ambient lighting.
Colder lighting can be fantastic to accent a particular product, especially if it has a connection to winter or colder temperatures.
What Are The Main Pharmacy Lighting Types?
There are four types of lighting that need to be designed into a store in order to create a complete pharmacy lighting solution. These are:
1. Ambient Lighting
The main background lighting that every pharmacy and retail store needs so that customers and staff can occupy the premises safely, comfortably read product labels and feel comfortable.
How many of these lights you require and their brightness will vary depending on the size of your pharmacy.
2. Accent Lighting 
Perfect for showcasing special offers, product displays, seasonal displays or other selling points, accent lighting may be decorative and/or brighter than the ambient light.
The aim is to draw customers' eyes towards the illuminated display, showcasing goods that you are particularly eager for them to purchase.
3. Task Lighting
Checkouts; areas where pharmacists read prescriptions; or other parts of the store where close work is completed all need task-based lighting.
This is brighter than ambient lighting and is often provided by halogen or fluorescent bulbs, as these create light which is particularly good for reading by.
4. Decorative Lighting
With the intention of adding visual interest to a shopfront or interior, decorative lighting can provide a great way to attract customer attention.
Swan-necked lights in a shopfront window can be angled accurately to accent high-profile products, without blinding in-coming customers!
A wide variety of decorative lighting is available, including LED lighting which can be programmed to provide an eye-catching sequence of lighting formats.
Economical enough to alter or update on a regular basis, lighting is an important part of any pharmacy fit-out, for both aesthetic and functional reasons.
---
Resources