Whether you are planning to refurbish a clinic or you want to construct a super speciality medical centre, it's important that your facility matches up the dynamic standards of medical practices and latest developments in your field. What you need here is a healthcare fitout specialist and not a local builder! Premium-grade medical fitouts ensure that your practice space has the perfect balance of efficiency and visual appeal.
However, when it comes to building a new healthcare clinic or expanding or modifying the current one, the first question that comes to your mind is – what are the average medical fitout costs?
Here are some ballpark estimates on medical fitout costs:
• $800 per square metre (ex. GST) for a minor medical fitout (upgrading your reception area, etc)
• $1,000 to $1,500 per square metre (ex. GST) for a mid-range medical fitout
• $2000 + per square metre (ex. GST) for a premium medical fitout
Let us guide you through the process of how to plan the budget of your new medical fitout. We'll discuss how much the medical fitout costs and where you can save.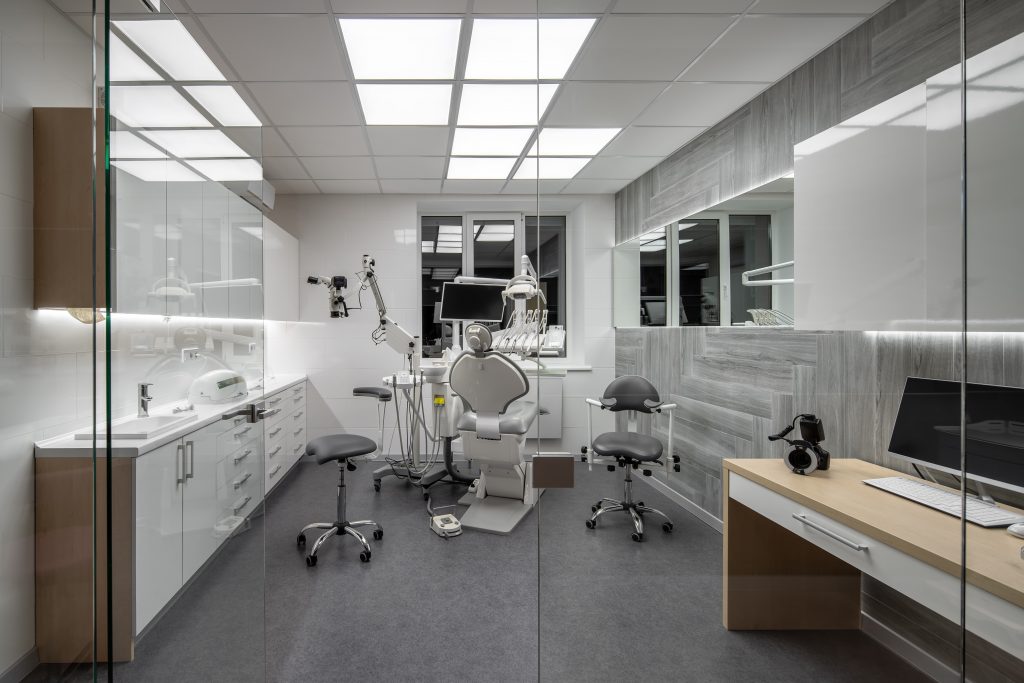 ---
Factors That Decide the Cost of Your New Medical Fitout
The overall medical fitout costs of getting a new healthcare clinic or a medical centre could vary depending on a number of aspects involved such as –
1. In What Kind of Condition Your Current Setup Is – This includes the current state of your building, its age, raw materials used in its construction, and other factors the location of the clinic might throw up like – how old is the air conditioning system, etc.
2. Older the Building, Costlier the Fitout – Usually, the older buildings require a substantial amount of work since you have to upgrade them in a way that they conform to the requisite building code. Such buildings also sometimes have certain caveats on the extent to which you can alter them.
3. Is It a Residential Property or Commercial – Many people resort to buying a residential property, thinking it can be easily converted into a commercial medical centre. But this can be a lot more challenging than you think. More often than not, such conversions end up costing you more than what you would have paid to secure a tenancy in a commercial setting.
4. How Elaborate Are Your Architectural and Interior Designs – This one makes a huge difference! What kind of changes you want to make – a few tweaks here and there or you want to get a whole new interior design with all the latest technologies, decides how much money you'll have to shell out. So, it's important to decide early on what kind of finishing touches you want. Revisiting a design again and again also adds to the medical fitout costs. Carefully pick a design and then stick to it – is an ideal approach.
---
10 Tips On Reducing Medical Fitout Costs
Here are the top 10 tips and tricks on how and where you can save money as you plan to fitout your healthcare facility –

TIP #1
Start Out Small
If you are establishing a new facility, it's advisable to invest only in a portion of it in the beginning. It's going to take some time before your clinic/medical centre is going to need all those surgical theatres and consultation rooms. So, why pay so much money upfront when you can plan and refurbish your space gradually over a period of time?
This will reduce the loan interests which you might have to pay otherwise, if you plan to construct a big, fully-equipped healthcare clinic, right from the beginning.
---
TIP #2
Project Staging
In order to fitout in stages, plan a 3, 5, or 10 year business plan to avoid any downtime or additional medical fitout costs. The idea is to pick a functional interior design and plan all its aspects meticulously.
• Skip demolishing the already existing rooms since you might use them in the later on fitout stages.
• Also, make sure your plan has the scope of constructing the future fitouts without affecting the day to day operations of your existing practice.
---
TIP #3
Possibility of Future Expansion
Right now you may not want or need the neighbouring property, but there is a possibility that it may become available in the subsequent years. In a few years, if your neighbour decides to put up the 'For Lease' sign, there's a possibility you'd consider getting it, especially if you have future expansion plans for your medical facility.
So, you have to think about that as well while finalizing a design for your facility. Always leave some room for such an expansion so that you won't have to bear any additional medical fitout costs later on to resolve this matter.
---
TIP #4
Effective Negotiation Skills
You can save a lot of money by employing the skill of effective lease negotiation. Once you establish your medical facility, there's a very little possibility that you'll move around much. You can use this fact to your advantage while negotiating with your landlord because they are always on a lookout for long-term tenants. Make sure you've read and understood the lease agreement thoroughly before making the final deal.
You can even ask your landlord to include the following clauses as a part of your contract –
• Removal of previous tenant's fitouts on landlord's cost. This will save you the demolition costs.
• Delineate the disposition of electrical supply. You can ask for electrical upgrades for your tenure so that all your electronic medical equipment could run smoothly.
• Ask whether your landlord would provide building services to suit your fitout requirements such as – air conditioning services, etc.
• Ask if a new shopfront (one, which is building code compliant) will be provided by your landlord or not.
---
TIP #5
External Signages and Advertising Tools
One of the most cost-effective ways to promote your business is by making sure your shopfront stands out and looks very professional in its outlook. Picking the right kind of location is an important aspect of this. A site that comes with good visibility from the main road can organically attract a lot of new patients. Besides picking the location, clarify with your landlord what kind of external signages you can use for your clinic.
---
TIP #6
Provisions for Access and Mobility Impaired (Disabled)
You have to provide your patients with an accessible sanitary facility (toilet for physically disabled people). If your facility is located within a commercial complex, check whether there's an existing accessible sanitary facility for public use already in place. If not, you can ask your landlord to provide one as a part of your lease.
---
TIP #7
For the Designing Part, Plan Plan Plan
This is the phase where you can calculate all your estimations pretty accurately. If you pick your design well in advance and do the planning work on how exactly you are going to execute the various aspects of your design, you can save buckets of money and time. So, restrict yourself from starting the project till the time you've planned everything in its entirety. This will also help you predict the total medical fitout costs of your project.
---
TIP #8
Estimating the Compliance Costs
Whether you are dealing with compliance matters on a local, state or federal level, it's important to understand that the health and safety of your staff members, patients, and the surrounding community depends on it. So, no matter how frustrating the process might seem, you have to diligently follow all the rules and obligations.
You can make things a lot easier if you are prepared in advance. Invest some time to understand all your obligations and estimate all the associated medical fitout costs, involved with these procedures.
---
TIP #9
Time Management
It's ideal to give your contractors ample amount of time to complete the project since they will charge you a lot more if it's a rush job. Fitting-out in a hush-hush manner could also mean sabotaging the original design due to time restrictions. The more time you have for the project, the more cost-effective it'll be.
---
TIP #10
Hire the Professionals
Simply put, if you want quality, you can't work with amateurs! There are many instances where people refrained from hiring experienced professionals initially but ended up paying a lot more when cheap trades made a mess of the job. A trustworthy team not only guarantees professional work but also, provides you with additional services in case some defects arise, later on.
You can consult with one of our fitout installation professionals, free of cost, before going out there on the field. We consider all your specific needs before giving you a piece of thoroughly customized advice to help you reach an accurate estimation.
---
Resources
You may also be interested in: