Gone are the days when coffee shops used to be just simple eateries where you went to quickly grab a sandwich or drink a latte! Cafes have evolved to become everyone's favourite hangout spots to meet colleagues or friends or to spend some time alone, reading a novel or perhaps, writing one! People even conduct their businesses by sitting in their favourite cafes for hours and hours every day.
So, besides a genuinely interesting menu and of course, great service, what is it that makes people go to a cafe again and again? Yes, it's the interior design of the cafe! People love spending time in chic looking coffee shops with a unique theme or core concepts like that of a cat cafe where you can drink your favourite coffee with cuddly little kittens playing around you, or a vintage cafe where you can snap some really cool, Insta-worthy pictures with your besties.
Here are some of the essential elements of a great cafe interior design –
An easy-going but vibrant atmosphere.

Exceedingly comfortable pieces of furniture.

Use of warm lights to create an ambience of relaxation.
And following one or two absolutely 'one-of-a-kind' cafe theme ideas to build a sense of individuality.
---
Benefits of Following Trendy Cafe Theme Ideas for Coffee Shops' Interiors
These days, we see more and more coffee shop owners going for unique, theme-based interior designs as compared to the traditional 'good old coffee shop' interiors. Do you know why? It's because these cafe theme ideas can be really beneficial for your business. Some of these benefits are –
Helps You Build Your Cafe's Brand Image Seamlessly

– When you choose to work with an interior design whose cafe theme ideas matches that of the brand image you want to establish in front of your customers, half your job is done already! For example, suppose your target audience is health-conscious people who are vegan or vegetarian and are driven enough to live a more conscious and sustainable life.
So, for a coffee shop like this, go for a lot of greenery, both, inside and outside the cafe. Use eco-friendly raw material wherever you can and for furniture, go for simple, organic designs that are handcrafted by talented local artisans. These cafe theme idea will communicate to your customers that you are an eco-friendly brand, that believes in clean and healthy eating. Which is of course highly attractive to the vegan and vegetarian community.
Generates a Sense of Curiosity – These days, people do not head to restaurants or cafes just because they don't want to cook at home or because they crave for some restaurant-style food. The truth is that they are no longer satisfied with just 'great food', what they are really looking for is a 'great experience or adventure'.
They want a complete package – an eating joint where they can enjoy their favourite meals but at the same time, can get their senses stimulated because of an exceedingly unique environment. Especially, when it comes to coffee shops, customers expect a great ambience, something they've never seen or heard of before!
If that's not possible, at least give them an interesting, visually stimulating, dining experience. This helps you retain your customers and attract new ones, all the time. While picking cafe theme ideas can be really beneficial for your business. Some of these benefits are, your job is to find that delicate balance between 'not being too bizarre' but still managing to be sufficiently 'original and unique'.
For example – cafe theme ideas based on TV show FRIENDS would attract lots of customers because it's a highly popular and loved TV show, but at the same time, it's not something that everyone would relate to. So, this idea is still pretty unique and niche.
Introducing New Changes Becomes Easy

– When you strictly follow a theme for your interiors, making new changes or renovating a certain section of your cafe becomes relatively easy. You don't have to think about all the options available across the markets representing different cafe theme ideas and concepts.
You just have to think about that one theme and work along those lines. This saves you a lot of inconvenience of doing research for days and days, trying to figure out how you can make your cafe look and feel more inviting, enticing, and attractive. Whether you are adding new furniture or you are planning to repaint your walls, you just have to focus on one theme and within hours you'll know what's going to work and what won't.
---
15 Most Unique Cafe Theme Ideas to Inspire Your Creativity
Cafe Theme Ideas #1
Rustic Coffee Shop
Among all the cafe theme ideas, the rustic interior theme is probably the most popular one. It features an interior design with lots of old school decor combined with natural raw materials and elements like wood, plants, and bricks. This theme could be utilized by creating an atmosphere of an old warehouse, farmhouse, or a rustic townhouse or any other similar spaces that gives you the impression that this place has not been in use for a very long time.
You can add old doors and windows to your interior design, and use metal, stone, and chalkboards wherever you can. Serve shakes or coffees in vintage milk jars and some of the food items in wicker baskets. Maintain a healthy balance of modern elements like stylish lamps or couches with all the rustic elements we just mentioned above while creating this kind of interior design.
Give emphasis to rugged beauty but at the same time, make sure the overall vibe isn't too shabby by any means. Use earthy colours like shades of brown, green, camel colour, and beige to create this theme.
---
Cafe Theme Ideas
#2
Indoor Garden Cafe
Indoor garden cafe theme ideas are also pretty popular these days. Especially in cities like New York, California, and London, you can spot one pretty easily. These types of cafe interiors give the customers a breath of fresh air and if you combine the green cover with ample amount of sunlight by putting up large glass windows and doors, you can create a very organic, feel-good, 'out in nature' kind of ambience. Many vegan and eco-friendly coffee shops follow such cafe theme ideas.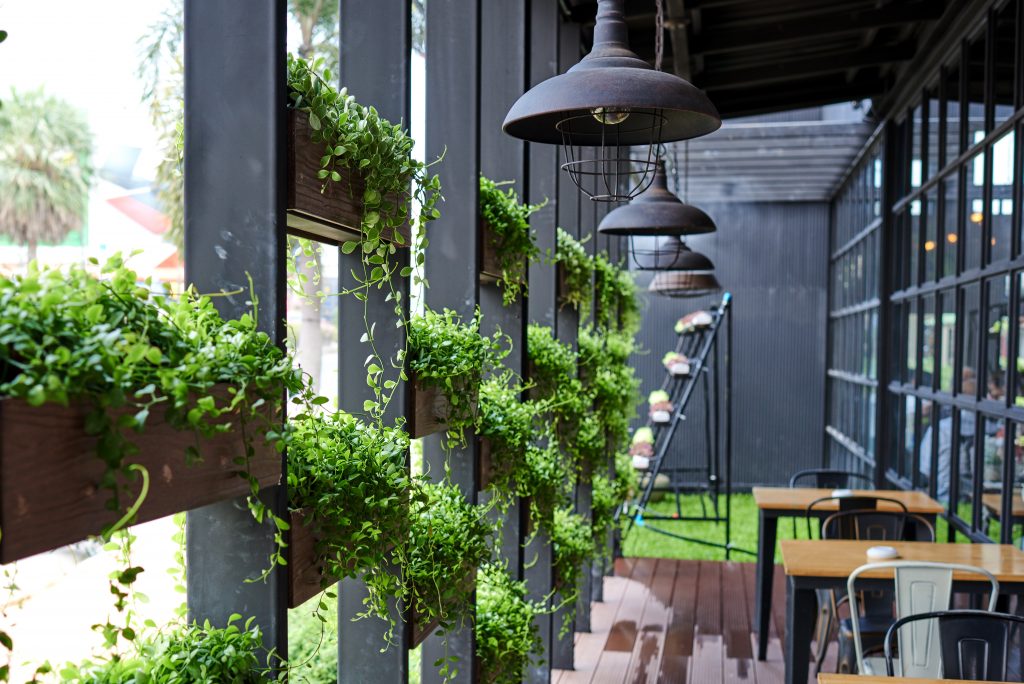 To work on such a theme the first step is to create an ample amount of space to place all your plants. It's ideal to create layers or rows of such spaces instead of just one. More than plants the better! These layers could be anywhere – on the floor, on your walls, or you can use hanging pots in different shapes and sizes and hang them from the ceiling.
You can also use steel beams to create frames upon which you can put your potted plants or give a structure to your climbers. Keep your walls and furniture simple and use yellow lights to build an ambience of relaxation and comfort.
---
Cafe Theme Ideas
#3
Vintage Classics
Vintage cafe theme ideas can be derived from any historical era or generation of people – be it the 40s, 50s, 60s or any other decade. So, these kinds of cafe theme ideas can have a number of possibilities. You can create a charming romantic setting with antique decor and furniture or you can go for a 'grandma's house' kind of elegance-personified coffee shop interiors with floral wallpapers and classy china cabinets.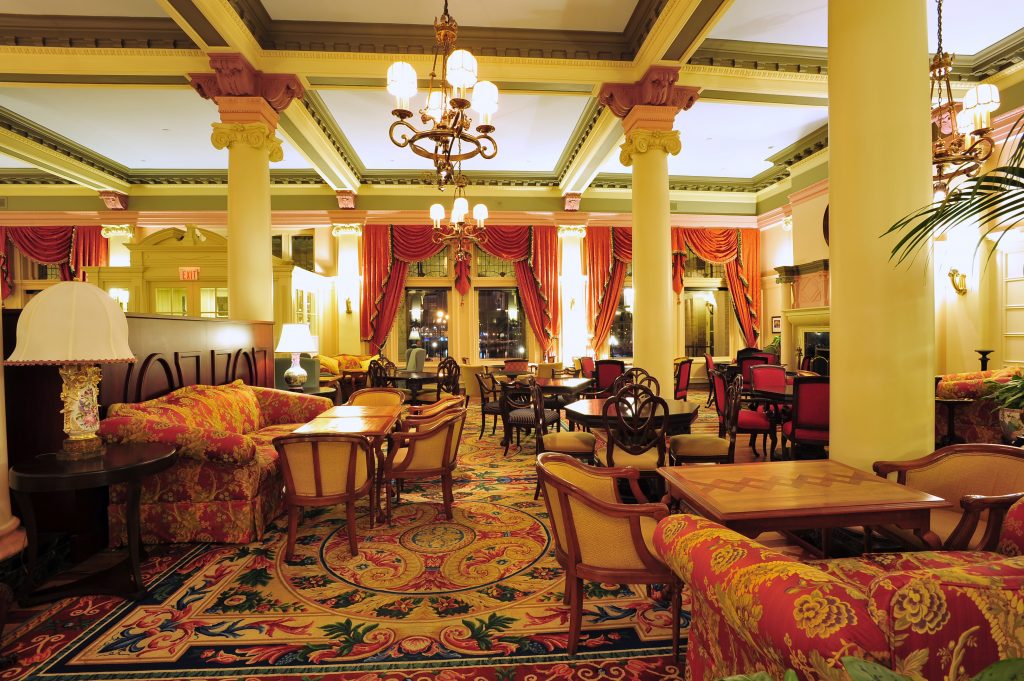 Use white embroidered kitchen-curtains, vintage chandeliers, Victorian-style couches or chairs, Cedar chests, Mahogany wood, green glassware, and decorative plates on the wall as displays. You can experiment with a variety of colours and textures, but faded peach, mustard yellow, and burgundy work the best.
You can make the interiors even more interesting by putting up a few really popular pieces of arts (copies, of course) which were created by well-known artists like Vincent Van Gough, Pablo Picasso, or Frida Kahlo. A piano would be a cherry on the top!
---
Cafe Theme Ideas
#4
Industrial Style Cafe
Industrial-style cafe theme ideas are derived from factories, abandoned warehouses, and other industrial spaces. This kind of theme is actually one of the most sought-after cafe theme ideas you can go for these days. Industrial-style cafes are designed by creating a warm, but natural-looking environment with creative lighting added with light modern touches.
To build such an atmosphere use exposed architecture such as exposed bricks, pipes, and ceiling beams. Add mechanical components such as nuts & bolts and gears. And use alternative raw materials like copper, brass, stone, and leather. Combine all these industrial components with modern elements like filament lamps, stark contrasting colours, and sleek looking furniture. As far as colour palettes are concerned, go for greys, black, tan, maroon, and mustard.
---
Cafe Theme Ideas
#5
Fashion Icon
This theme is not very well known but its popularity is quickly gaining momentum. A fashion themed cafe pays tribute to some of the most celebrated fashion icons or brands we've seen on the planet. People have even combined these two ideas by opening cafes inside some of the biggest fashion brands' retail outlets. And we have to say that the idea is pretty amazing!
Shop for your favourite clothes and accessories but as soon as you start feeling tired, grab a cup of latte or enjoy a cup of espresso and rejuvenate your senses! Needless to say, the decor and interiors of one such cafe would depict the fashion style of the brand or the fashion icon it is based upon.
Fashion biggies like Gucci and Prada have even opened their own brands of luxury cafes in Shanghai and Milan, respectively. Such cafes use the signature styles of these fashion brands as cues for designing the interiors and their loyalists simply love that.
For example, the Gucci one has shades of gold everywhere while the Prada one has retro design aesthetics with touches from the 50s cinema.
---
Cafe Theme Ideas
#6
Film/TV Show Fans
Coffee shops based on a popular TV show program or a path-breaking feature film are always a huge hit. There are many such cafes in every major metropolitan city in the world. There's a popular cafe based on the show 'Breaking Bad' which is located in Istanbul, the capital of Turkey and there's a cafe based on the iconic sitcom 'FRIENDS' located in Manhattan.
You could do a thousand things with cafe theme ideas like these. You can keep the decor and interiors of the cafe as similar to the original sets as possible or you can introduce your own little twists to make things even more interesting.
You can even have your staff members dress up as the main characters of the show/film. The names of the food items and beverages you serve in your menu could be after the popular episodes of the show you've selected.
You can even sell or give away special merchandise on a few days of the years to keep your customers hooked. For example – on the day of the show's anniversary, you can sell T-shirts with an illustration from the show printed on it.
---
Cafe Theme Ideas
#7
Boho Chic Cafes
The 'Boho style' originally refers to the lifestyle followed by the exceedingly artistic, nomadic travellers who used to live in the ancient Central-Eastern European region called Bohemia. Since they were always on a go, they used to pick up a number of different cultural elements from places they used to visit to create their own unique identity and culture of free-spiritedness.
That gypsy culture is still extensively followed and loved by millions of people across the world, be it in the form of fashion styles, interior designs, or music and arts. Boho-style cafe theme ideas are particularly popular among new-age cafes that target the youth of this generation.
To create such a theme use wooden furniture, crochet curtains, low tables, floor cushions, hemp pillows, plush carpets or tribal rugs, fairy lights, Turkish lamps, dreamcatchers, tassels, ottomans, and beaded embellishments.
The space should look spontaneously assembled, but with a strong sense of integrity and harmony. You can also mix and match the boho style with contemporary touches by adding rich textiles, stylish lighting setups, or contemporary wall art.
---
Cafe Theme Ideas
#8
Tropical Paradise
Cafe theme ideas based on the 'Tropical Paradise' theme can be of several different kinds. People have used this theme to create 'Jungle style' cafe interiors or to create an ambience of a 'laid back beach holiday in a tropical country like Bali'. You can follow these cafe theme ideas or you can add your own nuances to create an absolutely new kind of a tropical cafe.
It's ideal to create this theme by constructing various levels of long, forest-like branches hanging on all the sides of the cafe. It'll give the impression that you are sitting right in the middle of a tropical rainforest. You can even use scrap pieces of wood and dried reeds to build a thatched roof. Adding a water garden is also a brilliant idea for this type of concept.
Use ample amounts of sunlight during the day time and for the evenings, use warm lights to create a cosy and relaxed environment. For background music, put on some jungle-themed tunes in the background on low volume.
---
Cafe Theme Ideas
#9
Books and Games
Who wouldn't love to go to a cafe where you can play your favourite board game or read your favourite book while sipping on a hot latte? Board Games Cafes and Reading Cafes are everyone's hot new favourites! And more often than not, these two cafe theme ideas go hand in hand to create cafe environments where there's something for everyone.
These days, cafe owners have gone one step further ahead with such themes by providing their customers with video gaming consoles besides the good old board games. In cities like Tokyo, Shanghai, and Singapore, such cafes are pretty common.
You can keep the interiors pretty standard since the focus of your customers would primarily be on the games and books you are going to provide. But a little creativity never hurts! You can establish an ambience of a cyber hub or a gaming zone to make the interiors even more interesting.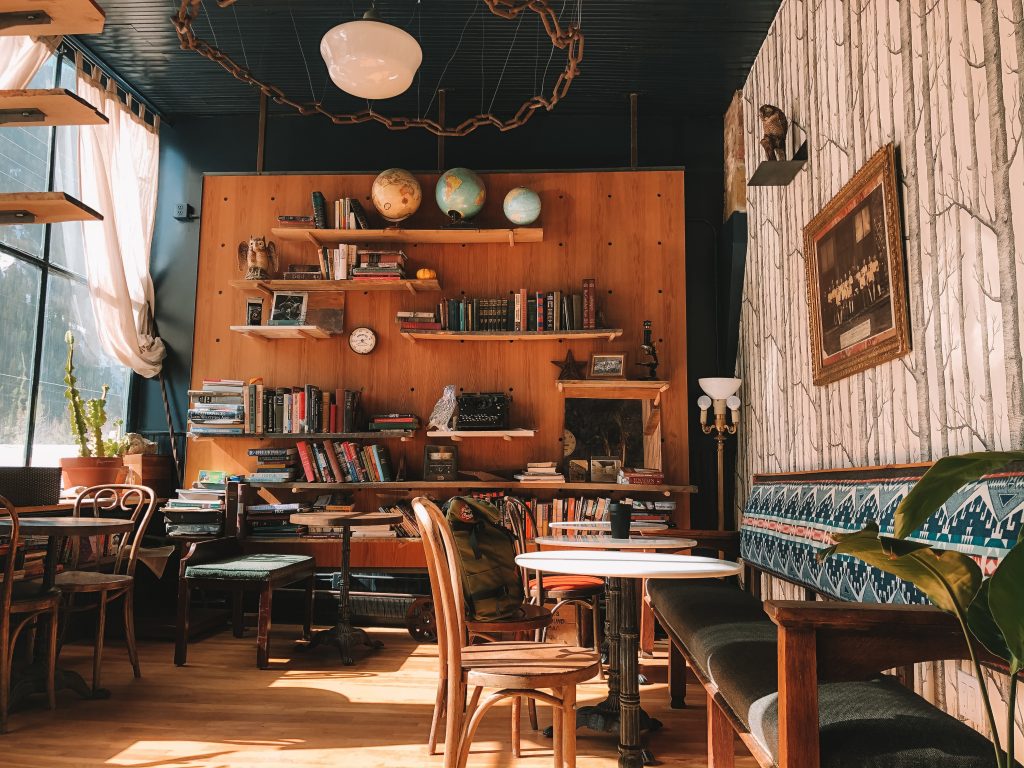 Some of the most popular Book Cafes in the world are constructed like mini-libraries. So, don't restrict yourself and experiment with a bunch of cafe theme ideas if you are planning to build one such cafe.
---
Cafe Theme Ideas
#10
Artistic Vibes
More and more art inspired coffee houses are coming up these days. Some of them have cafe theme ideas based upon famous artists like Salvador Dali, Picasso, and Rembrandt, while some have their own artistic visions and themes. There are many cafes that allow young, new talents to showcase their artistic skills (especially paintings and photographs) on their walls for free.
These kinds of cafes are particularly interesting because every week or month the look and feel of their interiors get completely renewed. The loyalists of these cafes always look forward to what's next.
If you are planning to give your coffee shop an artistic makeover, the best tip is to play around with the colours and texture of your walls. When it comes to art, there's really no limitation on how and what you can come up with.
Go with cafe theme ideas like a musical cafe, apothecary-style cafe, crafts cafe, messy art cafe, surrealistic cafe, art studio styled cafe, and whatnot! Let your imagination run wild and always remember that you can take help of a professional interior designing firm in order to turn this ambitious venture into a fabulous reality.
---
Cafe Theme Ideas
#11
Cat Cafes
Cat cafes have gained tremendous adoration from people of all age groups and cultural backgrounds in all parts of the world. Cat cafe theme ideas revolve around the concept of being in the company of dozens (or more) cats while enjoying your favourite drink in an exceedingly relaxed environment.
It's advisable to go for this kind of a theme if you are a cat lover yourself. If not, please invest some time to understand the needs of these furballs, to make sure you create a perfectly comfortable ambience for them because this cafe is going to be their home. Make sure there are enough places for the cats to climb, hide, and sleep during the night.
Go for simple but adorable interior design and build a few cat-specific areas where one can always find a few kittens playing around. For this, you can add a few pitched roof cat houses on the corners of the walls, long walkways along the length and breadth of the cafe, and a few roped bridges. Also, make sure all your doors and windows have special kitty door entrances. The idea is to create a space where the cats can live comfortably.
---
Cafe Theme Ideas
#12
Cute as a Button
'Cute as a button' cafe theme ideas revolve around creating a cozy, boutique-style coffee shop space which has an overall homey vibe. This kind of theme works very well for cafes who serve heartwarming, traditional, comfort food and beverages in a relaxed and comfortable environment.
Find that delicate balance between raw & homey and effortlessly stylish! Use elements like – soft textures, neutral or pastel colours, candles or a fireplace, string lights, soft throws and fluffy cushions, traditional rugs, comfortable furniture, and bean bags.
Focus on building a warm and welcoming cafe interior design that gives off an energy of 'happiness and positivity'. You can also experiment with cafe theme ideas like – unicorn-themed cafe, Hello Kitty cafe, a cafe with lots of stuffed animals, etc. Parents would love to spend time in these cafes with their little ones playing around. If you could add a few nuances to make the space romantic, it would become a hit among the couples.
---
Cafe Theme Ideas
#13
British Tea Party
Coffee shops inspired by British or European influences look unmistakably regal. If that's something you'd want to explore, opt for British Tea Party inspired cafe theme ideas with floral wallpapers, china cups, lavish crockery, colourful traditional-looking teapots, soft lighting, and an antique chandelier. You can also add a vintage record player on one corner of the cafe to complete the look of the cafe.
You can also work on similar British themes like Shakespeare's birthplace – Stratford-upon-Avon or Sherlock Holmes's house – 221B Baker Street. You can also give your space a Parisian cafe's look and feel by ditching fabrics and embracing metal, dark wood, and dark leather accents. Keep your lighting very subtle and soft by using table lamps or other similar light sources.
Take inspiration from Jane Austen's novels like Emma, Pride & Prejudice, and Sense & Sensibility to get yourself better acquainted with the design aesthetics of that era. If you want to pair your British/European cafe with modern-day visual aesthetics, opt for trendy furniture or add the contemporary decor in front of a wallpapered background.
---
Cafe Theme Ideas
#14
Chic and Trendy
It is probably the most common theme for cafe interiors at the moment – to follow a mix of all the trendiest design aesthetics of this decade. You can go for metal furniture balanced with a lot of cushions and pillows, a bike hanging from the ceiling, an exposed brick wall, black and white photographs, large upholstered couches, Zen style seating with private niches, large glass windows, sleek lighting fixtures, and whatnot.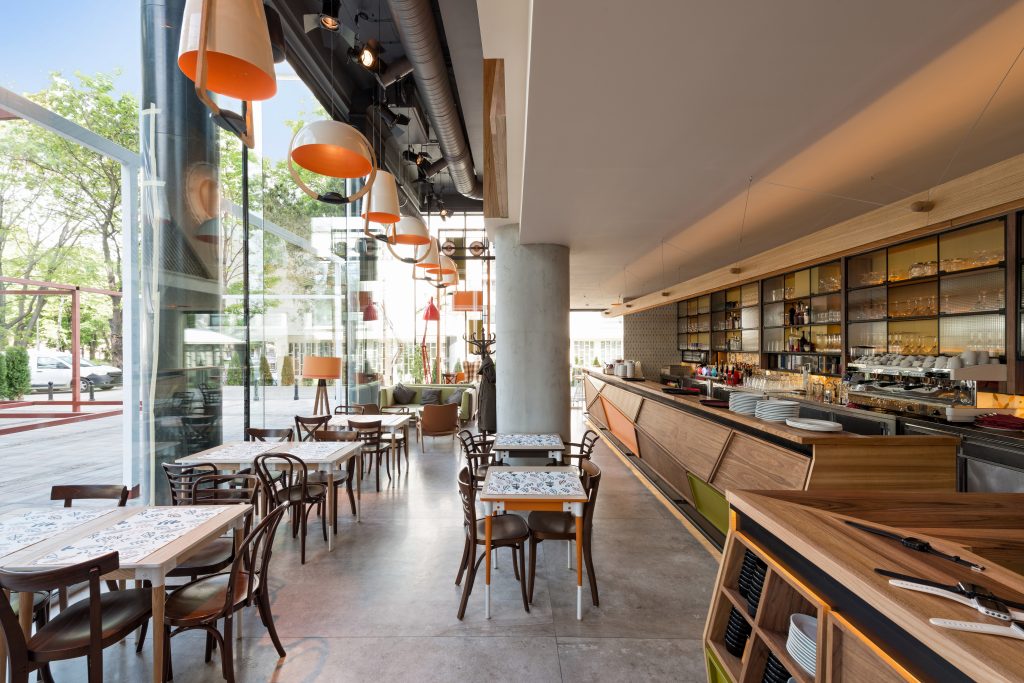 Add any number of elements to mix & match multiple cafe theme ideas to create your own unique theme like no one else's. Some of the trendiest cafes in the world have adopted minimalistic themes while some have chosen to revamp their interiors by making their space cozier by adding a lot of comfortable furniture, plants, decorative furnishings, and wall decor.
So, how you want to go about this theme is entirely up to you! Go with whatever feels natural to you. Ask yourself – What kind of cafe I would like to go to as a customer?
---
Cafe Theme Ideas
#15
Cultural Cafes
By cultural cafes, we mean cafes which are based on a theme that represents a particular cultural group or destination like – Morocoon themed cafes, Parisian cafes, Italian cafes, etc.
One might think that such cafes attract only those customers who belong to that particular cultural group. But that's just not the case! People these days love exploring different cultures from all around the world. And if your cafe interiors are authentic and true to the cultural values of the place which you've decided to represent, expect a lot of customers simply walking in because what you have to offer is unique, authentic, and traditional.
Some of the most popular themes in this category of cafe theme ideas are – Milan, Parisian, Portuguese, Prague, Scandinavian, Brazilian cafes, cafes with Dutch interiors, Mexican cafes, Turkish cafes, and Vienna cafes.
---
Conclusion
Choosing and then sticking to an interesting theme idea for your cafe's interiors has the potential of boosting your business like you've never imagined. Not only will it make your space look a lot more attractive and inviting, but also, it helps you build a strong brand image and generates curiosity in the minds of your existing as well as potential customers.
Our list of 15 most sought-after cafe theme ideas includes everything from a raw and rustic industrial design to a theme where you paint your walls in rainbow colours and place unicorn cushions over your pastel coloured furniture. Explore these cafe theme ideas and decide what would work best for your particular brand of cafe. If you want professional advice on this matter, do not hesitate to contact a reliable cafe interior fitout expert.
---
Resources
You may also be interested in: