Unlike restaurants where people order multiple-course meals throughout the day, in coffee shops, they tend to spend a comparatively lesser amount of money on food. So, the success of coffee shops relies more on how many customers you are able to attract on an everyday basis.
If you do not have the right kind of ambience and vibe, increasing your sales would become a daunting task. And when it comes to creating the perfect ambience, lighting your space properly is one of the most important aspects of the process.
Here's why you need to spend your time and energy in this direction and how exactly you can do that.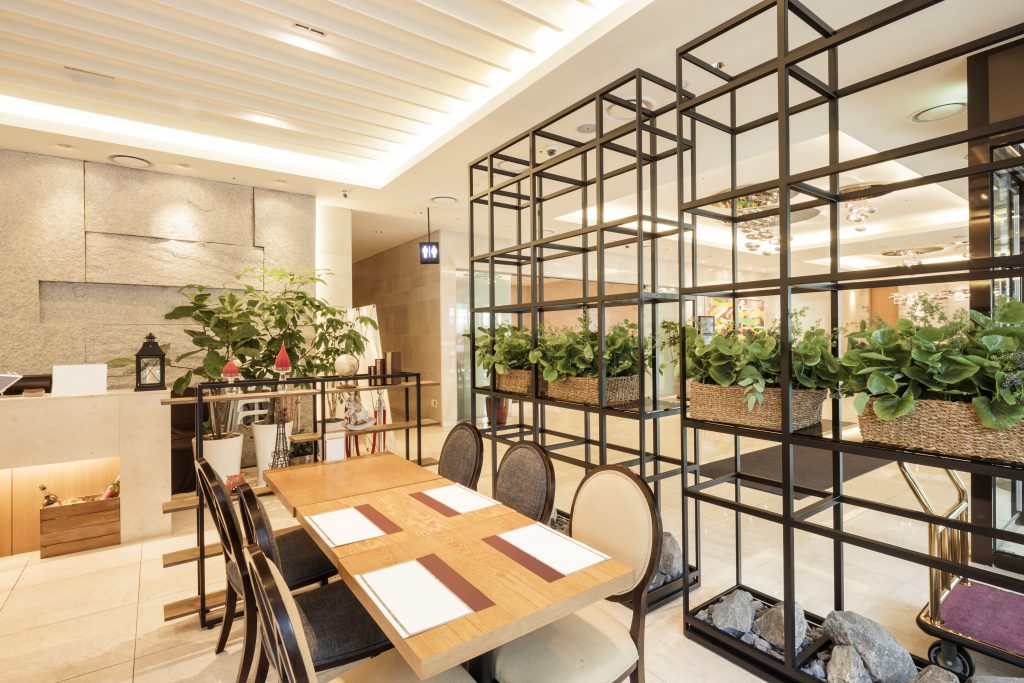 ---
Impact of a Great Lighting Setup in a Cafe's Interior Design
How can lighting design impact the success of your cafe? – The perfect recipe for a successful coffee shop is to have a signature blend of your own, an interesting menu and an absolutely amazing interior design that exudes comfort and effortless cosiness.
These days, people head to cafes to have a relaxing time and to socialise with their friends or colleagues. It's not just about food anymore and this prevailing trend of coffee shops being the new social hotspots makes it even more important that they look as stunning as possible.
Lighting your space thoughtfully is one of the easiest ways of creating the chic vibe you are after. The right kind of lighting design won't only attract new customers, but will also help you stimulate their appetites and change their behavioural patterns.
Below, we've enlisted the 7 most effective coffee shop lighting tips & tricks that most of the experts swear by in the business.
---
Coffee Shop Lighting Tips
#1
Light According to Your Cafe's Brand Image
Why should a lighting design highlight your brand identity? – First on our list when it comes to coffee shop lighting tips, ask yourself this one question every time you are about to make a decision related to your cafe's interior – "Is this going with my cafe's brand image or not?" Whether you are deciding what kind of lights to use, where to put them, what kind of colour tone or temperature should I go for, or anything else for that matter, should be in-sync the core theme of your cafe.
In fact, your lighting setup is a wonderful tool which can be used to highlight your brand's identity. Give special attention to your coffee shop's external signage for this purpose. Your signage creates a strong first impression in the minds of your customers and if you have lighted it well, this first impression could make a very positive impact.
You need to make sure your signage is bright, attractive and attention-grabbing, but not in a tawdry or tasteless manner. A creatively designed, trendy sign is a sure-shot way of attracting customers these days, but again, make sure such a sign goes with your brand's image.
Inside the cafe, as well, all your lighting ideas should match your core theme or concept. For example, if the theme of your cafe can be defined as a 'countryside coffee shop with lots of greenery around', there's no way you can light it up using a couple of royal looking chandeliers.

---
Coffee Shop Lighting Tips
#2
Use As Much Natural Light As Possible During the Daytime
How can you utilise natural lighting in your coffee shop? – During the daytime, you have the option of employing the most powerful source of lighting known to mankind – the sun! So, it makes a lot of sense to use as much sunlight as possible during breakfast and lunch hours.
For that, your interior design should have lots of large-sized windows, glass doors, mirrors, and skylights to bring in more natural light inside your cafe. If you are worried about too much heat during the summers, opt for heat control films to block out the extra heat during the hotter months of the year.
If you want, you can add sheer or light, flowy curtains inside the cafe. This will allow you to control the amount of sunlight and heat during the summers. Natural light not only makes everything bright and beautiful but also, it's great for your health, especially your mental wellbeing.
So, with ample amount of sunlight inside your cafe, you'll be enhancing your customers' mood which automatically means they'll feel happy and energised, ready to spend hours in your cafe, ordering lots of food and refreshing beverages.
Plus, with these coffee shop lighting tips, you'll save tons of money on your electricity bill!

---
Coffee Shop Lighting Tips
#3
Create a Cosy Comfortable Ambiance During the Evenings
How can you utilise low-intensity, warm colour lighting in your coffee shop? – While ample sunlight is great for the daytime, as the sun sets, you need to switch to a cosy and laid back ambience with a low-lighting setup. This idea works really well for most coffee shops with a comfortable and relaxed ambience. Dimming the lights is one of the easiest coffee shop lighting tips and also one of the most cost-effective methods of creating mood lighting conditions with minimum resources and effort
At the end of the day, your customers need to feel relaxed after a long and taxing day at work. So, low-intensity lighting should be used after sunset to give them an intimate and calming environment where they can completely relax and rewind. Low-lighting setup is also pretty cost-effective as it consumes less energy, which means a modest electricity bill.
Use low intensity, warm-colour lights to create this kind of ambience. Use more wall lights and less direct lights that come down directly off the ceiling of the coffee shop.
Balance out the darkness with a few high-intensity lights placed in areas like cream and sugar stations, cork boards, pastry cases, etc. The idea is to create an intimate and exclusive environment but at the same time, the space shouldn't feel too dark or gloomy.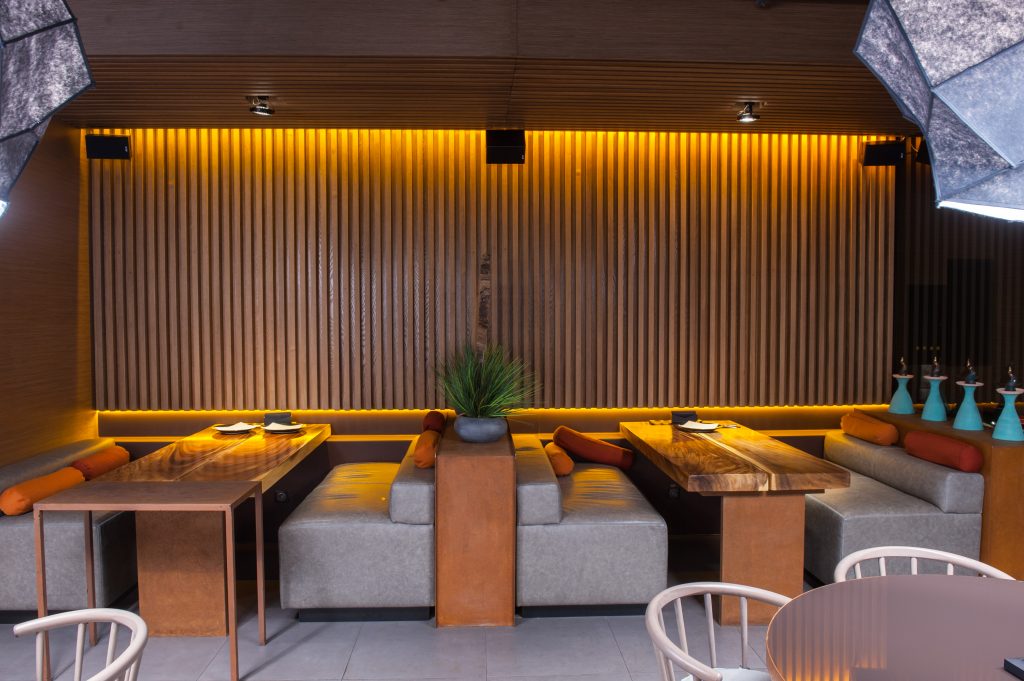 ---
Coffee Shop Lighting Tips
#4
Mix Art and Lighting
Can you use lighting for decorative or artistic purposes? – You don't necessarily have to put up lights that look and feel like just lights in order to illuminate your space. You can instead use lights that are shaped like beautiful decorative pieces or you can use conventional lights in creative new ways to add drama and glamour to your cafe's design.
One of our top coffee shop lighting tips in this direction is to use accent lights for this purpose. These types of lights are very aesthetically pleasing to the eyes. You can use them to establish any number of focal points inside your cafe. The job of these lights is to highlight certain areas of your cafe where you'd want to direct your customers' attention.
For example, suppose you have a stunning sculpture in one corner of the cafe but during the evening hours, when lights are dim, people can hardly see the beauty of it.
So, you can use accent lights to highlight this sculpture, not just to make it more visible, but also, to make it even more appealing and aesthetically pleasing than before. Use your task, ambient and accent lights in a balanced and harmonizing manner to create a soothing and comfortable setting inside your cafe.
Another way you can make your cafe look more artistic by using your lighting setup is by choosing artistic light fixtures instead of the simple ones. You can choose artistic fixtures for all three layers of lights – ambient, task, and accent lights. Or you can add them to only one of these layers. Remember to pick your fixtures as per your core theme or brand image.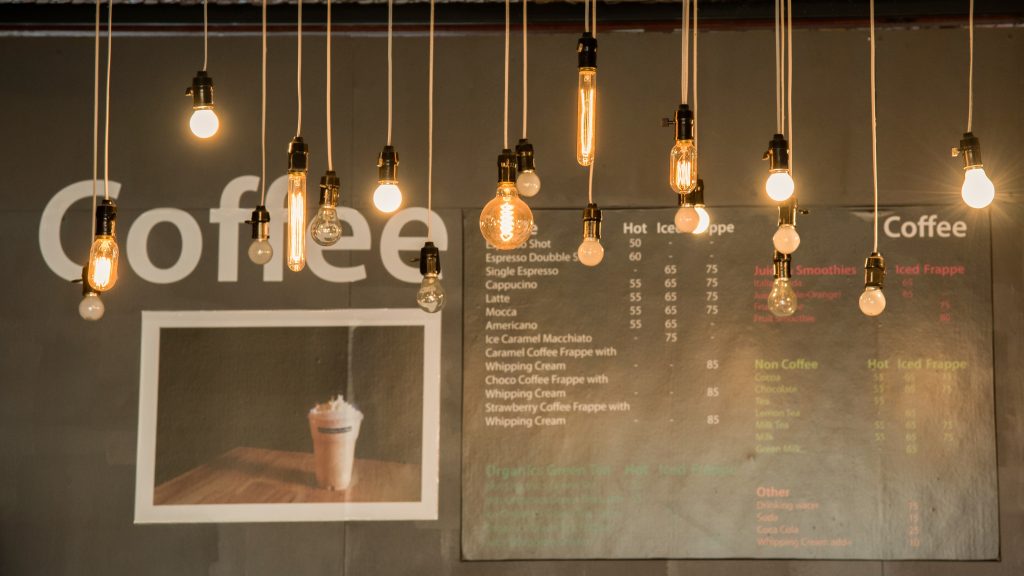 ---
Coffee Shop Lighting Tips
#5
Colour Tones and Brightness Adjustment
Why are colour temperature and brightness important factors for your cafe lighting? – Many people tend to underestimate the importance of picking the right colour temperature while designing their lighting setups. But this one aspect actually makes a world of difference! Colour temperature means how warm or cool-toned your lights are. Warmer lights are more yellowish-orange in nature while cool lights mean a lot of blue and its shades.
For coffee shops, warm-toned lights are always preferred since they give a more homey and comfortable vibe. Colour temperatures between 22k to 32k are usually considered ideal for cafe lights. Also, make sure the colour tone is consistent throughout the cafe. One side warm and one side cool-toned would look disturbing and unattractive.
How bright or dull you'd want to keep your lights also makes a lot of difference. Bright lights are known to stimulate appetite but for coffee shops, dimmer lights usually work better because the idea is to make them stay longer in a comfortable and relaxed ambience. But you can still go for bright lights to create an atmosphere of high energy in your cafe.
If not entirely, maybe some parts of your cafe could be a little brighter than the rest of the place. You can use Smart Lights that come with features like dimming timers, brightness control panels, daylight sensors and automatic shut off mechanisms to customize your lights as per your convenience. These lights allow you to centralize the whole lighting setup via your laptop or smartphone.
---

Coffee Shop Lighting Tips
#6
Balance and Consistency are the Keys
Why is it important to balance your lighting aesthetics and functionality? – The idea isn't to make everything super bright or dramatic with your lighting but to create a perfect balance with different types of lights so that the whole vibe of the place becomes vibrant and aesthetically pleasing. Your lights should be functional, that's the number one priority.
Then comes other aspects like – to balance out the lights evenly throughout the space, to make sure there are no harsh glares coming off the surface that'll put a strain on your customers' eyes and the colour tone you've selected is also consistent throughout the space.
If your lighting is too dramatic or over the top, your pupils would be forced to adjust every time you'll shift your focus from one place to another. This kind of lighting would make your customers feel exhausted and uncomfortable. If the scenario is too bad they might even get a headache.
Similarly, if your lights are too dim, the surroundings will become too dark. This happens when certain cafes use table lights or candlelight type of lighting with very little ambient lights around, making the overall ambience a little too dark. This also makes your guests feel uncomfortable since it makes them feel like someone's watching them so they have to act all prim and proper.
When there's enough light which allows you to see other tables and other guests chit-chatting, busy in their own worlds, you also feel comfortable as a guest. So, make sure there's a perfect balance of brightness and contrast in your coffee shop to create a cosy, comfortable environment for your guests.
---
Coffee Shop Lighting Tips
#7
Influencing Customers' Behaviour Using Lighting
How can lighting design influence customer behaviour? – One of the simplest ways to influence or rather direct your customers' behaviour is by highlighting areas like the barista counter, external signages and restroom signages. Lighting the entrance, in particular, can help you define your guests' demographics.
If you want to attract young people, go for a modern design with a creative setting. And for older patrons, bright designs with traditional lights would work just fine.
Bright lights stimulate your guests' hunger which creates a tendency in them to order more food than they originally intended to. On the other hand, warm, dim-lights create an upscale vibe where your customers' would want to stick around ordering one more cup of coffee and a plate of extra snacks.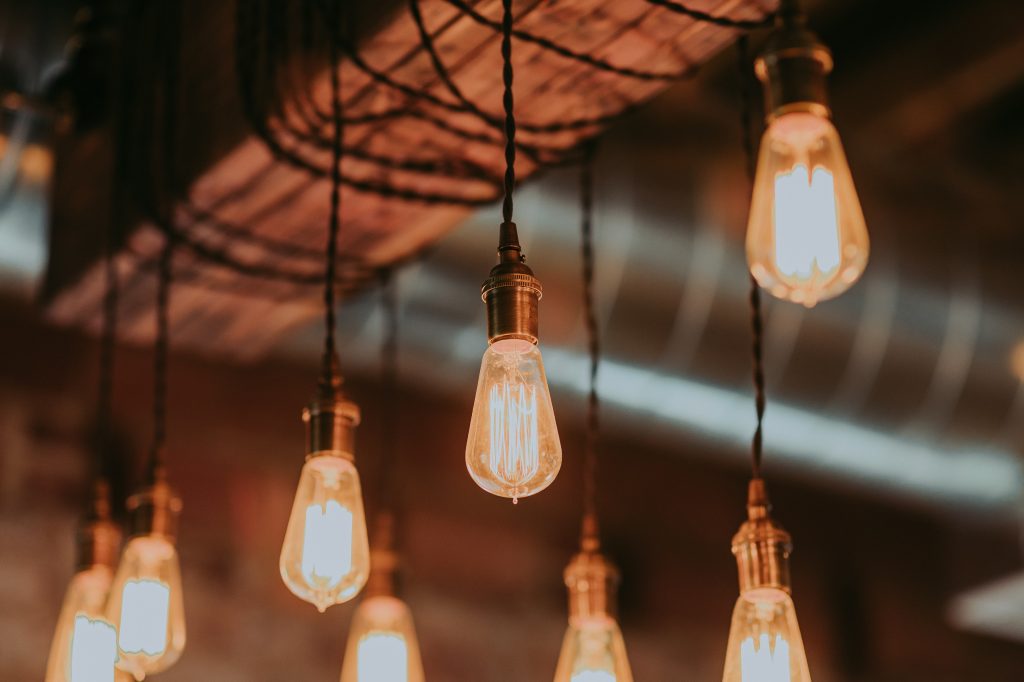 Conclusion
Using these 7 coffee shop lighting tips & tricks, you can decide for yourself what kind of lighting setup would best work for you and your business's needs. You don't have to stick with everything we've mentioned here.
Just take cues and formulate your own lighting design keeping in mind what kind of core theme you have and what kind of customers' you want to attract. Just make sure you are following the basic guidelines of how to use colour tones, brightness, contrast, fixtures, and artwork to help you illuminate your coffee shop.
Just go with whatever feels natural to you and keep experimenting with various concepts and designs till you find that perfect blend that's a 'match made in heaven' for your coffee shop.
---
Resources
If you enjoyed reading our coffee shop lighting tips, you may also be interested in:
---