An Impeccable Guide.
We all know that feeling. After days of thinking about it, and looking for it, you finally got the new office space you wanted, but now you need to face the reality of having to renovate or refurbish your office.
Having to look for a new office space can be tough however, an office renovation can be much more of a hassle and stress. Naturally, it is easy to get overwhelmed with everything you have to do to make your office space look and feel comfortable.
Luckily for you, there's no need to despair: We're here to help you in making your office renovation or office refurbishment simple, easy and stress-free as can be.
To make things even easier for you, here is an essential guide on everything you need to know about your office renovation. With the information provided below, you'll not only be able to reduce your stress levels but also, you'll learn how to organise yourself at best for optimal results.
---
Question #1
How Long Does An Office Renovation Take?
In general, office renovations can take up to 1-3 months, starting from the investigation on possible office design proposals to the final office renovation being completed.
Keep in mind that this is just an estimate and that the actual time frame can be longer or shorter.
There are many factors that may affect your office renovation time frame such as labour/material constraints, legal issues, landlord issues or council/private certifying authority compliance issues.
We are proud to be able to say that our extensive experience in the field of office renovations and office refurbishments has assisted us with successfully completing office renovations in a matter of 4-6 weeks!
Based on such experience with office renovations, we advise clients to factor in additional time if the following conditions apply:
You are not the sole decision-maker.

The other decision-makers are not based in the same country or in a different time zone

The period you decide to renovate coincides with some important holidays.

Your IT requirements are special and/or complex

You require special security systems.

You're in the process of re-branding

You haven't appointed qualified office renovation and design professionals.
We strongly advise that you always hire qualified and experienced fitout experts for your office renovation. Using cheap and unqualified contractors will not only lengthen the period needed for your office renovation, but it will also result in inefficient and unsatisfactory solutions most of the time.
---
Question

#2
Why Is Planning Important For My Office Renovation?
No office renovation or office refurbishment will be effective unless you are clear about your goals and what kind of results you are looking to achieve.
From the start of your office renovation efforts, you should clarify your goals to any interior office designer or office fitout expert involved in the process. Open communication is important and essential for reaching the results you want.
By doing that you'll spare yourself stress, additional costs, delays and head-aches! Clearly, this is an important step considering that most of the delays and cost variations with office renovations are usually because of design changes which deviate from the initial design proposal which was agreed upon.
Of course, it is possible to make design changes during the process, as you might realise little details that you weren't aware of before starting the process. After all, nobody is perfect! What is important however is that you communicate such changes as soon as possible as it will be harder to take action on them the later the construction stage.
Having a clearly defined plan from the beginning will help you have a clearer idea of the direction you will like the project to take while keeping changes down to a minimum.
To help get you started, here is a list of 7 reasons people renovate their office space:
1) Office Renovations For Corporate Re-Branding
When you are planning to renovate to reach your re-branding goals, the new office design should reflect the new values, missions, and goals outlined by the re-branding. They should be visible and clear to both employees and visitors. The main goal of your office renovation design should therefore be, to incorporate the new requirements of your newly branded corporation or company.
2) Office Renovations To Keep Up With Trends
You may be looking at renovating your office space simply because it is outdated. Your goal, in this case, should be to modernise the office so you can attract the right clients and staff. Don't forget, first impressions count, so your efforts should be to make your company more attractive and more comfortable.
3) Office Renovations For Relocation
In the case of an office relocation, you might be subjected to tight schedules and deadlines as you'll have to make-good and return the current office space to the landlord in time as agreed on the contract. Time is of the essence in this scenario so you should ensure you have the office renovation organised perfectly as delays may be costly.
4) Office Renovations To Increase Collaboration
Your office design has a huge impact on collaboration (or lack of) for you and your staff. If you want to incentivise collaboration in your company you should avoid office designs that incorporate cubicles and office partitions and instead look into open layout office designs.
5) Office Renovations To Increase Productivity
Several studies show that how employees perceive their workplace has a definite effect on their productivity and performance on the job. With productivity in mind, you want to create better work experiences and promote higher employee engagement, so you need to adjust your offices to their needs.
You should prioritise office designs that incorporate the right combination of private space and shared space. By doing so, you'll offer your team the possibility to carry out individual focus work effectively but also to better collaborate.
6) Office Renovations To Accommodate Growth
The current design of your office might not be optimised for growth or efficient space utilisation. Understandably, this will make it harder for your company to grow and for your business to expand. In this case, your office renovation should prioritise a design which allows for your company growth and future-proofs your business from this concern.
7) Office Renovations For Greater Sustainability
As the world moves towards a more green and sustainable future, you may wish to do the same with your office refurbishment efforts.
Renovating your office with such goals in mind will make a standpoint about your commitment to environmental sustainability, but can also help you save some operational costs (if for example you use sensor-controlled LED lighting or upcycle)
Make sure you advise your interior office designer or office fitout expert to include these and more environmentally sustainable aspects to your office renovation.
---
Question

#3
Do I Want This? Vs Do I Need This?
Clearly defined goals will help you get a better picture of what you want to achieve with your office renovation project.
Sometimes, however, you might have several different ideas in your mind, not all of which you'll be able to put into practice.
This is why it is so important to create a list to help you make a distinction between those strictly necessary elements and those that might be useful but that aren't actual needs.
By having such a list, you'll be able to prioritise your needs and communicate them to your office fitout expert or office interior design specialist, to make it easier for them to deliver you what you need without exceeding your budget.
To help you get started, here's a list of needs you might want to take into account for your office renovation:
How many chairs? 

How many desks/what size? 

How many power points per desk? 

How many data points per desk? 

How many private rooms/what size?

How many meeting rooms/what size ?

Will you need a breakout area/what size?

What size reception room/what size? 

What size kitchenette or lunch? 

Will you need a storage room/what size?

Will you need a data/IT communications room/what size?
---
Question

#4
How Should I Budget For My Office Renovation?
Investing in a quality office renovation is important. You cannot expect to reach quality results by going with the lowest bid. Instead, you should take into account your needs, your goals and set a realistic office renovation budget.
It is wise for you to consult with your office fitout and office design specialist from the outset and have an open discussion about your budget. This way, they are able to create a proposal which is adequate to your requirements and you avoid countless delays caused by miscommunication, which in turn saves you money in the long run. Remember, to weigh up delays and opportunity costs.
A general rule of thumb is to keep a minimum of 5% savings as a contingency when budgeting. This should act as a safety net for you in case there are any unforeseen changes or issues during your office renovation.
While office fit-out costs will be different from city to city due to differences in labor cost, materials, and tax constraints, we can give you an estimate of such costs for office fit-outs in Sydney.
Refer to the office renovation/fitout costing page for average prices.
Keep in mind that cost per square metre estimates such as the ones which are used in the link above are intended to guide you in your budgeting process but the accurate costs will depend on the specific requirements. Therefore, you should always get a custom quotation to get an accurate investment price for your office renovation.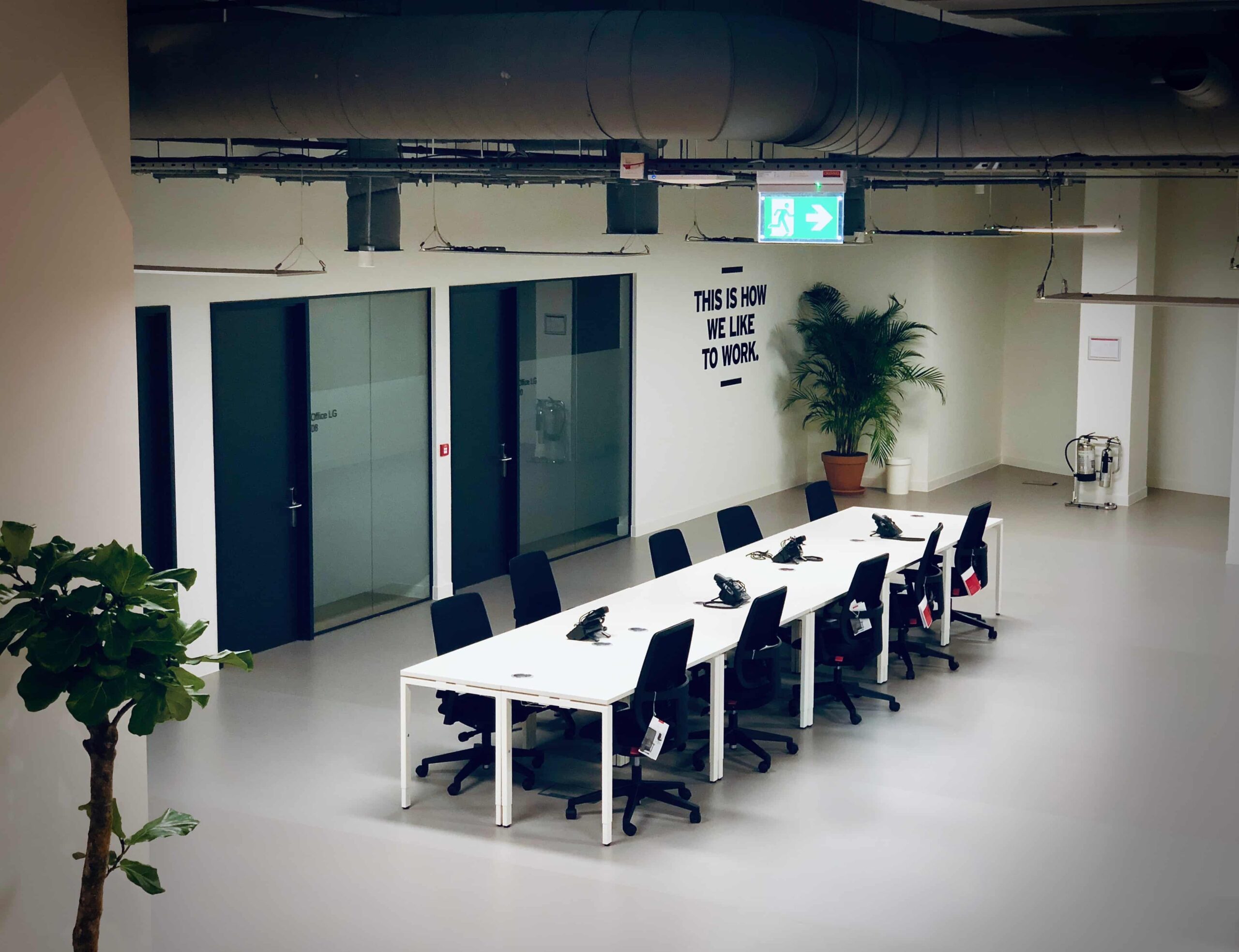 ---
Question

#5
Who Should I Hire For My Office Renovation?
With all the planning and budgeting ready, the next question remains: should you hire an office designer or an office fitout company?
The answer, as annoying as it might sound is: it depends.
Some choose to hire an office designer for the design developments, planning and drawings. Then, they hire a specialist office fitout company to complete the construction and renovation works based on the designers plans.
However, the most sensible, efficient and simple approach would be to hire a specialist office fitout and office design company which offers both the services you require. Engaging such a company will take almost everything off your hands so you can focus on other important parts of your business. You also eliminate the stress and headaches of dealing with multiple contacts.
Companies who offer end-to-end solutions should be able to take your thoughts and ideas and reflect them in a unique design of a space that not only looks good, but it is durable and practical as well. Furthermore, they'll be able to assist you with aspects such as:
Design approvals and certifications

Local regulations

The latest design and style  trends
Premium materials
Energy efficient designs and alternatives
Ergonomic design options
Furniture options
Signage options
Remember, no one cares more about your business than you, so you need to ensure the office fit out and design company you choose is equally as passionate and invested in your business's success.
To learn more, refer to: 6 Essential Tips For Choosing Office Fit Out and Design Company 
---
Question

#6
What Should I Do During My Office Renovation?
After having awarded your office renovation project to the right fitout and design company, things will start moving fast. However, you should still be proactive and check in on the progress every now and then.
Here are a few things you could check or follow-up on during your office renovation:
Ensure your designer/builder is giving you weekly progress updates.

Relocate the office phone lines and set up broadband and other utility accounts.

Verify with the designer/builder that proper local council permits or private certifying authority approval have been obtained.
Verify with the designer/builder that the project delivery date is inline with your initial completion date.
Verify with the designer/builder that the office renovation costs are in line with your initial budget.
Verify with the designer/builder that the design scope is in line with your initial design brief. 

Carry out a defect check before moving in.
Communication is crucial to any business's success. Communicate with your team about what your renovation plans/goals are from the outset and remember to keep them in the loop during the whole office renovation process.
By encouraging open communication with your staff you could also ask for their suggestions and/or feedback which often times can be very valuable to you.
The promise of a new office space can be extremely exciting but, understandably, the actual office renovation works can be stressful at times. Therefore, it is important to have clear communications with your team.
---
Question

#7
How Do I Choose The Right Furniture For My Office Renovation?
Your designer should propose office furniture options for you and guide you in making the right choice for your office space. Alternatively, you may have some furniture styles or themes in mind which you could bring to the table. Either way, the end goal is to create a space you love and thrive in.
To make things easier for you, here are 4 tips when it comes to choosing furniture for your office renovation:
1) Loan Before Buying
Premium quality chairs and professional office equipment isn't a cheap investment. So you want to be sure you're making the right purchase decisions when it comes time to furnish your office space. One way to fail-safe this process is to loan the office chairs. Many office supply companies offer this service where you can request samples to try before you make the actual purchase.
2) Prioritise Your Spending
Consider what a regular day at the office looks like, prioritise what is important for your comfort and the comfort of your employees, then ensure these aspects are invested in first. Ensure the office furniture supplier is able to cater to the individual needs of you and your team.
For example, if you're looking at a screen for several hours each day, you should consider purchasing a standing desk and a good chair that will ease back and neck pain.
3) Factor In Lead Time
Keep in mind that most office products will take time to arrive, as they are mostly made to order.
The lead time frame is a different supplier to supplier but you could allow 2-3 weeks time as a general rule of thumb if ordering nationally. Other factors such as you order quantity, product choice and time of order could also change lead times.
With this in mind, be sure to not to leave everything to the last minute if you want your critical furniture to be delivered before you move in.
4) Get Warranty & Avoid Cheap
Cheap products tend to fail quickly and will have short warranties. In comparison, when buying high-quality products, not only can you expect them to last longer, their warranty lasts longer as well. So it's wise to invest in better quality office furniture from the outset.
---
Question

#8
What Should I Do Post-Renovation?
Finally, your office renovation is complete and you're ready to move into your new office. 
Give yourself and your team some much deserved praise and a pat on the back but don't be fooled, your work is not yet complete.
Here's a few final things to look out for:
Post-renovation cleaning is more intensive than your usual cleaning methods, as it requires professional deep office cleaning. This should be completed by your builder as part of the contract otherwise, hiring an expert cleaner is an excellent way for you to ensure the post-construction office is spotless and looks its best. 
Your builder/designer should have obtained you an Occupation Certificate through dealing with the local council or private certifying authority. Verify this is the case prior to moving in as there are hefty penalties of moving in without an OC.
Your builder/designer should complete a formal handover and provide you with a handover pack. This usually contains all the trade compliance certificates,  warranties, user manuals, product guides etc. 

Again, revisit the defect list you created prior and make sure that all items have been rectified prior to handover.
At the end of the day, no one is more passionate about your business and work space than you are, so it's extremely important to find an experienced office fit out company that is equally as enthusiastic and passionate about their work.
ImpeccaBuild is a Sydney based office fit out company known to its clients as a builder who has a reputation of delivering quality office fit out projects, has good work ethics, and is trustworthy.
For ImpeccaBuild, quality is more than a promise, it is genuine performance and they guarantee the highest level of quality across all their projects.
Put your trust in the right hands and get in contact with the team today.
---
Resources
You may also be interested in: