Your workspace environment plays a crucial role in deciding how productive and motivated your staff feels on an everyday basis. In fact, now there are scientific studies to prove that the job satisfaction of your employees is directly related to what kind of physical environment they are working in.
But just because your office space is small, it doesn't mean your employees can't work there in an effective and comfortable manner. Yes, it's true that small office layout ideas need a bit more planning, organization, and imagination, but if you've invested enough attention, time, and energy at the design stages of establishing your office, you have absolutely nothing to worry about!
In fact, you'll find that there are so many startups and new businesses in the market which are doing really well for themselves in spite of space constraints. These businesses managed to accomplish this feat because they made an extra effort towards making their workplaces appear beautiful and feel perfectly comfortable for their employees and visitors alike.
Here's a complete guide on what kind of new and exciting small office layout ideas you can adopt to make your small office space look gorgeous, but more importantly, feel spacious without making any major structural changes.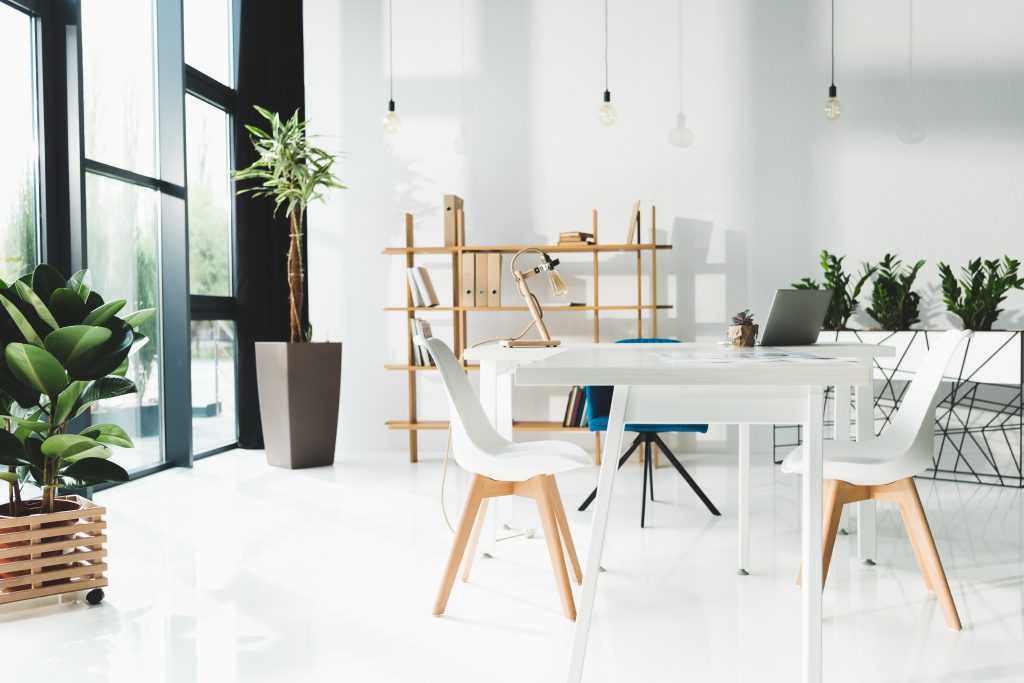 ---
3 Things to Keep in Mind Before Picking a Layout
Before we discuss the various small office layout ideas that'll make your workplace more aesthetically pleasing and functional, there are a few things you need to keep in mind. These pointers are important because they'll act as guidelines on every step of the process of analysing which small office layout ideas would work for your office and which ones won't.
What Kind of Office Space You Want to Create

– Not every office environment works the same way. Depending on what kind of business you are running, you might want to create a more social and vibrant atmosphere or you might want to go with an environment where employees have their own privacy and the ambience is generally quiet.

Primarily, there are four main types of office environments or layouts you can go for – cellular office layouts, open office layouts, co-working office layouts, and combination layouts. It's important to decide which of these you'd want to have at your workplace before you explore the small office layout ideas best suited for your needs. Once you are clear about that, figuring out which small office layout ideas would work for you becomes very easy.
What Kind of Budget You Have

– Budget is also a very important factor that needs to be well taken care of before you start exploring the various

small office layout ideas

. Since small offices usually mean a low budget, you need to plan your finances beforehand. Decide what's your topmost priority – visual appeal, the comfort of your employees, or some peculiar structural changes as per the specific needs of your business. Whatever that is for you, assign it the highest budget allocation as a part of your planning process.

If you are not sure how much these changes are going to cost you, take help of a professional office fitout company to get an estimate on office fitout costs. When you know in advance how much money you'll be investing in this process, you'll be able to make better, more informed decisions.
Importance of Adaptable Spaces and the Scope of Future Expansion

– When you are working with a limited amount of area, presence of adaptable spaces becomes doubly important. How to create a multi-purpose space? Use tactics like multifunctional furniture, innovative storage systems, sliding screens or room dividers, and adaptable workstations. The idea is to be able to transform the space conveniently to fulfil all kinds of requirements that your employees or clients might have.

Future office expansion becomes easier to plan if your layout has ample amount of adaptable spaces. Since yours is a small office space, you can rely more on adaptability and less on making structural changes like adding more furniture or breaking walls to install new cubicles. Save space, improve your office design and make it more future expansion-friendly by making use of ideas like shared desks, lightweight and movable furniture, adjustable lighting, and collaborative atmosphere.
---
6 Small-Office layout Ideas That Combine Aesthetics and Functionality
Now that you know what it takes to create a highly functional, productivity-boosting, and aesthetically pleasing office environment within the boundaries of a small space, you are ready to explore our list of top 6 small office layout ideas that effortlessly combine aesthetics and serviceability.
Again, adopt or reject any of these small office layout ideas based on what we've discussed above. If you are running on a tight budget, do not consider installing expensive lighting setups or if your aim is to create a very social, collaborative space, no need to place privacy pods on every corner of your office. Just go with what truly matters to you and to your employees.
TIP #1
Pick a Theme for Your Interiors
Picking an attractive theme for your small office space helps you reinforce your brand in a powerful way. So, even though the space you have is limited, your employees would feel proud of their workplace because it is stylish and very well-organized. An interesting theme also gives out the message that "we are here to stay" to the outsiders (especially to your clients) when they visit your office space.
Sticking to a fancy theme sounds like a lot of work and spending a lot more money than you originally anticipated. But that's not true at all! You don't need to spend any extra money in order to pick an interesting theme. Simple things like using the same colours as your company's logo, wooden furniture theme, pastel-coloured decorations, or a cafe-style office setup would work just fine.
Use bar stools, plush sofas, laptop desks, and a couple of quirky coffee tables to create a relaxed yet trendy environment. You can go with a minimalistic theme which actually works really well for a small office layout. Keep only those things that are absolutely necessary and throw out everything else that's purposeless or non-essential. This will automatically make your office look and feel more spacious and breathable.
You can also go for an 'all-white interiors' theme which is one of the most sought-after small office layout ideas people are exploring these days. White or off-white interiors create the illusion of space and if you combine this theme with just the right kind of furniture and accessories, you can create an exceedingly elegant looking workplace without spending a lot of money. Keep things simple and tidy to create a neat and well-organized environment. Then, sticking to a theme for your office interiors becomes an easy and natural process.
---
TIP #2
Furniture is the Key
To make the most out of the available space, it's very important to pick the right kind of office furniture. But just the right furniture won't solve your space woes. You need to learn how to arrange this furniture in the most effective manner, as well. Since space is a constraint, we recommend picking the furniture which is – compact, functional, and comfortable.
You can't compromise on any of these three qualities. If you pick compact office furniture which isn't functional at all or is not comfortable, you'll just end up wasting your money. So, make sure the furniture is compact in size but at the same time is capable of handling all your office needs and is comfortable for your employees.
If getting readymade furniture is difficult, consider ordering custom made furniture, instead. When you are working with a limited amount of space, it's important to save every inch wherever you can.
Consider getting L-shaped desks or corner desks custom made exactly as per your requirements and pair them with small but comfortable ergonomic chairs. Also, add a few multipurpose carts, small filing cabinets, and narrow bookcases for storage purposes. Office stools and floating desks are also great options when you are working with a restricted amount of space.
One of our best small office layout ideas or tips for arranging office furniture is – to decide beforehand how you are going to arrange your furniture. Once you are clear about that, head out to buy it, instead of ordering everything and then deciding, "Where do I put this? Where will this go?" Create a blueprint in your mind (or on paper) and then accordingly buy furniture for your specific office needs.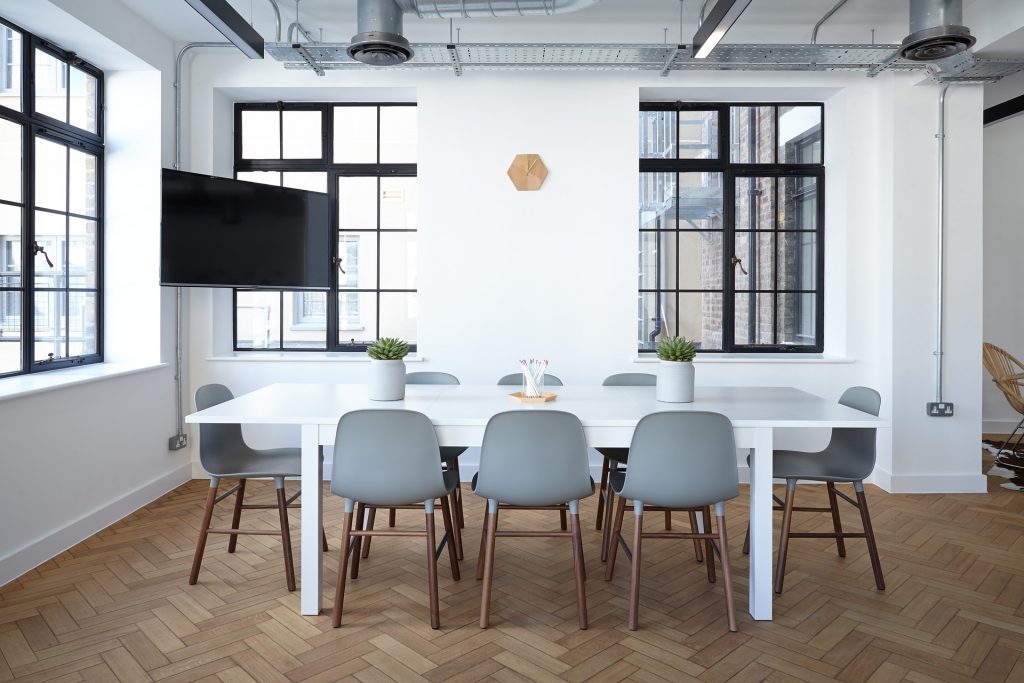 ---
TIP #3
Vertical Storage Spaces
Yes, storage is essential, but that doesn't mean you need to clutter every corner of your office with bulky storage units. Instead, make use of vertical spaces, especially your walls to store all the office essentials to maximize efficiency and productivity. You can use storage solutions like – shelves, magazine holders, cubbies, narrow stand-alone cabinets, tall cupboards, and wall-mounted cupboards for this purpose. A setup with these storage solutions would not only allow you to save extra space but if done right, will also make your workplace look chic and contemporary.
Using vertical spaces for storage purposes is one of our top small office layout ideas, but we'd like to remind you that you need to remove all the non-essential items from your office if you want to create a truly elegant and functional office environment. Still, if you feel, you need some extra cabinets, maybe for your employees' personal usage, you can install storage bins under your employees' work desks. You can also invest in desks that come with added shelves and storage spaces above them.
---
TIP #4
Light Your Space Wisely
Lighting your small office space wisely can transform it completely! Though it's ideal to go with a healthy combination of both natural and artificial lights, for small offices, we'd specifically recommend layouts that allow more natural light to fall inside than the use of artificial lights (at least during the day time). Research now shows that natural sunlight promotes productivity and is beneficial for lifting everyone's mood in the office. It makes your employees more creative and is great for their mental as well as physical well being. You can further increase the amount of light by using mirrors on your walls that'll reflect the light and make the space look even more vibrant and bright.
Natural light also makes your office look bigger than it actually is. Go for small office layout ideas like tall glass windows, glass doors, and skylights (if it's possible). Even if your space doesn't receive as much natural light as you'd want and you are relying more on artificial lights, try to create a natural lighting kind of an ambience. For this, use light colours on the walls and decor, and put your lights as high up as possible. Wall lights and ceiling lights make the space appear larger and brighter.
Avoid floor lamps as they'll take up space which is not something you want for your office layout. Also, try to reduce shadows wherever it's possible and try to brighten up the darker corners of your office to give the illusion of a bigger room.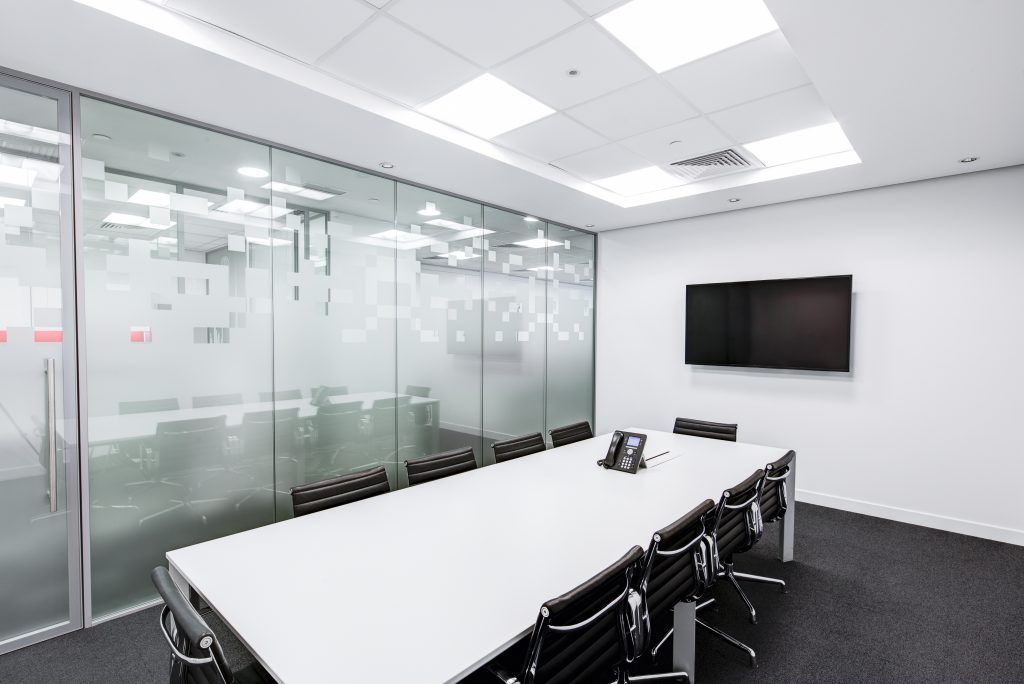 ---
TIP #5
Keep Things Creative
Planning and decorating a small office space is your time to show some serious creativity. Ditch the conventional designs and cliche looking pieces of furniture to create something absolutely out of the box and innovative. These days people in all parts of the world are building unique and quirky office spaces to establish themselves as brands or businesses that genuinely have a strong sense of individuality and style.
Your one-of-a-kind, small office layout ideas can come from anywhere. It's best if your workspace reflects a part of your own personality. That makes your brand look really authentic and trustworthy. You can pick a theme that revolves around your own cultural background or identity, like a traditional Indian theme, or Moroccan theme, or a theme that has nuances picked from the streets of Paris or modern-day London.
You can experiment with all kinds of colours, textures and patterns or you can make use of alternative construction ideas like an exposed brick wall, use of mosaic tiles, hemp fibres, or bamboo wood sticks. You can add a lot of indoor plants and change the look of your office space completely. Read more on the best indoor office plant types, all their benefits and much more here. But since you are working with a limited amount of space here, be very careful that all your creative small office layout ideas are space-efficient in nature.
---
TIP #6
Use Technology to Your Advantage
Use modern technologies to give your small office space a boost of productivity and functionality. Provide your employees with adjustable lighting sources, modern furniture, and comfortable temperature settings with the help of new technologies. Make your office future-proof by installing a proper infrastructure for video calls and conferences, advanced communication tools, smart thermostats, and dependable Wi-Fi system, multi-factor security, and sufficient cloud-based storage.
Digital cloud-based storage, in particular, is of great importance when you are working with a small office layout. These platforms offer digital filing services that can help save tons of physical space which otherwise would have been occupied by storage systems like cabinets and filing units. So, wherever it's possible, store your official documents and data electronically.
This kind of digital storage space also gives you better accessibility options. You can access the data from anywhere in the world. You do not need to visit your office physically in order to do your work anymore. All you need is a good internet connection and you can work from anywhere you want. This empowers you to give your employees the option of working off-site or 'work from home'. Fewer people in the office means you won't need a lot of space to accommodate everyone comfortably. Even from a small setup, you'll be able to work pretty efficiently.
---
Conclusion
With the above mentioned small office layout ideas you can transform your workplace into a very well structured and functional office space, without compromising on any aspects of design or aesthetics. The key is to plan everything in advance. At the planning stage itself, work out your office fitout costs and allocate a fixed budget for this process, decide exactly what kind of office space you are aiming to create and ask yourself whether my office is future-proof or not?
Only once you are clear on these aspects, move forward and introduce all the structural changes. Our list of small office layout ideas includes everything from picking the right theme for your interiors, how to light up the space to enhance productivity, what kind of furniture would work for your small space, to how to store your office essentials physically or otherwise.
And remember if you are new to this or you are not sure how any of this works, you can take help of a trustworthy office fitout expert. Since designing and decorating a small office space needs a certain amount of additional planning work and creative thinking, hiring an experienced fitout professional would certainly make things easier and quicker.
---
Resources
If you enjoyed reading "6 Small Office Layout Ideas To Boost Productivity in an Efficient Manner", you may also be interested in: