It takes more than just a Pinterest board of aesthetically pleasing office flooring ideas when it comes to designing an awesome commercial space or office. Office flooring ideas shouldn't just factor in budgets, preferences and trends. What you decide to put on your floor is a considerable investment in your business.
It has the potential to give back not only in terms of providing comfort for your team members but also boosting their productivity!
Don't believe us? Read these eye-opening tips and tricks to make your office flooring contribute to your business's branding, productivity and, most importantly, that bottom line on the account charts!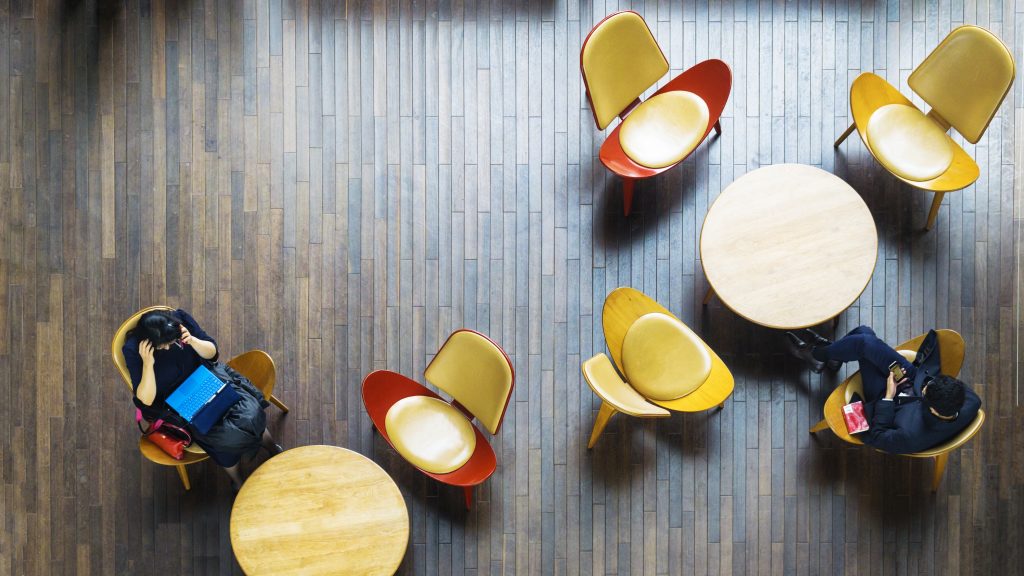 ---
TIP #1 | Make It Feel Like Home
Why Should Your Office Space Be Aesthetically Pleasing?
What better way to provide a comfortable working environment for your team members than to create a space that is inviting and warm? Gone are the days when office space designs only factored in durability and budgets.
The current trend, and one that has come to stay because of the value it adds to team morale and productivity, is to make office spaces aesthetically pleasing and more homely.
The best way to achieve this is to use softer materials like wood or laminate for a feeling of warmth. Don't just opt for office plants and wall art to create a welcoming aesthetic space but design floor up for coherent space design.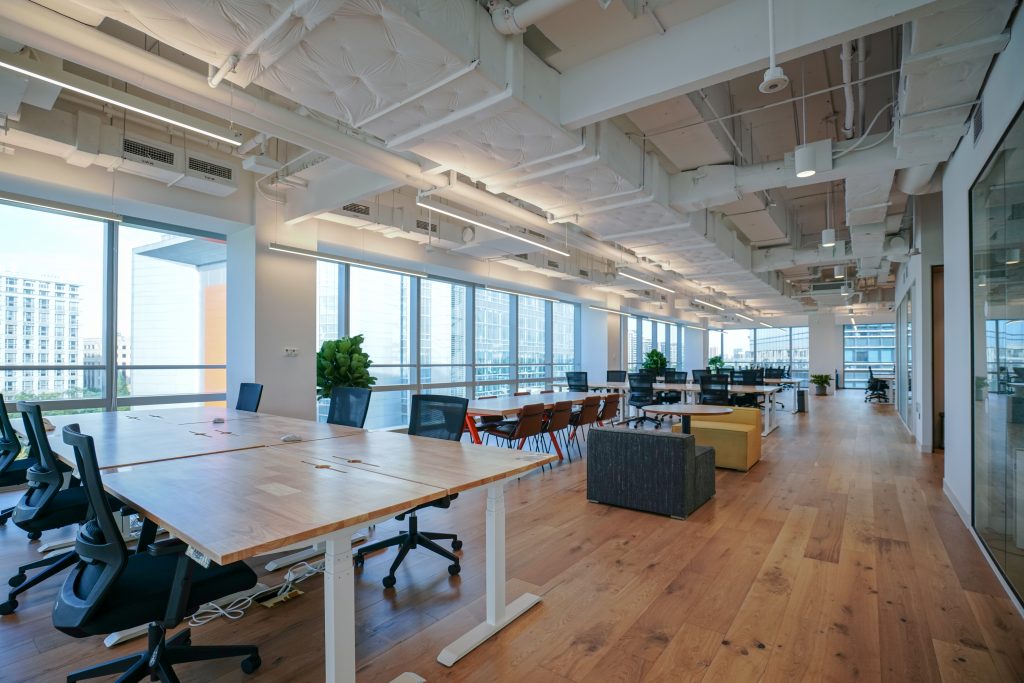 ---
TIP #2 | Apply Colour Psychology
How To Apply Colour Psychology For Your Office Design?
Colours evoke emotions; Which is why we use colours for branding, marketing, relaxing and basically creating environments for desired outcomes. If you haven't factored in the use of right colours to evoke the right emotions for your workplace, then you may want to start now. Opt for warmer colours to make the space seem warm and cosy or opt for stark whites for professional-looking clean lines to encourage focus and productivity. Select colours based on your type of work and the emotions of your team members that you'd like to focus on.
Say if your business is more focused on problem-solving, then you may want to opt for blue as it promotes creativity. Choose yellow for optimism, black for strength and red for strategic thinking as it is a bold colour.
Colours can also be used strategically to make the room look bigger or smaller. For instance, dark colours tend to absorb more light, making the room look smaller than it actually is. Soft tones of green, blue and off-white will make the room look inviting and bigger in size.
Similarly, you could also use colours to divide an open space into different compartments. You could create visual divides with different floor colour options without having to put up any physical barriers.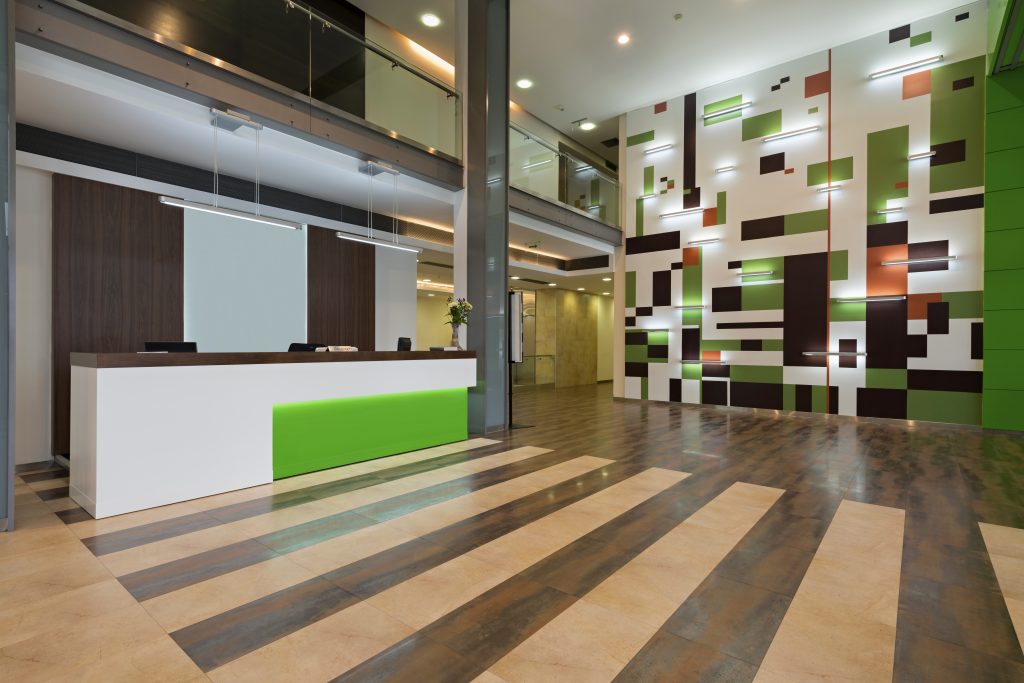 ---
TIP #3 | Focus On Patterns
How To Use Patterns For Your Office Flooring Ideas & Design?
You can get really creative with your office flooring ideas and patterns. There are as many choices for designs and patterns as your imagination will let you wonder. You could use patterns to create visually appealing floorboards that would greatly contribute to the overall aesthetics and the purpose of your space.
And just like colours, specific patterns can help create the illusion of space and warmth. For instance, wide diagonal patterns would give the illusion of more space. This is especially a good design if you are trying to create a free-flowing and modern layout with glass doors separating each office/cubicle.
How Can You Visually Separate Office Spaces?
You could also use patterns to create illusions of separate spaces. This is especially a great idea with office spaces that create floating work stations in the centre of the room. Separating them through colours may not look very aesthetically sound or might make the space looking clustered and 'too busy' in all the wrong ways.
You could use the same material, texture and colour of your choice of flooring but create visually separate spaces with the help of different patterns. For instance, you could opt for diagonal lines in the walking alleys and use vertical patterns for spaces designated to work. Again, the choices are endless.
What Are The Most Popular Office Flooring Design Patterns?
Following is a list of some of the most popular design patterns to help you find your favourite:
Offset: This is also often called the running bond and is created by layering the layout at half the width of the tile or plank.(Below)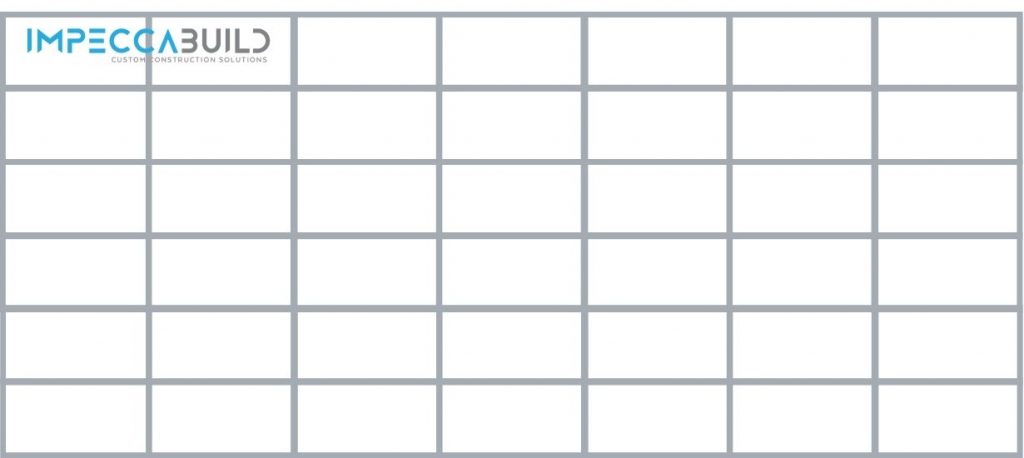 Grid: Stack bond or grid is a simple arrangement in which all the horizontal and vertical points of the tiles are aligned continuously.(Below)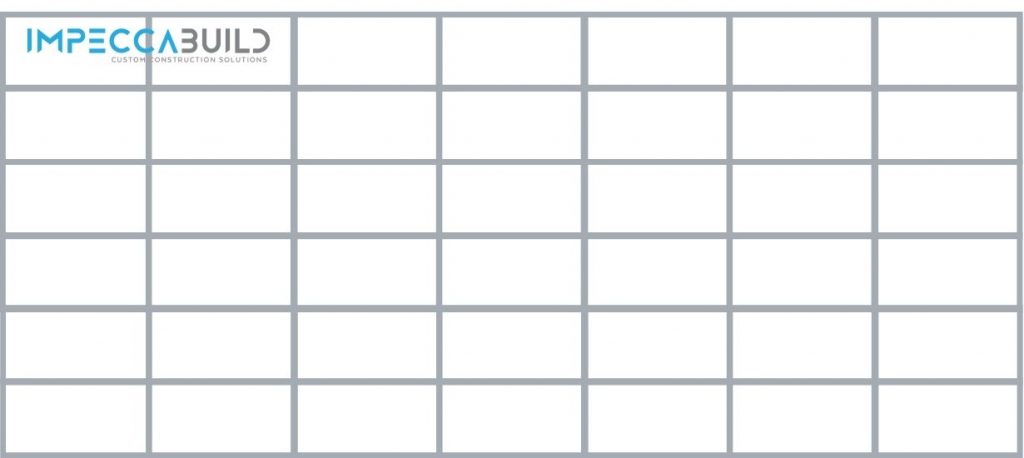 Stagger: This layout is created by arranging tiles on alternating sides of the centerline. These usually come with 2 or 3 different colour variations.(Below)
Diagonal: As the name suggests, this layout is created at an offset pattern at a 45-degree angle.(Below)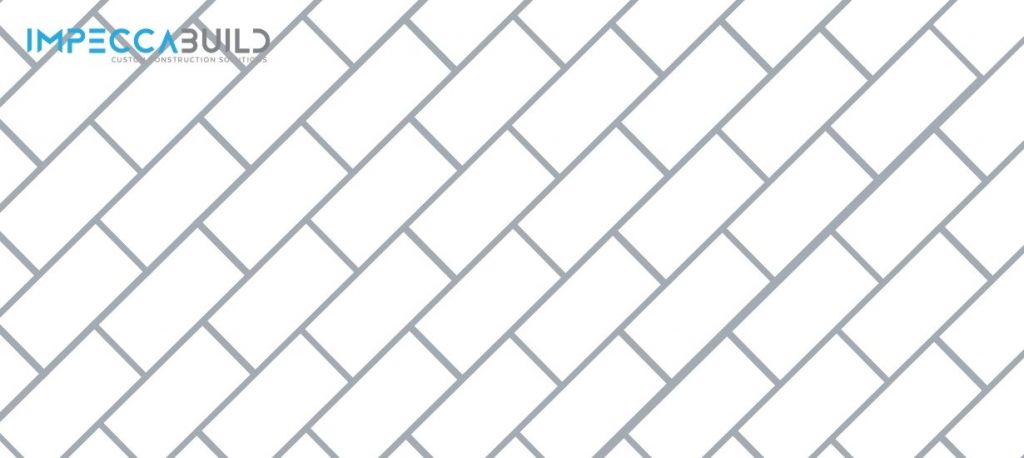 Weave: This design comes with a number of variations that are all focused on creating movement within spaces.(Below)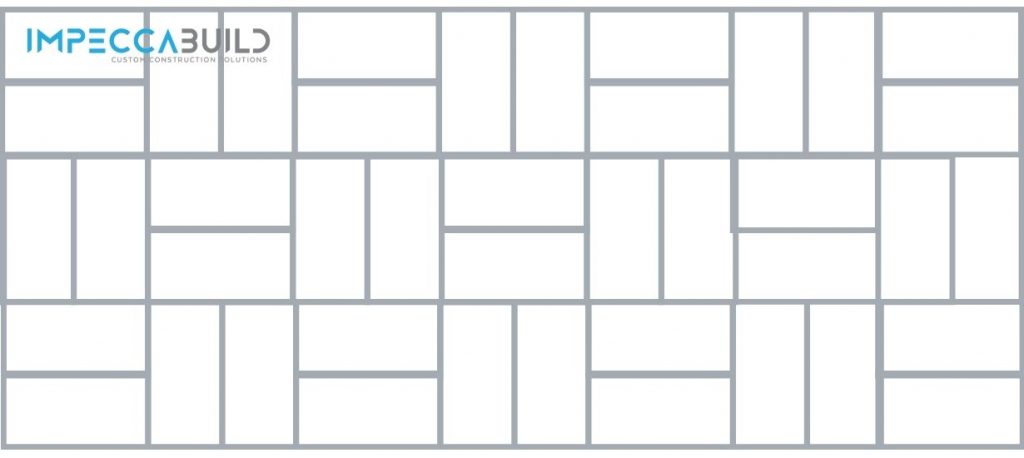 Herringbone: These resemble fish scales and are often the go-to choice for sophisticated layouts.(Below)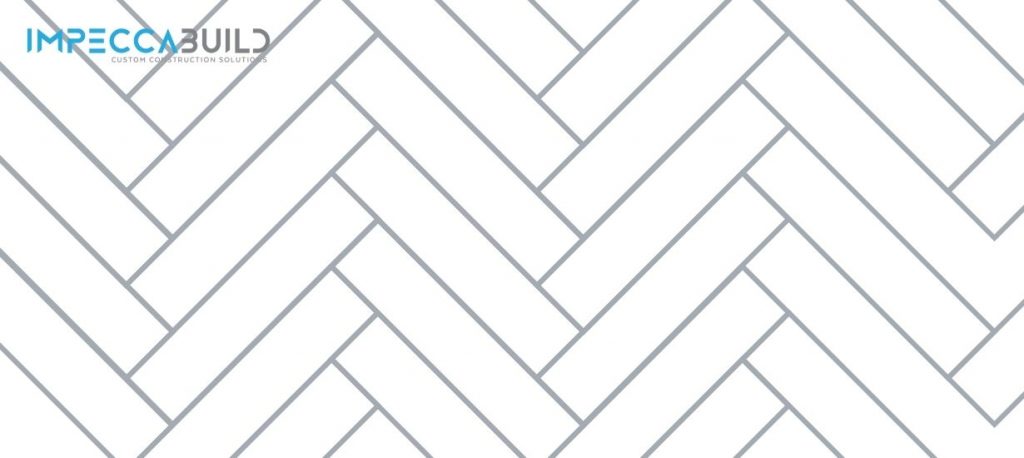 Corridor: This layout is created with a standard grid pattern with intervening rows to create visual interest. (Below)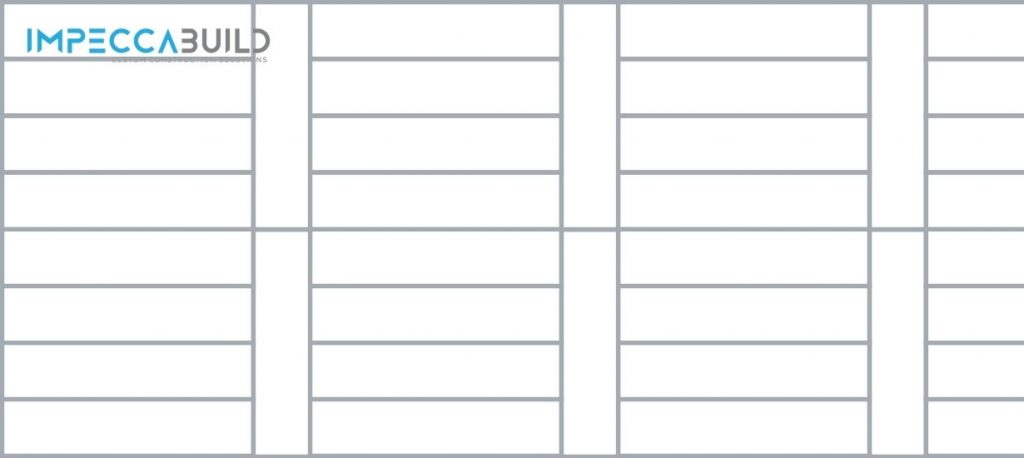 Flemish Bond: This layout is created with a basic pattern of alternating square and rectangle tiles. (Below)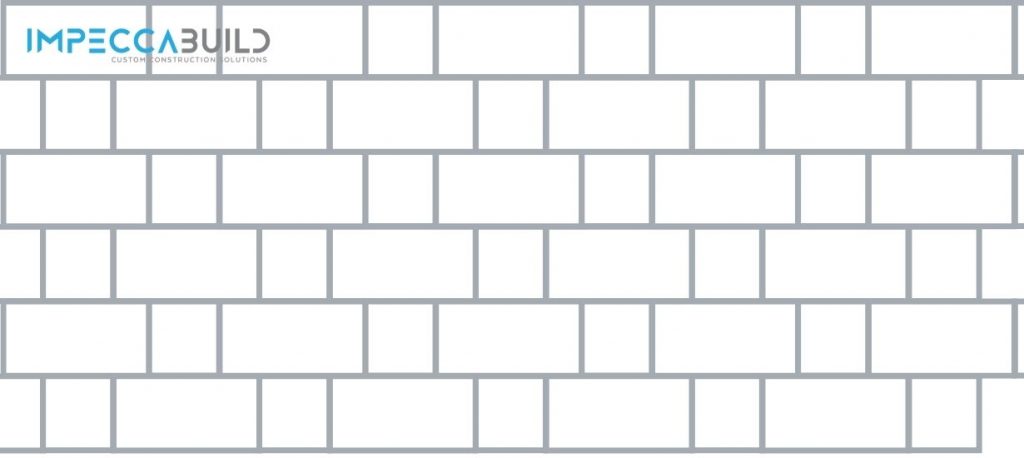 Quarter Turn: This is an interesting layout for flooring options with visible grains and patterns. Each tile is placed in alternated angle(quarter turned) compared to the previous style. (Below)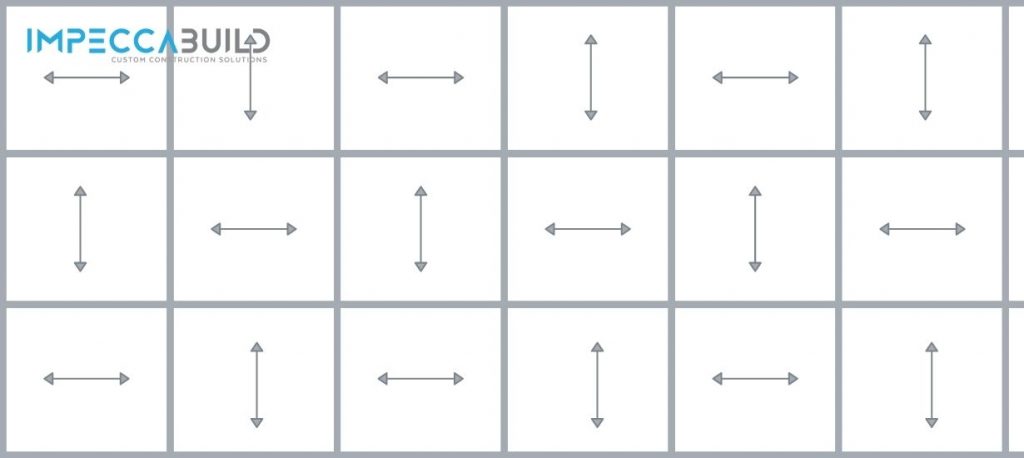 ---
TIP #4 | Keep Your Business's Overall Feel
Should Your Office Flooring Ideas & Business Branding Align?
Your office flooring ideas would also need to consider the overall feel and vibe of your business. For instance, if wish for your office environment to be extremely formal, then you may want to opt for sharper materials and colours and if you'd like to keep it casual then you could opt for low-maintenance office flooring ideas and designs.
Similarly, if you'd like a warm, traditional feel then you may want to opt for wooden office flooring ideas or perhaps concrete or marble for a more modern look. So decide the overall feel of your office before making any major decisions.
---

TIP #5 | Decision-Making Considerations
How Should You Choose The Flooring Option For You?
There are certain considerations that you'd need to keep in mind when deciding on office flooring ideas and options. Every business has different requirements, dynamics and workflow, and all this should be factored in to find a solution that will be economical and long-lasting.
Traffic: What will the traffic be like in your office? If there will be a lot of foot traffic, then a carpet may not be the best option since it would wear out easily. Best office flooring ideas/options for heavy foot traffics would be concrete and tile.
Budget-Friendly Office Flooring Ideas: When it comes to budget-friendly options, we live in the best of times. Your aesthetics and preferences can fit into any budget that you may have. You don't necessarily have to opt for expensive hardwood flooring when you can get a pretty similar look and feel with other materials like vinyl and even ceramic tiles. Ensure you calculate your budget before going shopping. Read more on office fitout costs here.
Durable Office Flooring Ideas: How long would you be doing business out of your current office space? If you plan on expanding/renovating/moving, then durability may not be your foremost priority. But if you are looking for long-lasting performance, then look for options that are most suited for commercial spaces. Vinyl flooring is the topmost choice for spaces like retail stores, healthcare and other commercial buildings.
Flexible Office Flooring Ideas: What if one of the tiles break or someone spills a can of strong chemical on the carpet causing a little damage. How can you replace it without having to redo the entire floor or space? Do opt for carpet tiles or removable flooring so you could easily fix damages without spending a little fortune.
Maintainable Office Flooring Ideas: You do want something that is easy to maintain, especially in areas that are high traffic. Carpet, for instance, is very easy to stain and difficult to clean up again and again. You also want something that would clean with minimum noise or work so as not to cause any interruptions during work hours. Ceramic tiles and engineered hardwood are the easiest to clean and maintain and would last for decades, if not longer, in pristine condition.
Eco-friendly Office Flooring Ideas: Everyone is going greener when it comes to business practices, and for good reason. There are plenty of options available in the market that contribute to making the environment better without compromising on aesthetic or quality. Top eco-friendly options currently available include cork, bamboo, wool carpet and linoleum. Read more on sustainable building materials here.
Impact on Utilities and productivity: Certain floors, like glass, would require more products, power and people for upkeep. This could have a major impact on the bottom line. Carpet could become a breeding ground for termites and dust allergens causing team workers to fall ill and become absent from work. Similarly, marble and slippery floors could affect the flow of work and increase the risk for injuries.
Noise-Reducing Office Flooring Ideas: As empowering a woman click-clacking her way around office sounds in the movies, it isn't as appealing in real life when there are a dozen others doing the same. Noisy floors can really take a toll on the overall environment of the office. Carpet is the best option for minimizing noise, but it hardly ticks any other boxes. Another great way is to install noise-reducing underlayment before laying out vinyl, laminate, engineered wood or other options.
Embrace the Uniqueness of Your Style: In the midst of all the ifs, buts, hows, and budgeting, it is very easy to forget about your own personal style and preferences. You will work best in a space that you love and reflects your true identity and style. It doesn't matter if the colour grey causes anxiety, if it is your favourite colour, then you could, by all means, do your little search and opt for a happier shade. Do factor in your happiness and style and find a middle ground to let your uniqueness shine through.
---

TIP #6 | Room-By-Room Guide
How To Choose The Best Flooring Based On The Room?
Floorings are not a one tile fits all kind of a solution. Specific spaces have specific purposes and requirements and thus may require different office flooring ideas and solutions. Following is a breakdown of what floors are best for selected spaces and purposes in an office setting:
Reception and Lobby Areas: These are your high traffic areas and also ones that set the tone for your customers, vendors and other stakeholders. This is a place where you could go all out to create an impression while opting for something that can easily withstand high foot traffic. Good options here would be wood finishes, luxury vinyl tiles and terrazzo.
Open Office Areas: These are places of productivity and thus require a solution that can boost productivity by minimizing noise are low maintenance and durable. Ideal options here would be carpet and tile.
Kitchen and Activity Areas: You want an option that can weather through spills and water and be very easy to clean, repair and replace if required. Best options in this area would be quarry tile, linoleum and vinyl.
Conference Rooms: This is the place where you'd be making important decisions and hosting meetings with potential clients, team members and stakeholders. You need something that ticks boxes for design appeal and productivity. You don't want a floor that would make too much noise so as to cause interruptions. Since this wouldn't be a space with very high traffic, you could opt for more luxurious options like luxury carpet, high-end wood finishes, marble or similar office flooring ideas.
There you go! Needless to say, there is a lot more to office flooring ideas and options than colours and textures. This guide has provided you with the basics, and more, to find the best solution for your specific needs.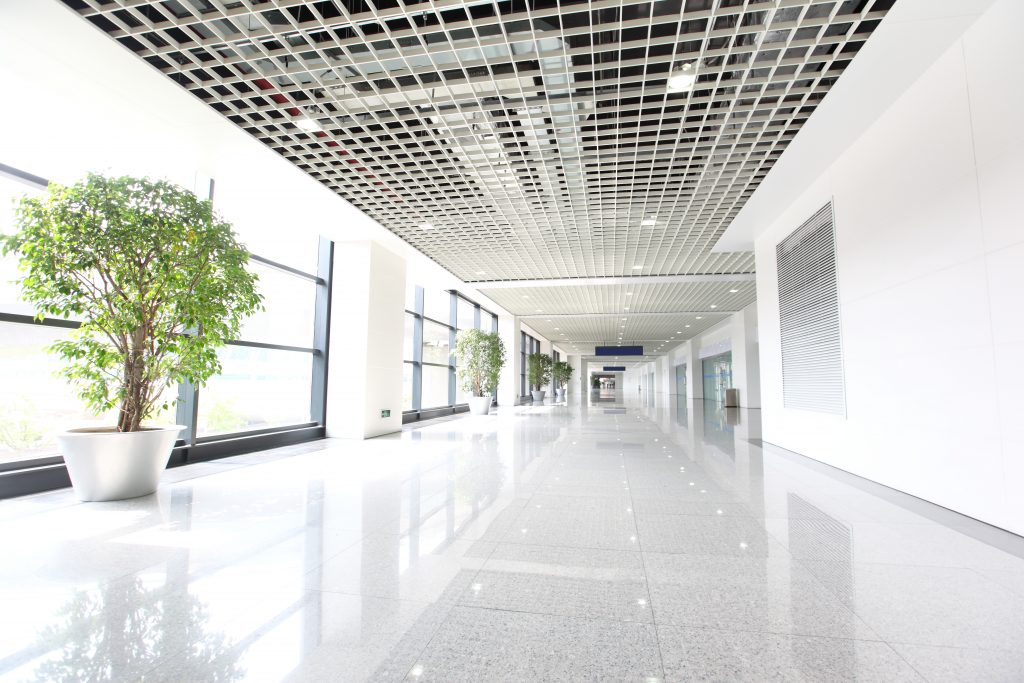 ---
Resources
If you enjoyed reading this article on office flooring ideas, you may also be interested in: