People usually have a huge misunderstanding regarding the profession of interior designing. They think it's all about making a space look aesthetically pleasing and nothing else. This is definitely a very distorted comprehension of what it takes to be a professional interior designer.
While enhancing the look and feel of a space is a crucial aspect of the job, an interior designer is also responsible for planning and creating a safe, clean, and functional environment. This requires specialized knowledge, skills, and a good amount of experience in the industry. Every interior design is carefully created while keeping in mind a number of important aspects like
What kind of space it is and what it's going to be used for,
What kind of building materials are to be used,
What kind of finishing touches are expected,
What is the budget and the deadline for the project, etc.
Depending on all these factors, an interior design can be categorized into several different categories like – residential, educational, civic, medical, cultural, or commercial. In this blog, we will specifically discuss what is a commercial interior design, what are some of the key responsibilities of commercial interior designers, and what kind of drawings and plans they can create for you.
---
What is Commercial Interior Design?
Commercial interior designing can be defined as the branch of architecture or environmental design that deals with site planning, landscaping, and selection & placement of furniture, furnishings, and other decorative articles in a commercial or an industrial setup. A commercial interior design is created to make a space look aesthetically pleasing, well-balanced, and interesting while also ensuring that it is fully functional, technically sound, and 100 per cent safe for everyone.
Depending on the nature and purpose of the work, a commercial interior designer can be hired to design an office, or a hotel, restaurant, cafe, retail store, factory, or a medical clinic. A well-planned and executed commercial interior design acts as a solid foundation for the success of your business. It enhances the experience of being in your space for both your employees and your customers, which makes a direct impact on the long-term success of your venture.
---
Why Are Detailed Design Drawings Important For Your Project ?
When you contact a fit out company about your project one of the first questions they will ask you is "do you have design drawings for your fit out" This usually surprises clients as we normally associate design drawings with residential homes or big high-rise buildings or shopping centres. However, detailed design drawings are require for even the smallest projects such as changing a few walls withing your premise, or building another consult room. There are a few main reasons for this so let's get into them.
1 – Certification. Whenever we change the internal layout of commercial space, certification is required. Certification is the process by where Private certifiers or Council ensure a building meets specific building codes, including local regulations and laws. Detailed design drawings are required to carry out certification and determine what type of certification is required for any given premises (DA or CDC). Without such drawings, certification isn't possible, and therefore you won't be able to build or make changes to your fit-out.
2 – Accurate Quotes. If you don't have detailed design drawings or drawings that lack detail, builders won't price your project correctly. Some builders will provide provisional sum prices for missing details or exclude items from their quote altogether only to hit you up for variation later when it comes to construction. As a client, this can be very frustrating as the initial agreed-upon figure can inflate if design details aren't clear from the get-go.
3 – Smooth Fitout Process. Design drawings are the blueprints for your project. They are vital in communicating exactly what you want and need to many different trades, estimators and project managers. Trades should follow plans to a T.
If measurements are missing or material finishes are unclear, this could cause you many costly issues when the fit-out process starts, for example:
Delays to your project timeline
Variation costs
Missing items
And ultimately ended up with a finished product that is different from your initial vision.
What Are the Responsibilities of a Commercial Interior Designer?
The main responsibility of a commercial interior designer is to create a plan of action that combines functionality and safety with a strong sense of aesthetics. For instance, if you are opening a high-end cafe, you'd want to maximize your seating capacity but at the same time, you want your cafe to look chic and elegant. So, it's the job of your commercial interior designer to come up with a plan that would help grow your business but without compromising on the quality of comfort and the kind of luxurious atmosphere you are hoping to offer your customers.
Your designer would invest time to understand what kind of priorities and goals you have for your business and what's your brand identity. It's his/her job to take note of your preferences regarding the layout, workflow, functionality, and decor. Then accordingly, he/she will suggest a theme for your design and would help you understand what kind of styles, shapes, patterns, textures, and decor would work for your particular space.
Once a theme is finalized, your commercial interior designer will take the measurements and will start working on conceptual drawings representing the layout, colours, furnishings, and furniture to be installed. It's really important for your designer to understand how different departments are going to work together on a day-to-day basis because based on this knowledge, he/she would be able to decide where each of these departments are to be placed. The drawings made by your designer are kind of blueprints for you to follow through each and every step of the construction and interior designing process.
It's also important for a commercial interior designer to be able to manage the project efficiently. It's his/her job to establish the timelines and to make sure that all the deadlines are met by the tradesmen involved in the process including the plumbers, electricians, carpenters, painters, etc.
He/she also needs to verify whether everything is complying with all the relevant codes and regulations for construction and design. All these tasks are to be accomplished by your designer within the stipulated budget you have set for the project.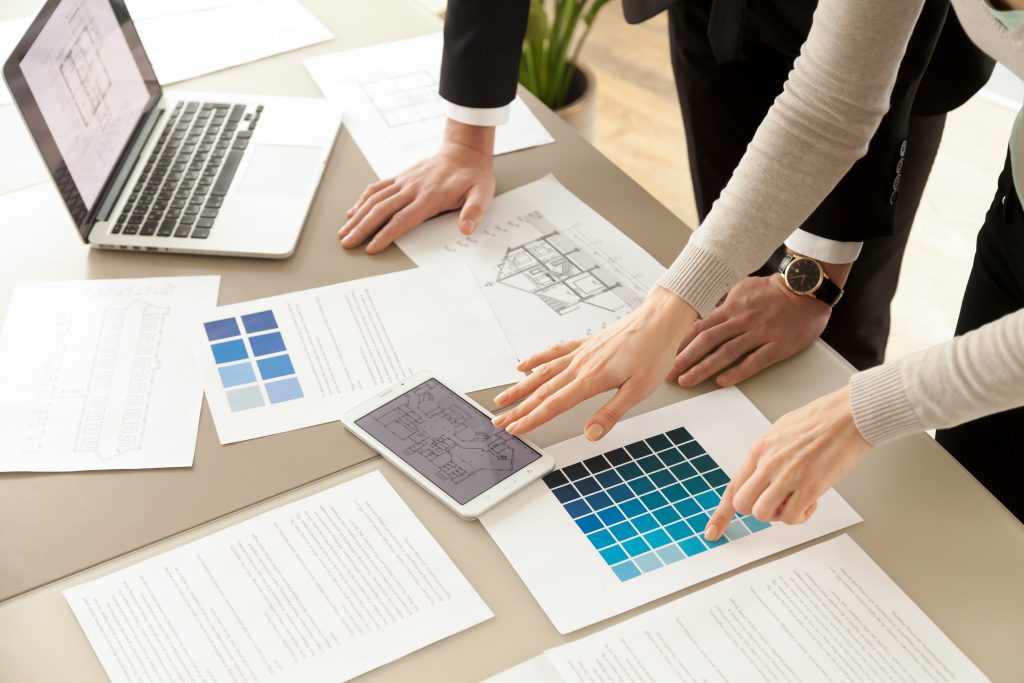 ---
Different Types of Commercial Interior Designer Drawings
Types of Commercial Interior Design Drawings #1
What are Existing and Proposed Plans
These plans are created by the architecture of the site but it's really important for an interior designer to be a part of this process. 'Existing and Proposed' plans of a commercial space includes the floor plans of the site representing the arrangement of space in a very detailed manner. These plans are like maps of your space showing where exactly the walls are going to be, along with other features like doors, windows, stairs, fittings, and furniture.
If you are not constructing but just renovating the space, both the existing and the proposed plans would be made to clearly illustrate what's going to stay and what needs to be removed or installed into the space as per your instructions. Besides floor plans, these could also be the site plans of the building representing the points of entry & exits into the building, the street outside, parking spaces, etc.

---
Types of Commercial Interior Design Drawings #2
What are Electrical and Hydraulic Plans
Designing the lighting setup of a commercial space requires a lot more than just some knowledge about 'what kind of lights are going to look great here!' A commercial interior designer starts this process by estimating the total electrical power load of the building. Then accordingly he/she decides what kind of electrical equipment would be needed for the lighting setup. This requires special knowledge of energy consumption patterns since these units are governed by building codes set by the local governments.
Electrical Plans or drawings are created to illustrate where the lights are going to be. It also shows the wiring system, power, and circuits for communication. Standard symbols in an electrical plan are used to demonstrate the circuit breakers, capacitors, conductors, transformers, and bus bars.
The Hydraulic Plans of a commercial site are created to illustrate the system of water pumping, placement of various kinds of water equipment and pipes, placement of drains, and what kind of sinks are to be installed into the space. These drawings also include the position of sanitary systems, fixtures, and how different types of accessories are to be installed and where exactly.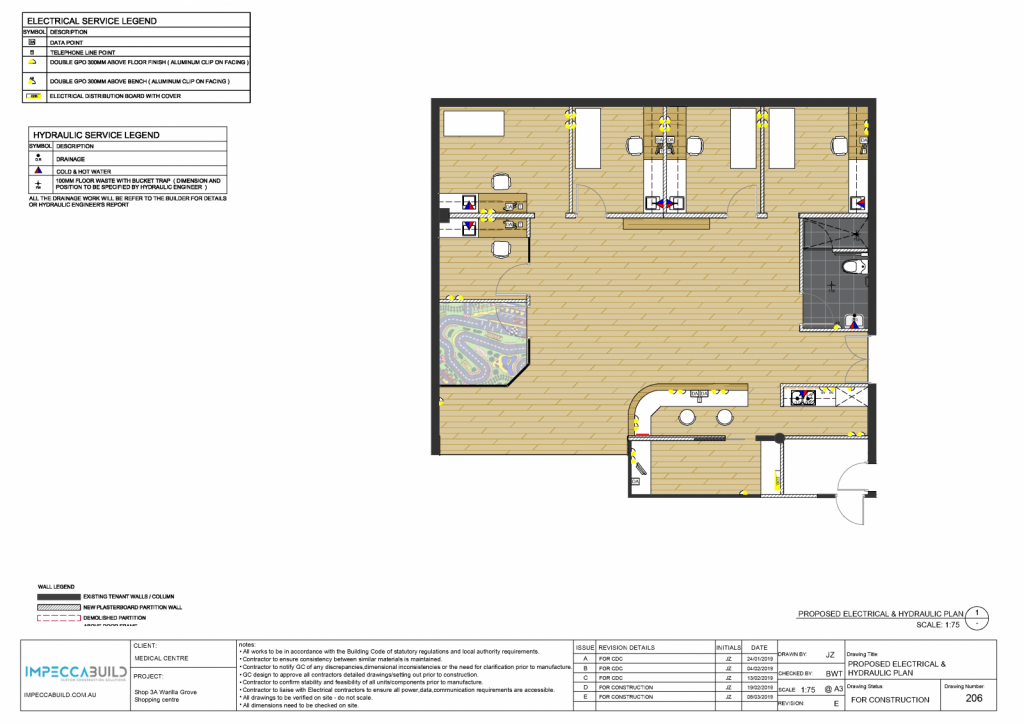 ---
Types of Commercial Interior Design Drawings #3
What are Elevations & Sections and Joinery Designs
People, even in the construction industry itself, tend to undermine the importance of creating 'Elevations & Sections' drawings, which can lead to some major disasters later on. While working on a commercial interior design, two kinds of elevation drawings are to be created – external and internal. The exterior or external elevation drawings illustrate how each side of the building is going to look from the outside. They represent the overall height of the project, placements of doors, windows, decks, ornamentations & trims, etc.
Internal Elevation drawings on the other hand represent the height of the walls, doors, and built-ins (bookcases, payment counters, storage etc). These drawings also include panelling, baseboards, door trims, etc. Sections drawings are similar to internal elevation drawings but they show details of multiple rooms and floors stacked on top of each other. Internal elevations start at the floor level of a room and end at the ceiling of that room.
A Section is a cut from the foundation of the building through its roof. It shows all the major structural elements planned for the project including the walls, floors, ceilings, windows, and doors. A section drawing basically gives you a vertical view of the building just like a floorplan gives a horizontal view.
A commercial interior designer will also create the Joinery design drawings. These drawings illustrate how all the internal furniture (timber cupboards, cabinets and benches) should be constructed, what material finishes should be uses (metal, wood, laminate etc) and where they'll be placed in a given layout. Joinery drawings should be very detailed including, all sizes and measurements, handle styles, material, finishes, etc.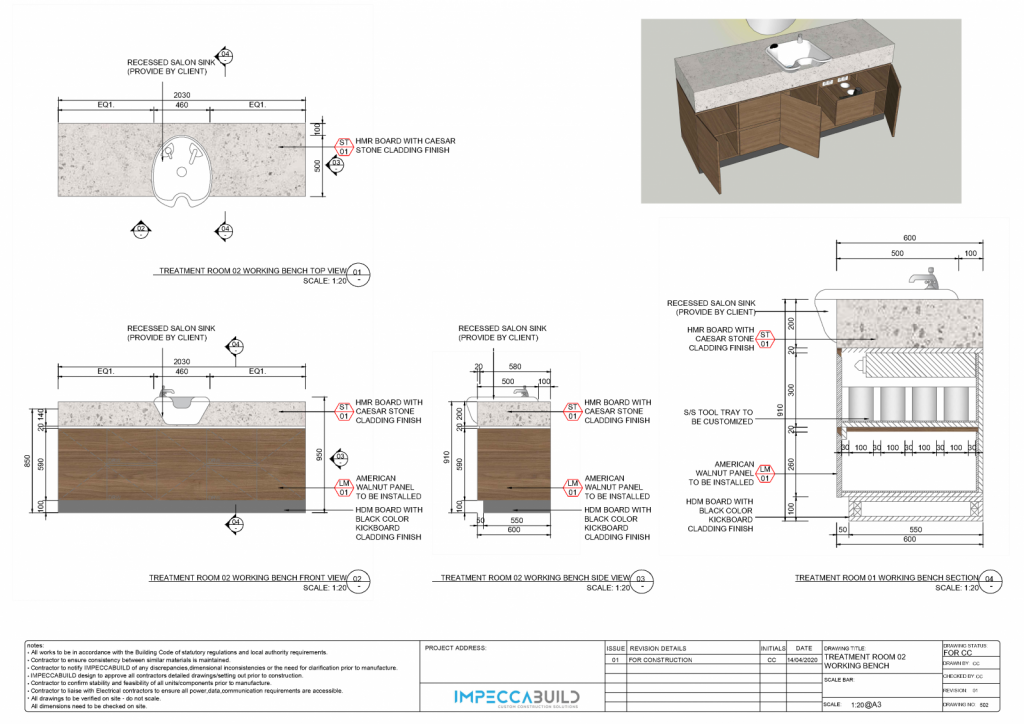 ---
Types of Commercial Interior Design Drawings #4
What are Schedule of Finishes and RCPs
The Schedule of Finishes are drawings that show all the supplementary information and details regarding the finishing touches to be imparted once the construction part is completed. They are typically drawn in the forms of tables but not necessarily. They list information regarding design elements like – paint selection, stone cladding, selection of tiles, doors & windows, light fittings, designs on the ceilings, cabinetry & kitchen tops, electrical appliances, bathroom fittings, sinks, etc.
A reflected ceiling plan or an RCP shows all the features of a ceiling as if they're being reflected onto a mirrored floor below. These drawings include design elements like the pattern(s) or texture(s) on the ceiling, light fixtures, electrical wiring, and anything else which has been mounted on the ceiling surface. RCPs are very useful to analyse how lighting is going to function in a room.
Many people confuse RCPs with floor plans. There's a misconception that RCPs are just mirrored floor plans, which is quite incorrect. If you want Reflected Ceiling Plans for your project, make sure to hire a competent commercial interior designer for the job as creating these drawings can be a little tricky for a newbie designer.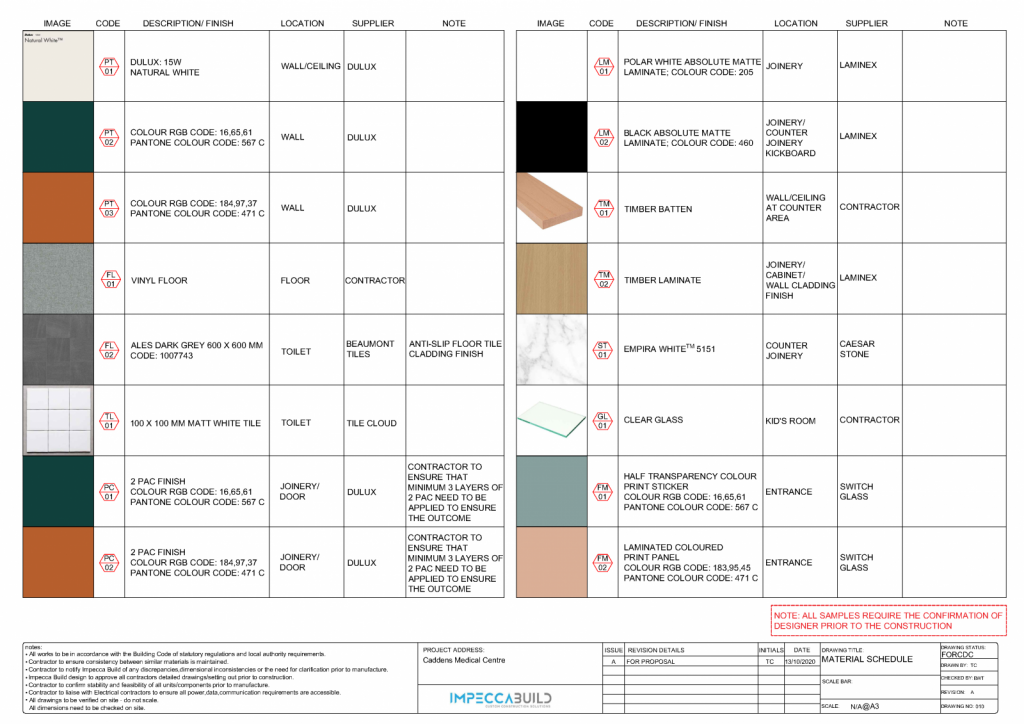 ---
Types of Commercial Interior Design Drawings #5
What are 3D Design Drawings
With the advancement of technology, the methods with which the interior design plans are created have definitely been upgraded. These days, designers use 3D rendering technology to create all kinds of residential as well as commercial interior designs. 3D rendering allows you to produce 3D images of a design, offering you a more presentable and realistic view of the space.
These images are also a lot more artistic-looking and easy to understand as compared to traditional interior design drawings.
3D Drawings should be used in conjunction with 2D drawings. This is because 2D's are filled out with all the minute detailing and technical information for how the fitout shoulw be constructed. 3D's compliment the 2D drawings as they bring the design to life, they are a replica of what the space will look like when its all finished, making a great visual aid for the client.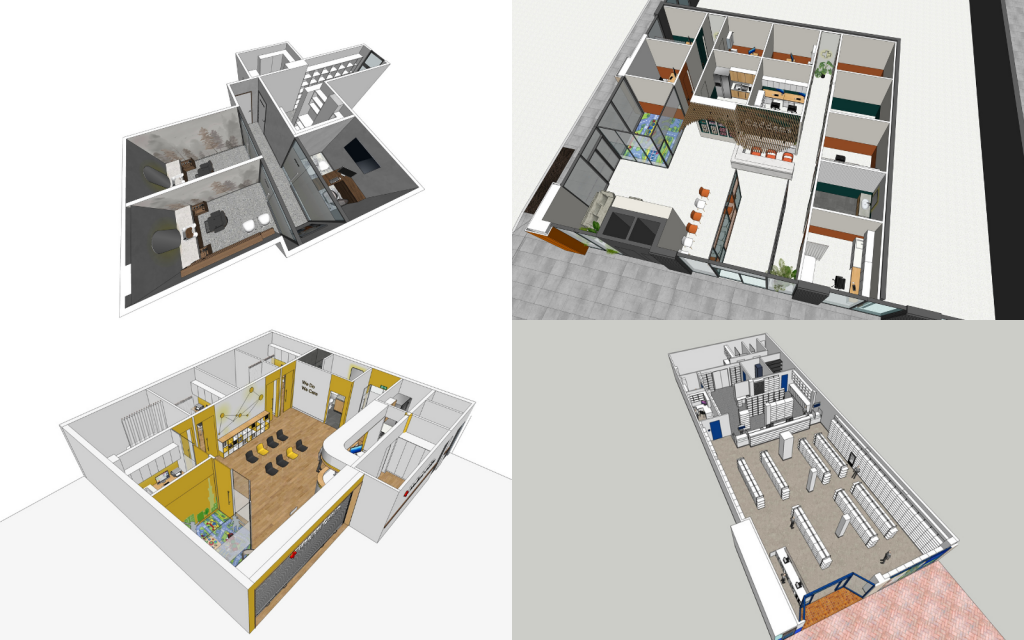 There are a number of 3D rendering software programs available these days which are used by commercial interior designers for creating various different types of designs and plans. The top ones include – Autodesk AutoCAD, SketchUp Pro, TurboCAD, and Autodesk 3D Max.
How effective and creative a 3D plan is going to depend on the software, but more than that, it depends on the skills and knowledge of your commercial interior designer. So, it's ideal to look for a designer who's great at creating these virtual 3D designs (if that's what you want) but it's even more important for him/her to have plenty of experience in how things are done in reality, on the ground.
---
Conclusion
Hiring a competent interior designer is a wonderful decision, especially when you are working on a commercial project because a project like that invariably means investing a lot of your hard-earned money.
To make sure there's a solid plan in place and also to make sure that everything goes to that plan you need the help and expertise of a well-trained and experienced commercial interior designer by your side. Trust us when we say investing in a good, skillfully commercial interior designer who creates accurate and detailed design drawings will save you a number of headaches and more importantly money when it comes to the actual construction process of your project.
He/she take up a number of complex responsibilities like conducting a professional survey, dealing with the contractors, finding vendors, sourcing out the best, most reasonably priced raw materials, creating a well-planned interior design, making all kinds of drawings, and most importantly – to make sure all the work is done is a hassle-free and seamless manner.
How ImpeccaBuild Can Help You With a Commercial Interior Design
Since commercial interior designing needs a certain amount of additional planning work and creative thinking, hiring an experienced fitout professional would certainly make things easier and quicker. Call Us On: 1300 LETS BUILD or send us an email at: [email protected] to know more.
---
You Might Also like:
If you enjoyed reading "What is a Commercial Interior Design and Its Amazing Advantages", you may also be interested in: