We instinctively develop judgments in a few seconds. These first impressions are essential. The initial impression new consumers get of your brand will frequently be based on their interaction with the reception desk.
Consider your company's entrance as a passageway leading from the outside into your brand's universe. Whether it is a business reception or lobby, you should give the entry extra consideration when planning the design of your premises. Your reception desk design should appeal to the senses and emotions of your guests from floor to ceiling.
Visitors should leave the reception area with a pleasant first impression of your business. Initially, this could seem insignificant, but keep in mind that this is all you have. You aim to create a positive first impression on your client.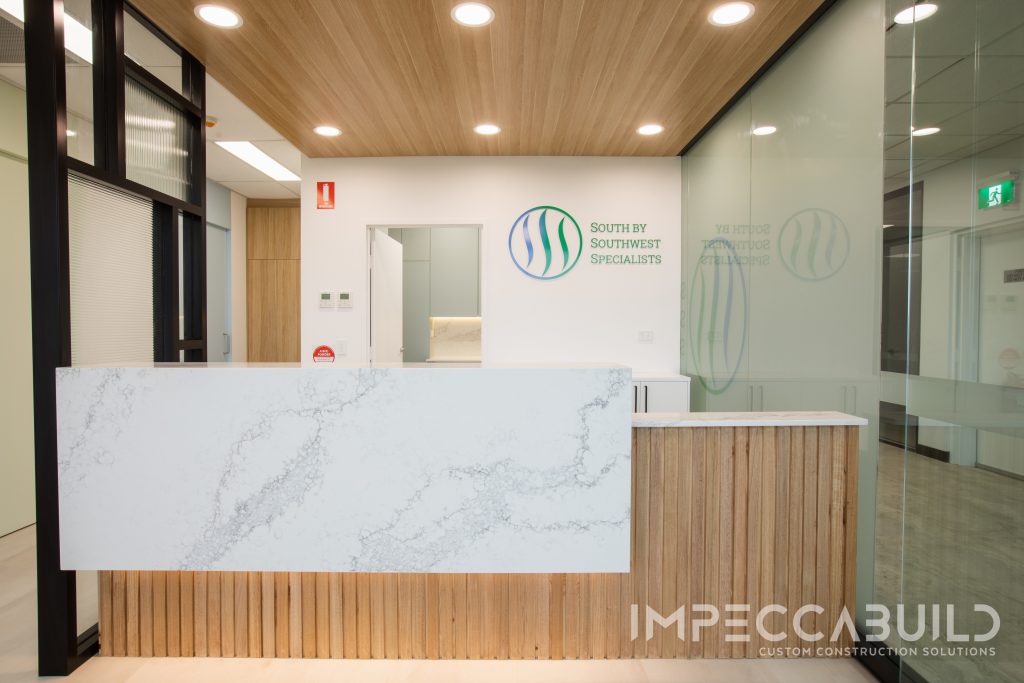 ---
The reception area's design and layout reveal the business's personality and how it treats its client. There are countless reception desk design ideas you can choose from. Here are some ideas on how to create the ideal reception desk design for your business to satisfy your clients:
Reception Desk Design Ideas #1
Putting a statement piece
Your reception desk is your business-prised possession, so you must carefully consider every aspect of its design. You can try a big, roomy desk with lots of personalities that pique guests' interest immediately and gives your company an air of authority.
You want to choose finishes that standard out and make a statement. It's always a great idea to use led lights to help accent your chosen materials and tie the whole look together.
Fine art prints are also an excellent option. It can establish a culture of excellence, refinement, and creativity in your workplace or commercial environment. Displaying excellent art prints in your establishment will differentiate it from rivals and draw customers. Investing in great art prints and elegantly framing them for display on the walls of your business is a simple approach to drawing clients.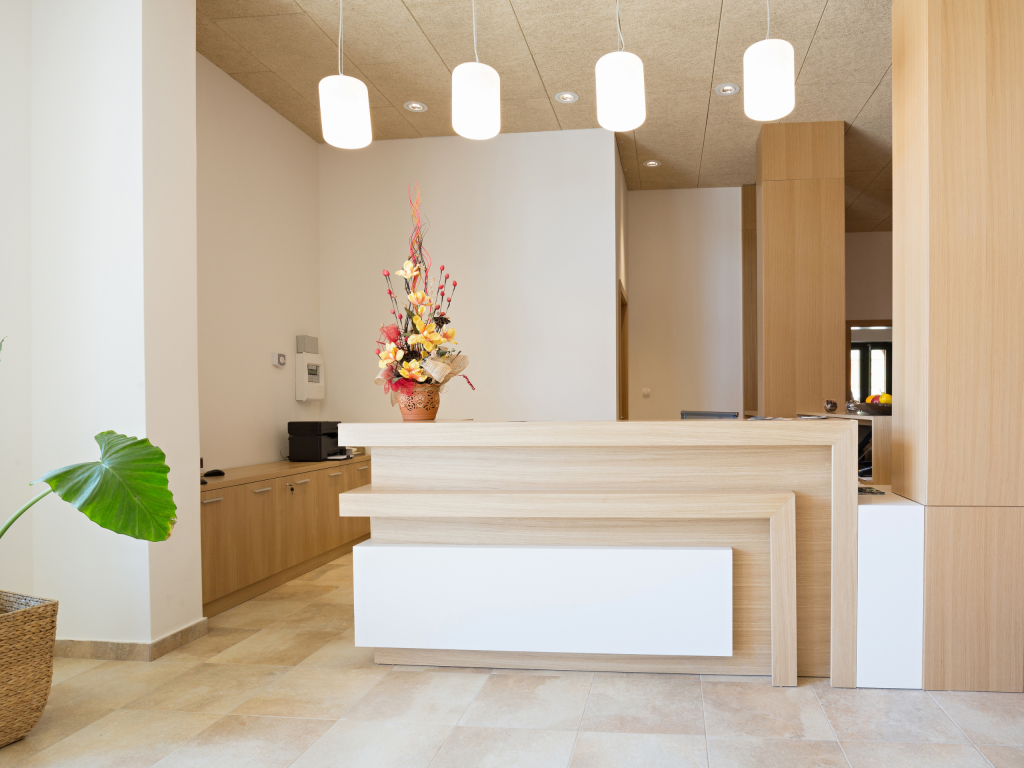 ---
Reception Desk Design Ideas #2
Incorporate plants
Incorporating plants in your reception area is an incredible way to impress your client as they step through the doors. Fresh foliage not only makes a reception or foyer space look better, but a lovely greenery arrangement may also benefit the physical and mental well-being of those waiting and working there. Plants can also be a great way of easing tension. Their perfume also has therapeutic benefits. For instance, the calming scent of lavender is often helpful in the waiting area of a dentist's office, where patients may feel anxious.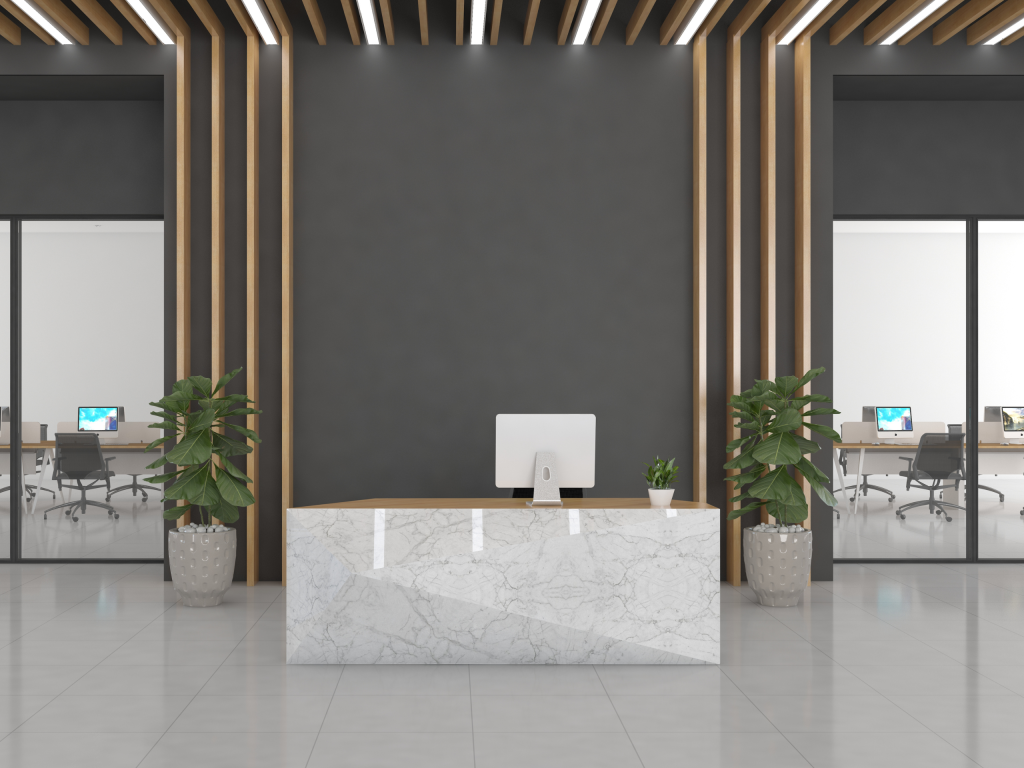 ---
Reception Desk Design Ideas #3
Ambience Lighting
Showcase your business in the best possible light and make customers and business partners feel warmly welcomed while guiding them. Any reception area can become much more comfortable with expertly designed lighting. Utilise ambient lighting to create the right atmosphere and the task or display lighting for particular tasks.
Warm-white light that is both direct and indirect should be used to welcome guests and to stage the front desk area so that it is instantly recognisable. Accent lighting draws attention to architectural details to energise the foyer or entrance area while educating visitors about your business, its goals, and its culture. Utilise lighting to lead guests in a manner that seems natural to them.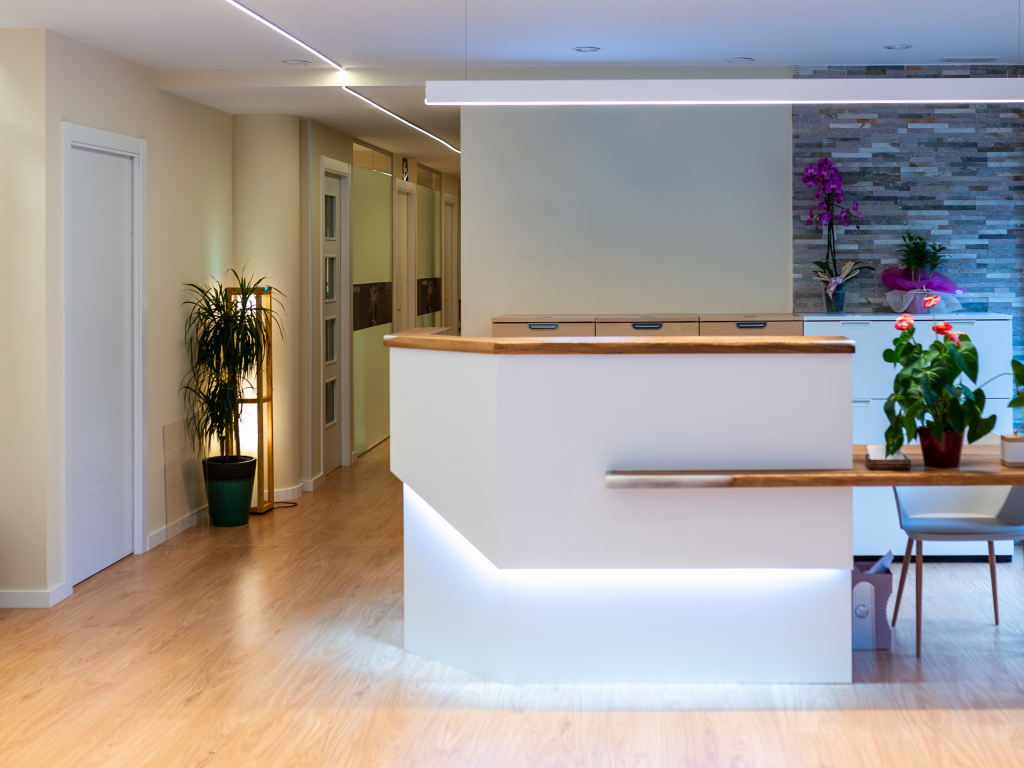 ---
Reception Desk Design Ideas #4
Natural Lighting
Maximising natural light lowers energy expenses and gives the impression that the space is more prominent. Windows are undoubtedly the most basic and possibly the most obvious choice. Vast expanses of glass let sunlight rush in and offer residents a sensation of being connected to the outside world.
Even better, well-designed windows can take advantage of the sun's natural angular position in the sky, letting in less light during the summer when more heat is not required or desired, and more light when the sun is low on the horizon and heating demands are greater.
Light shelves are incredibly useful additions to enable natural light to enter a building deeper than windows alone. A light shelf is just a horizontal ceiling extension that can occasionally be built of highly reflective material to collect and horizontally direct outside light into a place.
---
Reception Desk Design Ideas #5
Easily Navigable Layout Design
When choosing the style of your reception area, it's crucial to consider traffic flow. Make the path to the desk as straightforward and clear as you can. You need to make sure that people can move around freely. Maintain clear pathways for guests to navigate between the entrance, reception desk, elevators, and other crucial locations rather than forcing them to duck and weave past furniture, end tables, and plant stations.
Guests shouldn't feel disoriented or lost by a lack of a clear line of sight to the main reception area. Consider the customer journey and any potential confusion points when planning a route to your reception. This is particularly critical if a visitor must use a lift to access your office because signage is essential.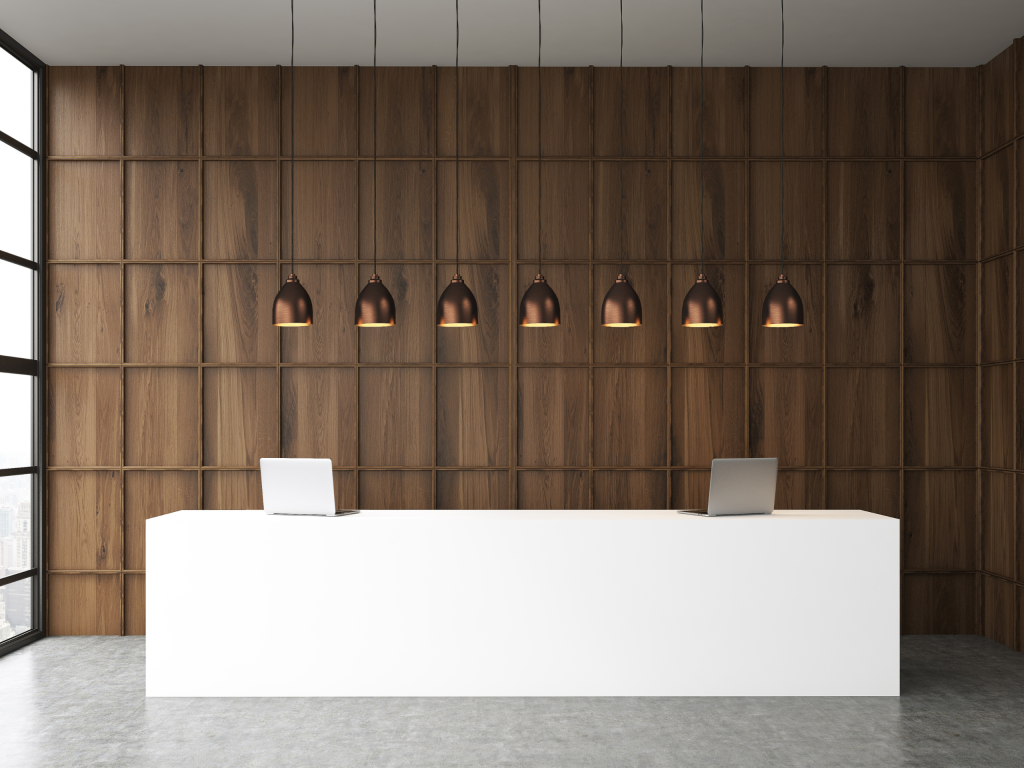 ---
Reception Desk Design Ideas #6
Ceiling Design
Although frequently overlooked as a decorative component, a ceiling can alter a space's mood. Any property may gain a lot of individuality from something as small as a fresh coat of paint or as structural as exposed beams. Utilising your ceiling is a clever yet surprising way to accomplish it, whether you want to open up a living area or creatively add colour.
Reception Desk Design Ideas #7
Pay attention to the furniture.
Since your reception area serves as the face of your company, you must ensure that it is both aesthetically pleasing and valuable while selecting furnishings. Reception furniture can improve your reception area, making it appear livelier and more pleasant. As long as each piece of furniture is tastefully chosen for its function and design.
Choose furniture that can fit your reception space, so it accommodates your guests. The reception furniture you choose can directly impact the number of people you can hold in your waiting area. You can vary your seating arrangements based on your available layout options to create a visually appealing layout that offers your guests a variety of possibilities.
Place emphasis on your welcome desk while choosing attractive yet practical workplace reception furniture. Depending on the look you're going for, they are available in a wide range of sizes, shapes, designs, and finishes. Make sure to select a distinctive reception desk that faces the entrance and places your office receptionist within easy reach of visitors.
For visitors to unwind while they wait, include nice chairs and furniture in the reception area. Depending on the style and ambience of your office, you can choose between a modern or a classic look. Place occasional office tables in the waiting area, such as coffee and side tables. Leave some magazines or newspapers on the tables for visitors to peruse while they wait.
Reception Desk Design Ideas #8
Display Your Logo
The possibility is that customers will spend at least a few minutes in your reception area. Therefore this is where you need to establish your brand strongly. Make sure your business's logo is prominently displayed; ideally, this should be done on the reception desk on a bright wall.
Signage helps your business's exposure in addition to making a statement to guests by making it easier for them to recognise your name. It makes you more transparent, sets you apart from competitors, and promotes brand loyalty.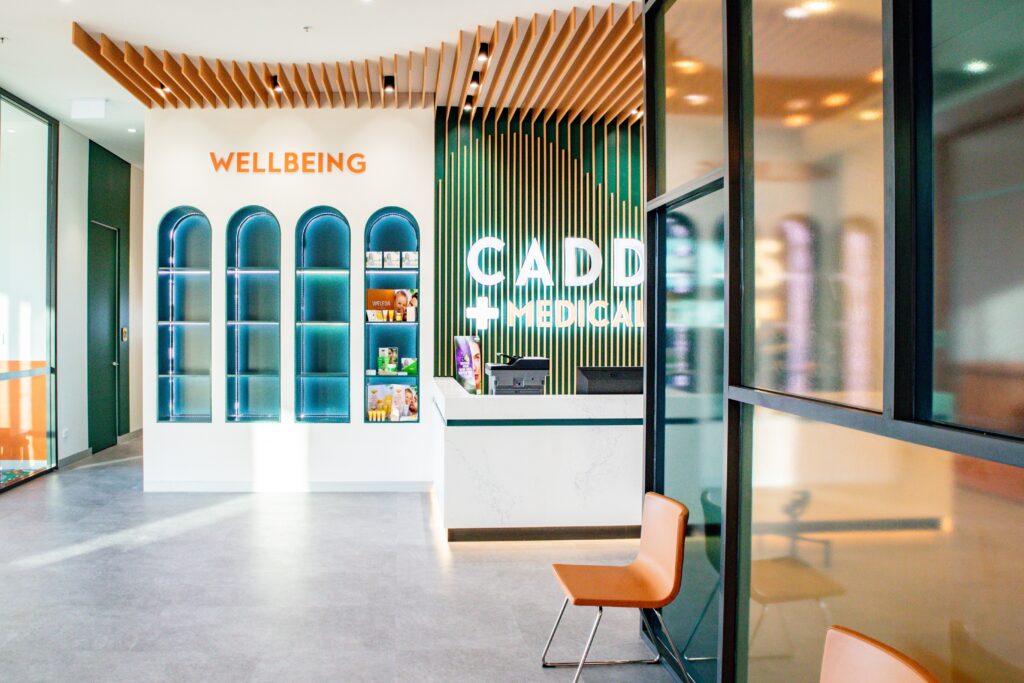 Reception Desk Design Ideas #9
Play Soft music in the Reception Desk Area
Music is one of the most affordable and effective ways to boost businesses of all kinds. It is a great way to help customers relax. When business is thriving, and the reception area is crowded and busy, an excessive conversation might be irritating to the ears. Background music can mask voice distortion as your guests wait in line and provide a soothing soundtrack.
Reception Desk Design Ideas #10
Offer small freebies
What minor details would make your client feel more at ease? Consider adding a coat rack or a place to hang wet umbrellas or jackets. Make sure there are enough flat surfaces for your clients to place down a drink, a project folder, or a handbag, like end tables or coffee tables. Add a coffee maker or water cooler, or provide it for visitors. One of the easiest methods for a company to create a welcoming and comfortable reception area is to do this. You can maintain a friendly mood with bottled drinks, mints, tissues, and new reading material. To prevent adverse responses from visitors, only occasionally use fresh flowers or air fresheners.
Reception Desk Design Ideas #11
Entertainment
Being idle while waiting in a lobby is not only dull but it is also overwhelming. Consider setting up a computer terminal or providing guest wi-fi access to enable customers to swiftly check their email or read the news. Another excellent choice is a mounted television. If your office anticipates having kids in the lobby, consider setting up modest play space.
Conclusion
It is undoubtedly true that a reception desk is well worth the investment. Maintaining a clutter-free and orderly workspace can give your clients the impression that this is how you run your business as well, earning their trust right away.
In conclusion, there are numerous steps involved in designing a reception desk. This is just one method that we can suggest that can help you save time and, ultimately, money while also providing you with a design that meets your needs.
Want to improve your reception desk game? Here's how we can help you:
Since designing and decorating a small space requires additional planning work and creative thinking, hiring an experienced fit-out professional would undoubtedly make things easier and quicker. Give us a call: 1300 LETS-BUILD or send us an email on: [email protected].
---
You Might Also Like:
If you enjoyed reading "11 Unique Reception Desk Design Ideas to Attract New Clients", you may also be interested in: