Although the life of a salon may look glamorous to customers, it is just like any other small business. Many long hours, hard labour, research, and occasionally even luck go into running a successful salon. Therefore, understanding the economics of operating a salon, from initial costs to pricing norms, is the smartest method to minimise the risk factors that can cause failure.
Before opening your salon, you need to have a plan. Here are a few things you'll want to do before you open your business:
---
Opening a Salon Business Tip #1
The Price To Launch A Salon
Setting an appropriate budget for your salon is crucial. Planning effectively will help you avoid restless nights and unneeded stress. So take your time.
You must first choose whether you want to buy an existing salon and transform it into your own business or find a vacant site and construct your hair and beauty salon from scratch.
Purchasing an existing salon can be a terrific method for starting a business quickly and on a tight budget for those of us who want to launch a salon but have a tight budget.
Even though the salon will undoubtedly come with an existing fitout, you'll probably want to make a few adjustments to make it uniquely yours. Keep in mind that the location, the state of the building, and the equipment it includes will significantly impact the salon's cost.
Therefore, it's a good idea to research and confirm that you're purchasing a profitable business before committing to a location.
On the other hand, finding a vacant site or demolishing an existing salon fitout and building a new one will require a bigger budget. As a business owner, you need to consider the following factors when you plan out your budget for a new fitout:
Location of the salon –
Design –
The cost of purchasing or leasing new salon equipment –
Staff and overheads –
and any zoning or local licenses that may be required for the new location.
Firstly, You need to consider if you will rent or purchase your commercial space. If your business is new and just starting, renting a space on a shorter lease is a safer bet. This will allow you time to grow your business and build your client base without the pressure of paying off a mortgage. In addition, renting a space might enable you to test the business waters with more freedom before making a significant commitment.
Similarly, if you find your business isn't thriving as you had hoped, or you change your mind and want to pursue another career avenue, you can break your lease and move on rather than try to sell the property again.
If your business is more established or you have a few business partners, you might wish to purchase a property. If this is the case, take your time finding a property that best suits you and your business. Read our blog post 'Choosing the Right Commercial Space For Your Business " for a step-by-step guide on how to find the best space for you.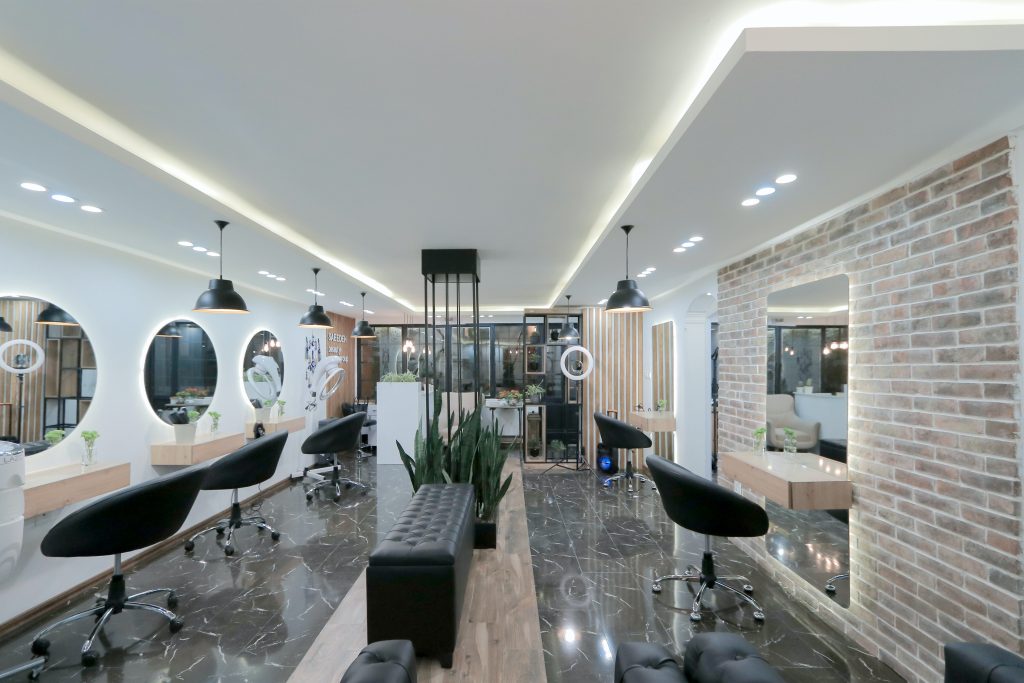 ---
Opening a Salon Business Tip #2
Funding for your salon business
Finding finance to launch or grow your salon business is one of the most challenging aspects of salon ownership. Or to help the company get out of a financial hole in times of adversity, like a pandemic worldwide. However, regardless of the stage, a business may be in, many salons find it challenging to get capital.

It's essential to take the time to research financing possibilities when you need money for your business. Learn about the many loan types, lending conditions, procedures, and interest rates. In addition, it would help to read reviews to look for any warning signs about the lenders or their business practices.
Consider researching a company to see what kind of guidance or lender contacts they may provide. You'll also want to thoroughly examine your credit history, whether it be personal or business-related, depending on how your business was set up, to make sure that lenders consider you and/or your company a viable investment.
---
Opening a Salon Business Tip #3
Developing A Marketing Plan
If you put some time and effort into developing your salon marketing strategy, you'll be able to raise retention, increase sales, and draw in more clients.
A solid marketing plan can help you with many things — business-wise. Not only will it let you identify your target market, but it can also guide you to map out a strategy that works for your customers.
Making your marketing plan in the style of a calendar is the most excellent choice. Make a note of all the significant occasions, such as Christmas, Easter, and Valentine's Day, to organise unique marketing campaigns around them. Do not forget to market in conjunction with salon-specific occasions like your anniversary or other joyous events like prom season.
---
Opening a Salon Business Tip #4
Creating A Business Plan for your Salon
A well-written salon business plan is essential to ensuring your salon's success in this fiercely competitive industry. A business plan for your salon will help you get there, whether you're attempting to receive a business loan for your salon or trying to grow or redesign your salon business.
The business plan serves as a roadmap for your venture and disclosure for possible backers and lenders. It contains details like your goals for the salon, why they are doable, and how you intend to accomplish them. In addition, it enables you to spot probable mistakes and fix them to stay clear of issues in the future.
Key things to remember:
As often as necessary, keep analysing the target market, competitor analysis, and marketing and advertising strategy.
Establish attainable long-term objectives that are consistent with your existing business success. For instance, you might consider expanding to two other sites after a few years. You'll be able to do this to turn your neighbourhood salon into an enterprise salon.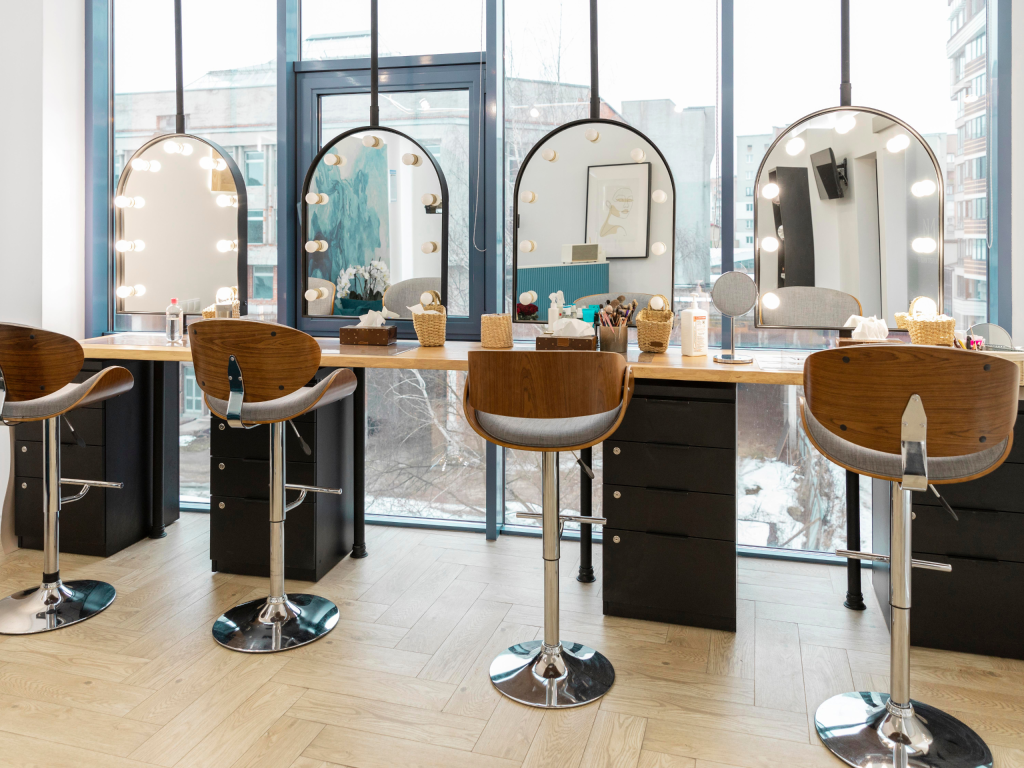 ---
Opening a Salon Business Tip #5
Pick a Salon Concept and Design
We constantly advise owners of beauty businesses to identify and capitalise on their points of differentiation. Of course, you can do this through the services your offer, but you can also do this through design choices and customer experience.
When it comes to designing your fitout – we recommend engaging the services of a professional design and fit-out company.
Not only will they design a gorgeous salon, but they will think of all the things that might slip your mind during the design process. Such as having adequate lighting, maximising natural lighting, and choosing stylish yet durable furniture, accessories and equipment. They may also ensure that your space is set up correctly to improve the customer experience and that the appropriate equipment is planned to maximise the scope of your service offerings. It is definitely worthwhile to engage an expert to realise your idea because this may have an impact on your commercial success.
A well design, fit out, and excellent customer experience not only draws in guests and keeps them coming back but also encourages them to recommend you to their friends. A referral is also the best form of PR for attracting new customers.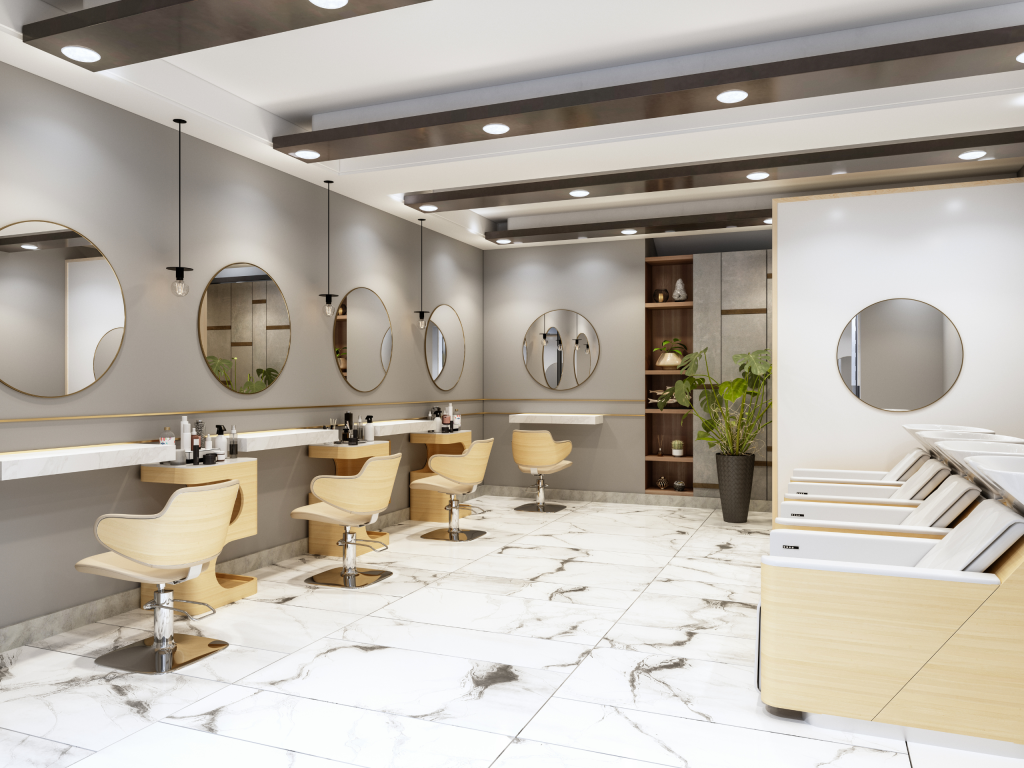 ---
Opening a Salon Business Tip #6
Purchase Salon Equipment
The size of your beauty salon and the number of personnel you intend to hire will decide how much equipment you require. Make a simple list of the materials you need to keep expenses down.
Here are a few items you might need for your salon:
Reception Desk – Clients check in and report when they arrive for their appointments.
Salon Chair – The chair your clients will sit in while having their hair styled is one of the essential items you will purchase if you operate a barbershop or hair salon. Make sure you can reach their hair from all angles and that it can move smoothly up and down.
Backwash units – A backwash unit is required for any hair salon where you will be washing your customers' hair.
Styling Units- These are necessary for any salon so that the clients can see the outcomes of their treatments, whether they are wall units or island units. In addition, they offer a helpful shelf for storage.
Beauty couches – A beauty couch is a crucial investment if you provide services like waxing that require clients to lie down.
Beauty trolleys – Buy a trolley to avoid hauling equipment from one end of the salon to the other. These can be filled with all the equipment (like hair clips and rollers) you'll need to treat clients.
Washing Machine and Dryer – It is necessary for any salon. Consider how many customers will arrive at your door and need towels for their treatments. To keep your salon hygienic and tidy, wash and clean after each client.
---
Opening a Salon Business Tip #7
Hire The Right Staff for your Salon
Make a list of the attributes you're searching for in a candidate before the interview process even begins. Preparing a list of interview questions that focus on these requirements can help you remain focused. You must be very selective when choosing your staff because their skills, attitude, and aptitude will impact your business.
---
Opening a Salon Business Tip #8
Choose Your Salon's Payment System
It's almost time to open your doors after you've loaded your salon with supplies and hired outstanding stylists. However, you must first ensure that you have a means of taking payments and earning money.
When they visit the salon, the clientele prefers various payment methods, including cash, cards, and digital wallets. Of course, everything depends on the clients, but salon owners should handle payments properly because it affects how productive their salon business is. Therefore, identifying and implementing the ideal payment system for your salon is just as crucial as drawing in new customers.
---
Conclusion
You reached the article's conclusion. Good work! We discussed eight steps to opening a salon business. The list was lengthy. But it takes time to build a salon business from scratch.
You need to plan every move you make carefully. Make sure to develop and adhere to a business strategy, obtain the necessary permits and insurance, find a suitable location without going over budget, and market your company aggressively to maintain these crucial parts of the enterprise. We hope you find this helpful article as you continue growing your salon business.
Here's How We Can Aid You In Opening Your Salon Business:
Since designing and decorating a small office space requires additional planning and creative thinking, hiring an experienced fit-out professional would certainly make things easier and quicker. Call Us On: 1300 LETS BUILD or email us at: [email protected].
---
You Might Also Like:
If you enjoyed reading "8 Things You Need to Consider Before Opening a Salon Business", you may also be interested in: