Of course, the dream is to have a big place with lots and lots of tables, right? Because more tables mean more revenue! But in order to increase your cafe's seating capacity, you can't just simply jam tables into a 'not so spacious' dining room. In fact, a move like this can make your space look and feel claustrophobic, and as a result, you can even end up chasing away your existing clients.
So, it's super important to plan your cafe's seating arrangement strategically. It is also one of the key aspects of maintaining your cafe's overall theme and vibe and the first thing you need to know in this regard is that it's not just about aesthetics!
Your seating plan needs to meet your area's government regulations as well and also, it should be designed in such a way that the maximum number of tables can be accommodated in the most comfortable manner for both, your guests and your staff members. You can also use your seating plan to separate yourself from your competitors or to give your cafe an edgy look to attract new customers. Here are seven simple steps you can take to increase your cafe's seating capacity.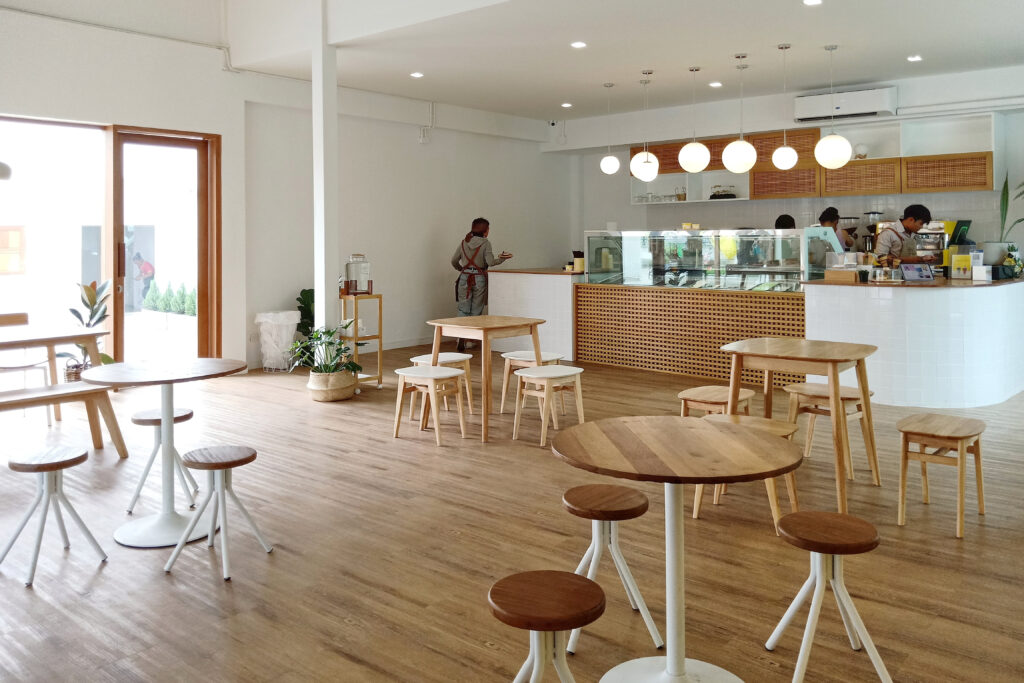 ---
Increase Your Cafe's Seating Capacity
Step #1
Understand the Size and Layout of Your Cafe
The first step you need to take is to measure the room size as accurately as you can. Pick up a calculator, a measuring tape, and a notebook and figure out the actual number of 'square meterage' you have to work with. Do not forget to include all those areas which are currently being used for other purposes but are actually meant to serve as dining areas.
What strategy is best suited to increase your cafe's seating capacity also depends on how thoroughly you understand the layout of your space and how wisely or strategically you use this layout to your benefit. Ideally, approx 65 to 70 per cent of your total space should be used for the dining area and the rest for the kitchen, repository, washrooms, etc.
Now, depending on the size of the space, you can get a rough idea about how many tables you can realistically fit into your dining room without making it look too cramped up or claustrophobic.
---
Increase Your Cafe's Seating Capacity
Step #2
Choosing the Right Kind of Furniture
Needless to say that this is the most important consideration when the intention is to increase your cafe's seating capacity. You need to keep in mind the aesthetic appeal of the furniture, but also, the room size and the layout of your space. As far as the table size goes, there's no single solution that'll work for everybody. Just make sure that the size you've selected goes with your cafe's theme, plating style, menu, and service sequence.
Also, always pick furniture that complements the layout of your cafe. For example, if you have substantial outdoor seating capacity, go for lots of patio-style dining sets which are easy to install and remove and unless you have a perfect squircle space, you would need tables in various different sizes (table for 2, 4 and so on) and a few customized tables as well, in case you have one of those odd corners to cover.
We also advise you to mix up your furniture to provide your customers with a variety of seating options. Instead of getting just one type of table and chairs, consider buying large comfortable couches for one part of the cafe and small wooden chairs for another, or maybe a bar table style long table with multiple chairs against the wall.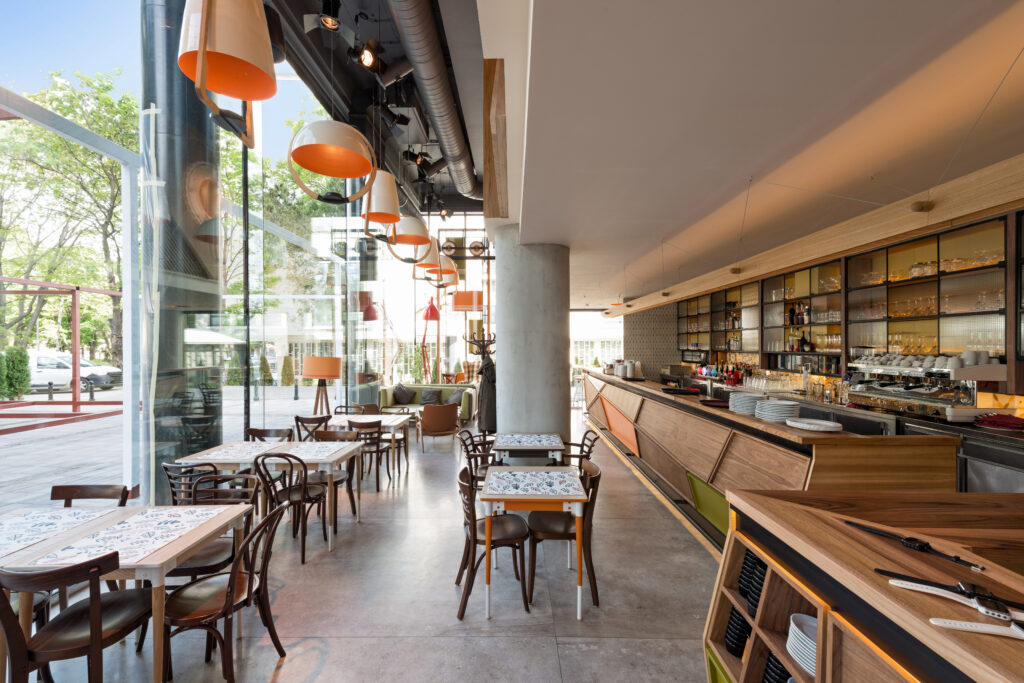 ---
Increase Your Cafe's Seating Capacity
Step #3
Experimenting with Different Seating Arrangements
Now that you know what kind of layout you have and how many tables you can realistically fit in, it's time to design a seating arrangement. For this purpose, you can simply draw a sketch on a piece of paper or you can use a sophisticated software. But the best way is to experiment with different seating arrangements and placements of tables with your actual furniture. The idea is to test and then run a couple of more re-tests to see which layout best fits your space and cafe's theme.
Try different strategies like pushing together 2-3 tables to create a refectory style arrangement or installing a couple of booths in one corner of the cafe to give your guests some additional comfort and privacy.
Another great way to increase your cafe's seating capacity is to go for an arrangement that can be easily adjusted. On some of those super busy days, you can simply add a few tables to your existing layout by squeezing in your arrangement a little. And on normal days, you can keep your layout in a more relaxed and spacious arrangement.
---
Increase Your Cafe's Seating Capacity
Step #4
Do You Need a Reservation System in Place?
Most cafes don't need reservations, but if you constantly find yourself jammed up with customers who keep waiting for their turn to arrive, it's time you get a reservation system in place. Reservations are also important if a majority of your customers prefer sitting at specific tables which are located near the window or the fireplace or a featured wall.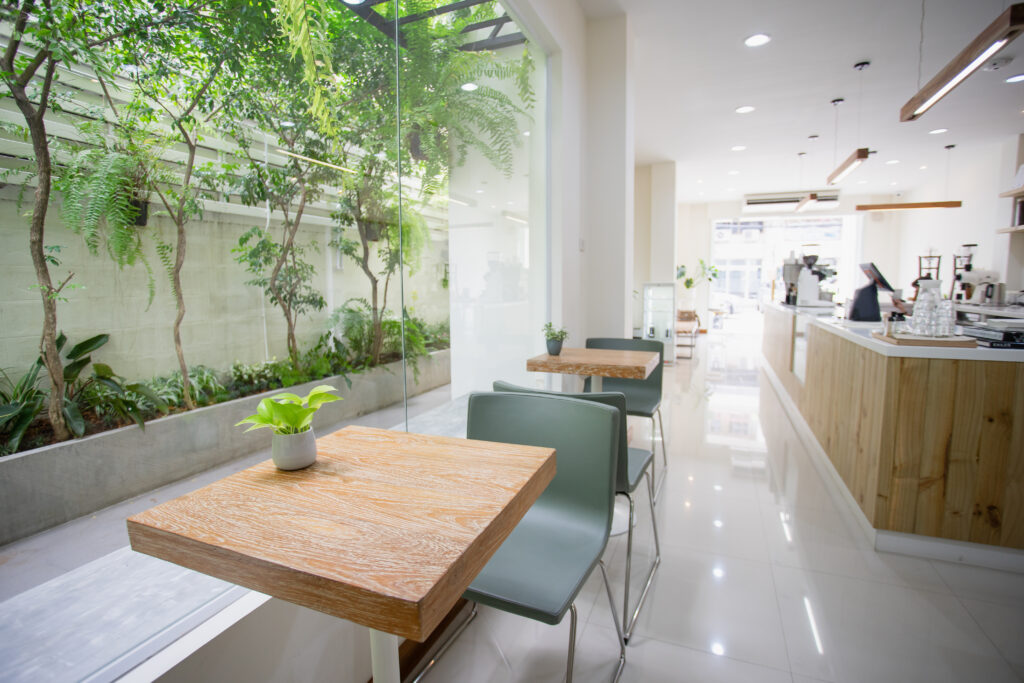 Allowing online bookings will help you gain some control over where your customers are going to sit. As a result, you can easily manage your shifts and predict the waiting time more accurately. Plus, your guests will be happy to make use of this service because it allows them to pick their favourite spots in the cafe.
If you are not too tech-savvy, take somebody's help to get yourself registered on one of those popular restaurant/cafe booking websites. Learn how to navigate through a couple of simple restaurant reservations apps and voila, you are all set to offer online booking services!
---
Increase Your Cafe's Seating Capacity
Step #5
Can You Use Outdoor Space?
We've seen so many cafes which are cramped up on the inside while they have so much space outside which can be used as an outdoor seating area. People love cafes with outdoor seating areas, especially when the weather is nice. Also, outdoor cafes have a charm of their own and they tend to attract a large number of walk-in customers on a daily basis.,
Invest in outdoor cafe table sets in materials like wicker and cast iron with white paint finish. They look really classy! If you want, you can even add outdoor tents, a wooden fence, and filament bulbs or fairy lights to set the right kind of mood and vibe. Maximizing your outdoor area is one of the easiest ways to increase your cafe's seating capacity. So, if you have that option, make sure to utilize it in the best possible manner.
---
Increase Your Cafe's Seating Capacity
Step #6
Consult Your Area's Food Safety Norms and Other Authorities
Before making any new changes, you also need to consult your area's local codes and other authorities. Make sure you aren't breaking any rules or safety norms while trying to increase your cafe's seating capacity. Many areas have strict policies regarding how much square footage needs to be allocated per customer.
You can contact your locality's fire department or any other restaurant-related regulatory government agency to inquire about these measurements. Usually, these measurements are based on how many exits you have at your venue, the size of your restroom facilities, and the disabled access. You can contact relevant authorities like CBS (Consumer and Business Services) to get more information on these rules and regulations.
Increase Your Cafe's Seating Capacity
Step #7
Try Innovative Approaches
You can also experiment with a number of creative new ways to increase your cafe's seating capacity. These could be:
Using your lighting setup in such a way that it makes your venue look more spacious and airy. For this purpose you can also use ideas like installing large mirrors, adopting a more minimalistic approach, painting your walls in lighter shades, and installing large windows to fill your cafe with more natural light.
You can also experiment with a communal seating arrangement for some time. Communal tables are long, shared tables with multiple chairs like a long dining table setup. This type of arrangement was highly popular until Covid-19 appeared in our lives. But now, that we are slowly getting back to 'normal', you can consider installing one or two such tables into your layout. People, especially youngsters love spending time in such cafes because this allows them to meet interesting new people.
Conclusion
There are so many ways to increase your cafe's seating capacity, but while adopting any of these approaches, make sure you aren't compromising on the look, feel, and vibe of your place in any way. Whether you are opening a cafe for the first time, or you want to reinvent your cafe's theme, it's important to understand how you can maximize the space while also ensuring a comfortable dining experience for your customers. Invest some time in learning this aspect of the cafe business and save loads of time and money while enabling yourself to attract the right kind of customers with minimum effort.
Since designing and decorating a cafe space needs a certain amount of additional planning work and creative thinking, hiring an experienced fitout professional would certainly make things easier and quicker. Call Us On: 1300 LETS BUILD or send us an email on: [email protected]
---
You Might Also like:
If you enjoyed reading "7 Simple Steps to Increase Your Cafe's Seating Capacity", you may also be interested in: