Hair salons are a competitive business; one that requires more than a celebrity stylist to succeed. Of course, the quality of your service matters, but that's not all a customer is looking for. They are looking for an experience and an overall service that will make their transformation Insta-worthy! Needless to say, we live in a world where visuals run the show, and how your hair salon looks are paramount for its long-term success. You don't just need a well-lit and well-equipped space to make the cut, you need to make first impressions that would survive and thrive in an ever-evolving cut-throat industry like this one.
Worry no more though! The following design and styling tips have been curated with the help of salon experts that have done this right for far too long to let any aspect of designing a hair salon go uncovered. Here's everything you need to know about making the best decisions based on functionality, aesthetics, and highest returns on your investment!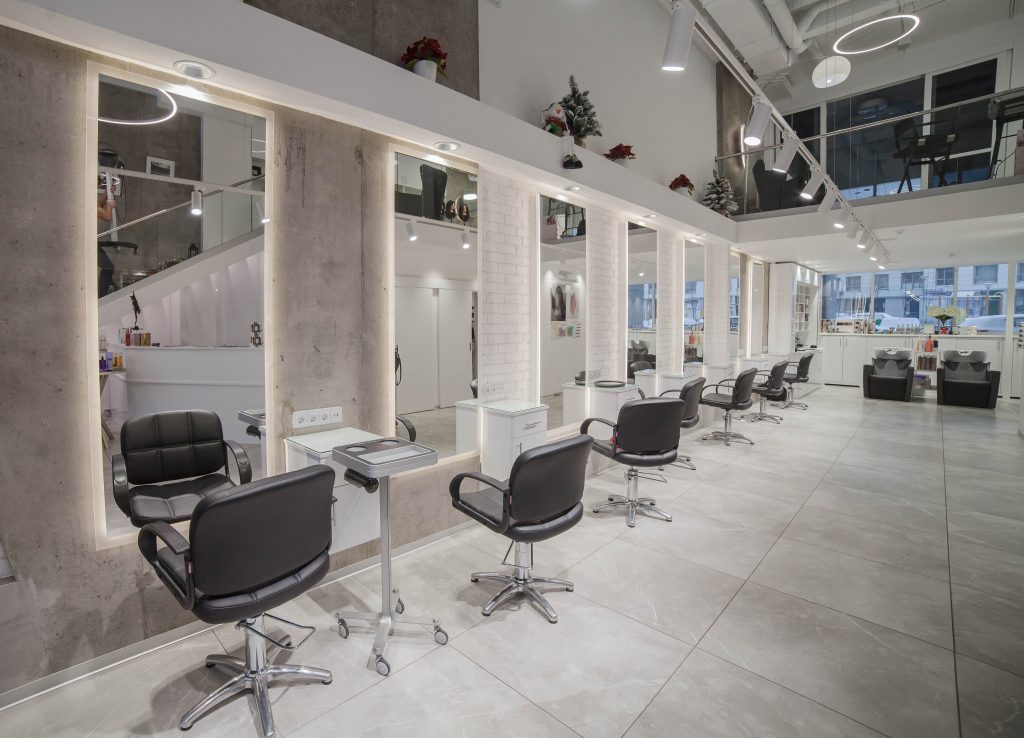 ---
Hair Salon Design Tips #1
The Ergonomics of the Business
The quality of the service you provide is greatly dependent on the level of comfort of your team members. Hair salon services require standing on your feet for hours and doing repetitive motions throughout the day. The last problem a team member needs is discomfort and bad posture. According to a report posted by Nicholascoysh Osteopath, 71% of hairdressers suffer from body pain and work-related injuries, with back pain being the most prevalent.
In order to ensure that everyone works to their full capacity, comfortably, you need to make sure that your chairs, work counters, trolleys, even power outlets are installed at the right space and height. Following are some tips from experts to help you design a salon that checks all the boxes for comfort and functionality in your hair salon:
Make sure the height of the benches is 900mm from the ground to avoid bending and bad posture.
Install comfortable and adjustable seats.
Keep saddle stools for stylists so they can work through processes that don't require a lot of movement, like consultation and short waiting periods, comfortably.
All equipment trolleys should have the proper height. Ideally, invest in adjustable equipment trolleys since not all team members would have the same height.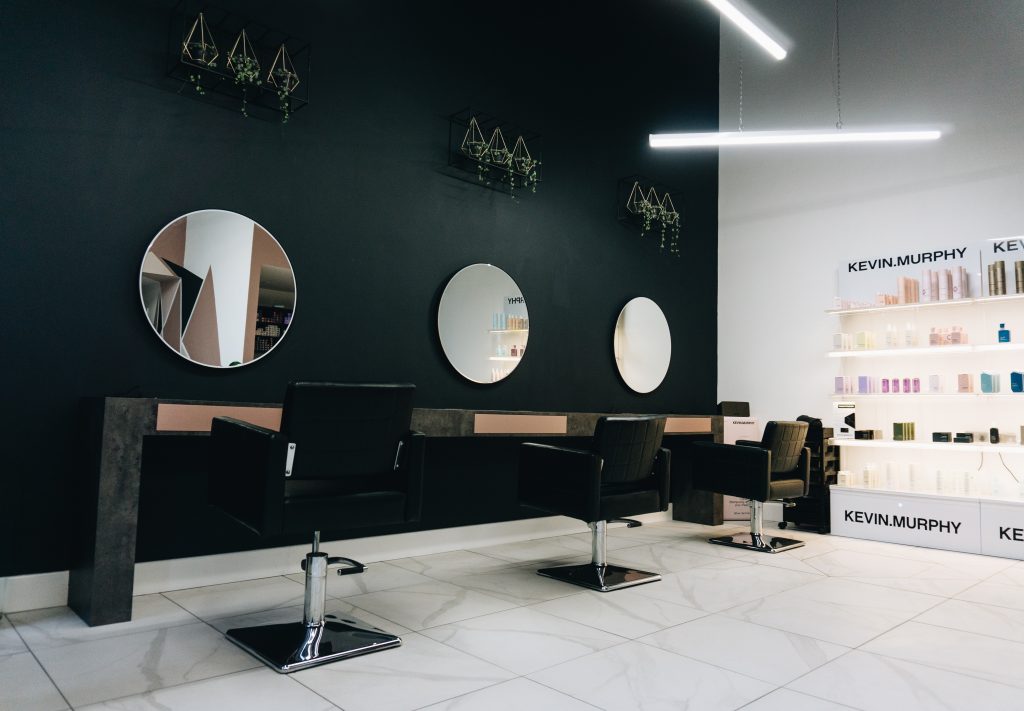 ---
Hair Salon Design Tips #2
Know Where to Splurge and Where to Save
The worst mistake you can make is to set a budget around your dream plans. Sure we all want the most expensive chandelier and mirrors designed by Jonathan Adler himself, but from a successful business point-of-view, this kind of luxury hardly is practical. Of course, you shouldn't opt for the cheapest options available, but know where to invest every valuable penny.
Ideally, you should splurge on floorings, comfortable chairs, and equipment that will bring value to the overall experience of your clients. Invest generously in the comfort of your clients. This includes luxurious seating for the waiting area, good lighting, durable flooring, and premium quality chairs for cutting areas, and shampoo sinks. These are splurges that would generate sales and retain customers, and get the highest value for your investments.
You can cut down on costs on other less important expenses like expensive wall art, vases, and centrepieces can be replaced with more budget-friendly options. The best rule of thumb is to spend as generously as you can afford to.
---
Hair Salon Design Tips #3
Waiting and Reception Area
This hair salon design tips is an often ignored aspect of designing a hair salon. You may not be using this space to offer services, but it is the first and last point of contact for a client. The reception and waiting area is where they will make their first impression, and leave with lasting ones on their way out. A comfortable, welcoming, and impressive waiting and reception area can greatly help in making repeat clients that'd bring in referrals from friends and family. Following are some pro-tips to make your reception area set the right tone for the rest of a customer's experience: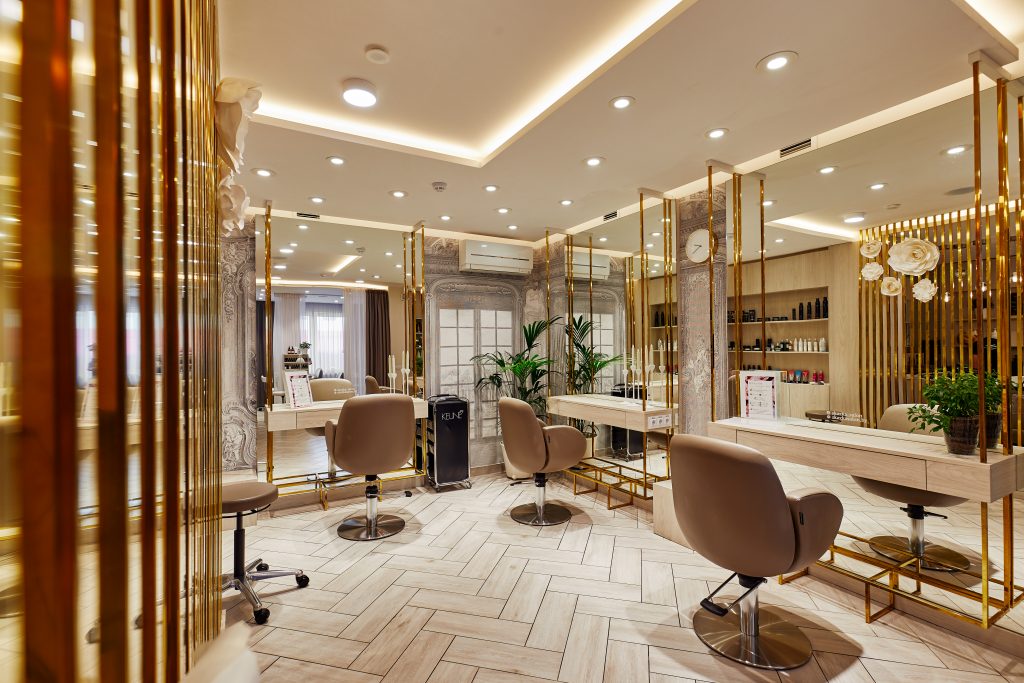 Have the reception and waiting area close to the entrance so as to avoid any confusion or the clients coming in the way of the work area.
Make sure it reflects your hair salon's vision and mission by incorporating similar themes and messaging.
Have your retail section around the reception desk for accessibility.
Use fragrances, décor, and amenities to win the client over even before they get a chance to try out your services. You can install charging docks or set up a coffee station in the waiting area to make their waiting time more comfortable and productive. Setting up a little workstation for a busy client will also help bring in more business from people avoiding salon trips for lack of time.
---
Hair Salon Design Tips #4
Make it Functional
The best way to make every inch of your space functional is through smart design and layout. Your hair salon needs to have an easy foot flow for the customers as well as team members. Having the drying station too close to the shampoo sink may not be the best option, or having chairs too close to each other will make it difficult for a stylist to do their work uninterruptedly. Following are some general rules of thumb to help make the space as functional as possible.
Chair to Sink Ratio: You should have at least one shampoo sink for every three cutting stations. This ratio helps maintain a healthy workflow for the team as well as customers.
Ventilation: There are a lot of products used around hair salons, some of which can be quite toxic. Scents, while are great for covering the toxic smells, aren't enough to eradicate the harmful fumes altogether. For this reason, it is important that the hair salon is well-ventilated to ensure the safety of your team members. Some great ways to keep the salon well-ventilated are by installing and maintaining a sound HVAC system, having room air cleaners around the facility, and source capture ventilation system for spaces using toxic products.
Storage Solutions: Make sure every product is easily available. You can be losing a lot of precious time if the salon isn't well-organized. Use shelving, under-table drawers, and storage units to keep everything organized and labelled. Make sure you also have some designated areas for your clients to store away their handbags and other personal items during treatments. The same goes for your team members, they should have a space to keep their belongings and meals.
---
Hair Salon Design Tips #5
Light Up the Room
Lighting is essential to set up the right mood and work environment for any business, but when it comes to hair salons, it is of the utmost importance. Hair salons need to maintain an illumination level of 500 lux to be able to comfortably see the right colours of treatments they are doing. Any less than this and the client and the stylist would have to strain their eyes to adjust their vision. The best way to achieve this illumination level is to use as much natural light as possible during the day hours.
Where lighting is needed, opt for LED lights of 3000K for a more natural looking light.
Apart from work lights, you'd also need accent lights around waiting for areas and reception to make space feel more comfortable and inviting.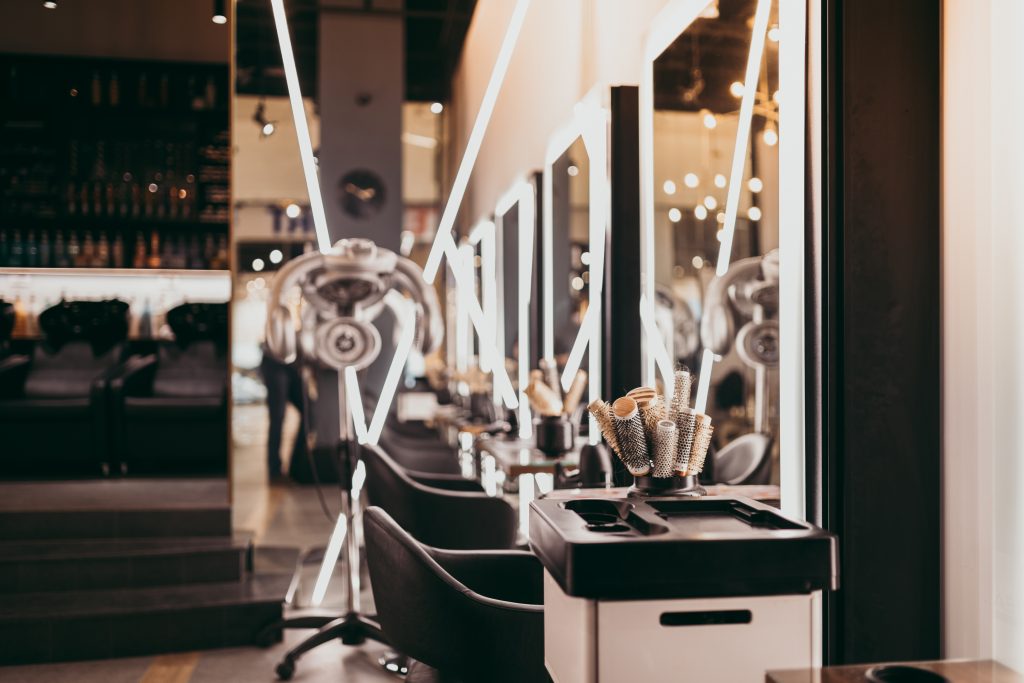 ---
Hair Salon Design Tips #6
Choosing the Right Flooring
Make sure you invest in good flooring solutions that are both practical and durable. Your floors need to be cleaned through the day, and may also be subject to some harsh chemicals every now and then due to spillages or heavy cleaning. For this reason, opt for floorings that can withstand all those harsh usages without losing their sheen or texture.
Vinyl floorings are a great option as they are stain-resistant, easy to clean, and highly durable. However, make sure you get the floors insulated so as to minimize sounds and provide a relaxing environment. You also want to consider under-floor services like power outlets and plumbing when installing the floors. You don't want to have to rip the entire floor open in order to fix a small glitch.
Hair Salon Design Tips #7
Water Outlets Solutions
Vinyl floorings are a great option as they are stain-resistant, easy to clean, and highly durable. However, make sure you get the floors insulated so as to minimize sounds and provide a relaxing environment. You also want to consider under-floor services like power outlets and plumbing when installing the floors. You don't want to have to rip the entire floor open in order to fix a small glitch.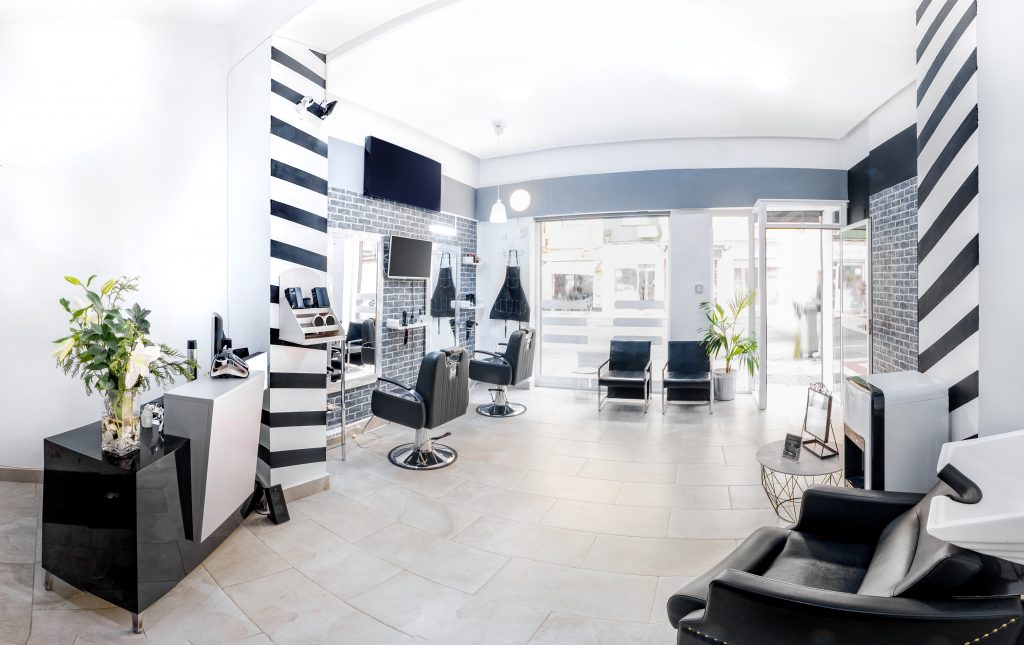 Hair Salon Design Tips #8
The Overall Experience
Simply by better understanding their expectations and needs, you can create an environment that will make them keep coming back for that experience. Following are some great tips and tactics to offer an overall experience that'd be worth every penny they put in your pocket.
An overall experience should indulge all of the clients' senses including their sense of smell, hearing, touch and sight. Use scented candles, soothing music, natural or faux plants, and calming wall art to create the perfect ambience of tranquillity and comfort.
Make their privacy a top priority. If you have windows facing a busy street then make use of screens to offer privacy. The waiting area between treatments should also offer privacy and perhaps a workspace for them to make their time more productive.
Offer snacks or coffee, or other refreshments to make them feel welcomed.
Hair Salon Design Tips #9
Buying Salon Furniture
Don't go buying furniture without a clear list of what you need. What services would you be offering and what all do you need to buy? Without a specific list and budget, one can easily get too caught up and splurge on the non-essential items. Make sure you also have your brand's logo and colour schemes with you at all times. You want the furniture to merge with the overall look that you are aiming for. Mixing leather chairs with an overall Victorian vibe can look out of place.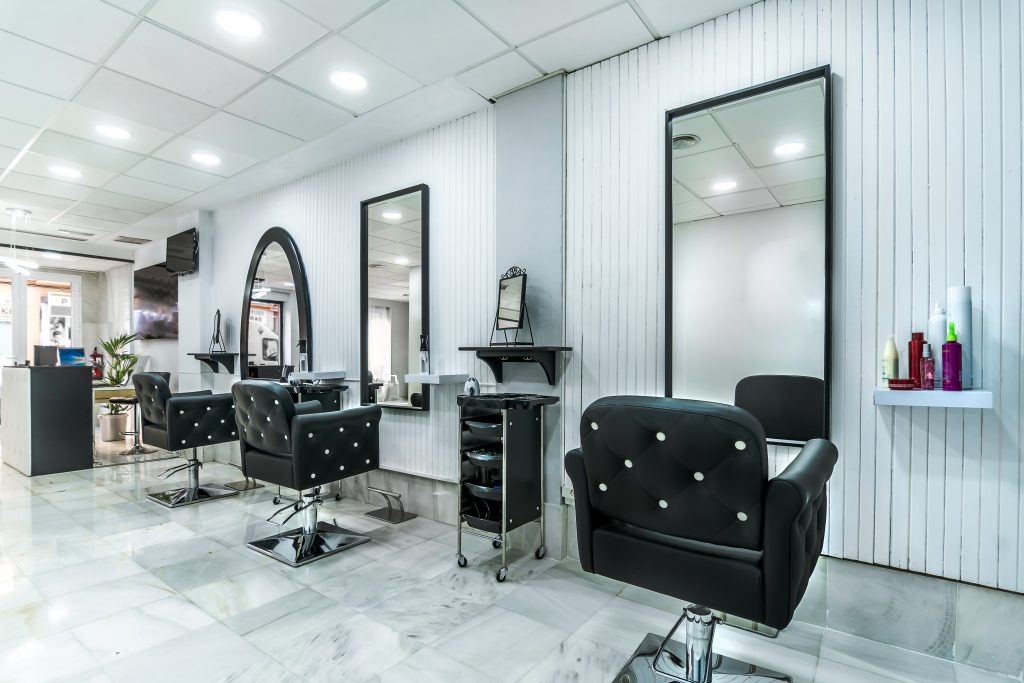 Ideally, keep some printouts of reference furniture that you like with you when going shopping. Sit in the salon chairs and the washing chairs to see how they feel and get quotes from a number of places before making the purchases. The research and time you invest initially when buying salon furniture will eventually pay off in the long run.
Hair Salon Design Tips #10
Be Mindful of Health and Safety Measures
Check your local and national safety regulations to ensure none of them is compromised on. Please visit the 'Hairdressing and barbers' section of Safe Work Australia to find out more about these regulations and how you can incorporate them into your hair salon design.
Hair Salon Design Tips #11
Select the Right Colour Schemes for Your Brand
Your décor should reflect your business's vision and mission statement. Select and stick the colour scheme all around the space. If you are branding your business as sustainable or don't plan on using harsh chemicals in your hair care products then make sure you use the same vision all through space too. You want the space to be a reflection of everything that your business believes in and plans to deliver.
Hair Salon Design Tips #12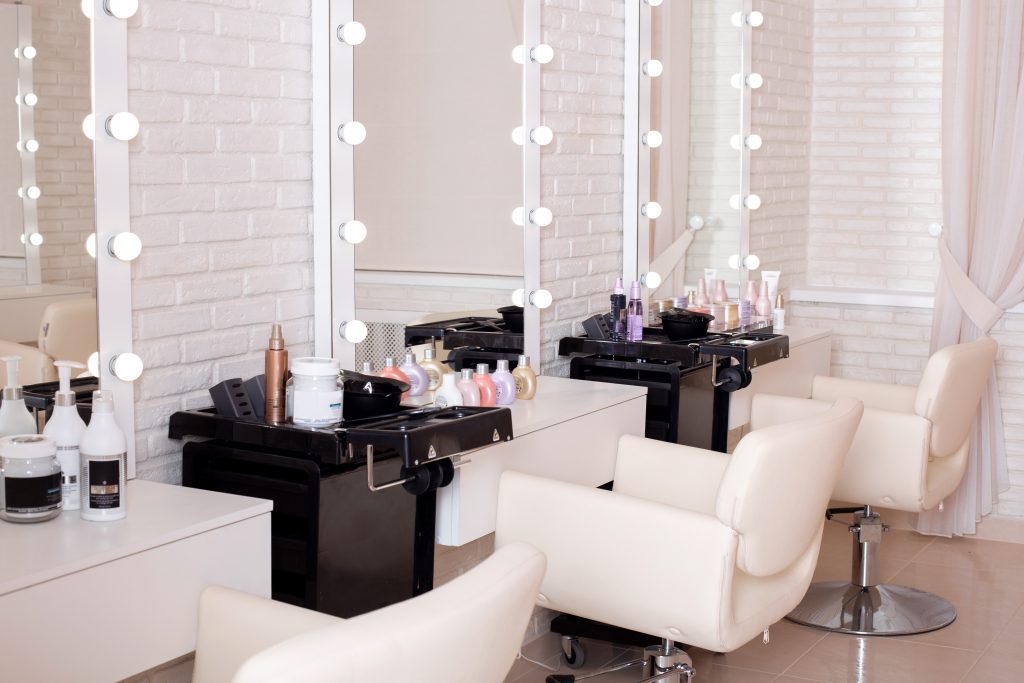 How To Use Mirrors
Mirrors are a great way to give the illusion of more space, and what better place to install lots of them than a hair salon, right? Use mirrors strategically to not just allow stylists and clients to follow the process, but also to reflect the amazing décor and lighting across the space.
Apart from design, another choice you might have to make when it comes to selecting the right mirrors is to select between grey or standard silver mirrors. Though both offer similar functionality, grey mirrors tend to be more en vogue due to their mildly tinted appearance that gives them a more professional look.
Hair Salon Design Tips #13
Utilise Your Space
Another great way to give the illusion of more space is to separate each section with clever use of lighting, different flooring, and décor items. Doing so helps compartmentalize the space visually without having to use barriers or walls that can make the place look cramped.
Hair Salon Design Tips #14
Make Sure Your Team Member's Comfort and Needs Are Met
Don't overlook the needs of your team members when designing a space.
Do they have enough space to do their job properly?
Do they have space to rest between jobs?
Do they have enough privacy and access to snacks and drinks?
How can you utilize the space to make your team members more productive and happy? Fact of the matter is, your employees are your greatest assets, and the payroll your most significant operating budget. By heeding to their needs and comfort, you can help retain good employees with greater productivity.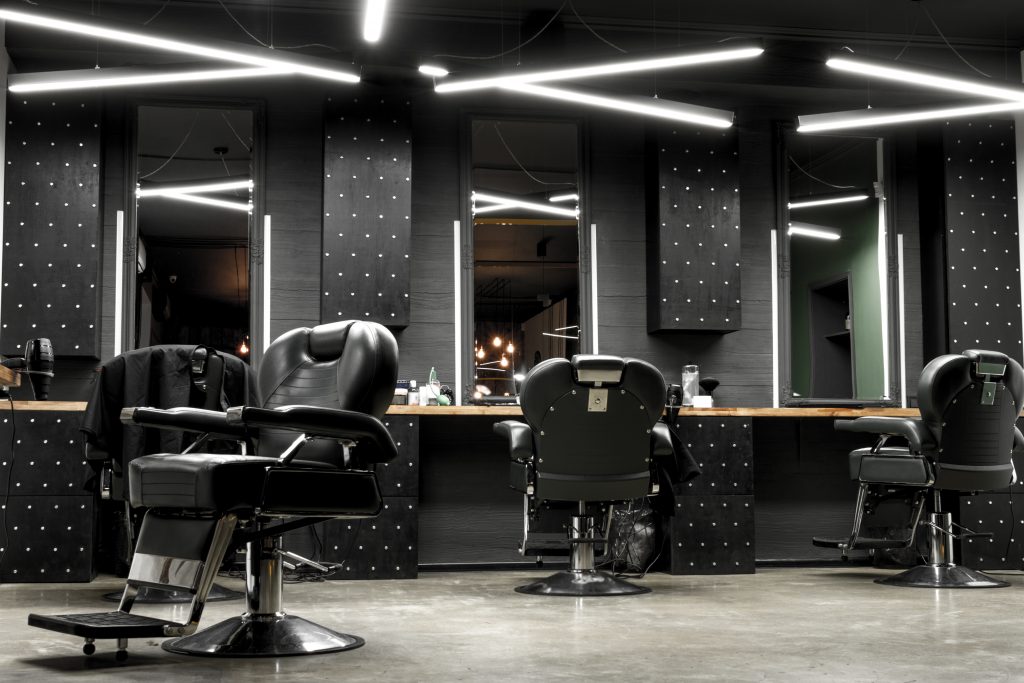 Hair Salon Design Tips #15
Know Your Customers and Customize the Experience Accordingly
Who are your target customers? What is your ultimate avatar? Are you aiming to offer the most affordable services or 'the best that money can buy?' You cannot be offering a compromised experience for a premium price and neither can you afford to splurge on additional bells and whistles for an affordable service. You'd need to be mindful of the money you spend on hair salon design and budget according to the value you plan on bringing for your clients.
Hair Salon Design Tips #16
Monetize Space for Retail Opportunities
We've already discussed this one, but it is an important pointer to reiterate. Make sure every inch of your hair salon design is curated around getting the best value for that space. You can use display stands or shelves to sell products related to your services. For instance, post-care shampoos, conditioners, and colour retaining products are a great way to bring in value. Make sure these are accessible and displayed in well-lit spaces for your customers to shop through.
Hair Salon Design Tips #17
Design a Backdrop for Photographs
A good business understands the evolving trends and practices and adapts to them accordingly, and in the current time, a hair treatment is as good as it is raved about on social media platforms by you and your clients. Give your clients a backdrop worthy of those pictures and they'd speak a thousand words in terms of marketing and referrals. It doesn't have to take up a lot of space, or money investment, but make sure it reflects your brand and highlights your business's name very clearly.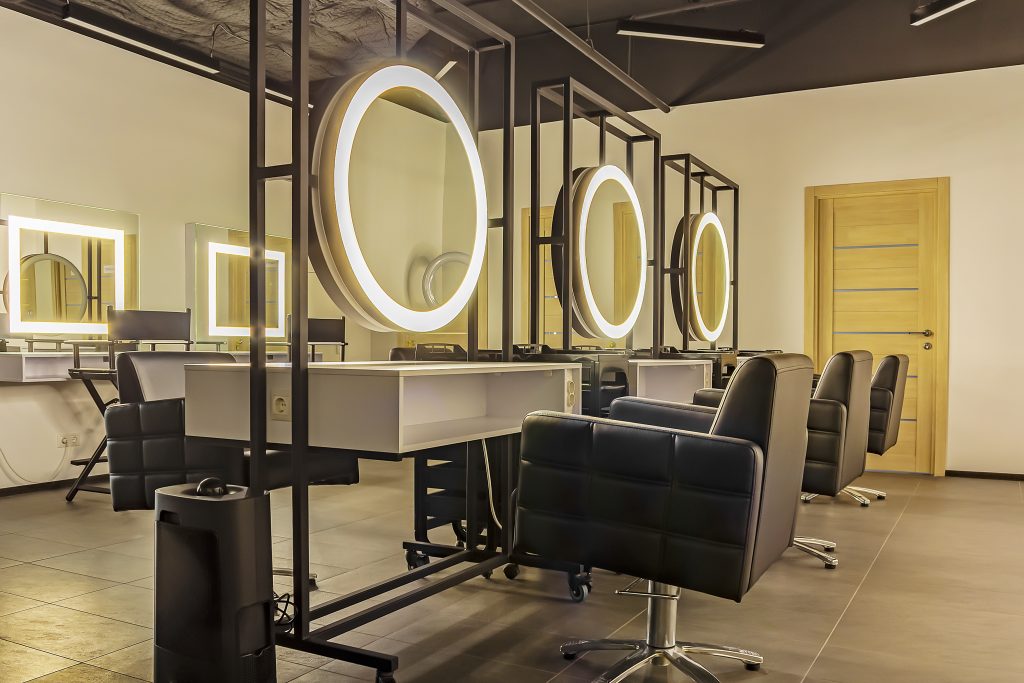 Hair Salon Design Tips #18
Make Eye-Catching Space for All Your Products
Plan on using the finest products to reflect your business's finest practices? Make sure your clients know about it. We live in a world with an information overload and clients want more of it. They want to know the products that are being used on their precious manes. Don't wait for them to ask but rather display them proudly on well-lit shelves and beautiful display units.
Hair Salon Design Tips #19
Add Those Greens!
Plants can immediately lift up the look and feel of a space. Opt for natural plants that don't require a lot of maintenance or simply use faux plants if you aren't up for the commitment. You can use small pots around the reception area and dressers. You can also use large pots in the waiting area, the bathroom, or any other corner that looks a little dull or empty. If you don't have enough space for large pots, you can also add greens by installing nature wall art, or use a green wall as a backdrop for those photos!
Designing a hair salon is no easy business, it requires careful planning and a lot of effort at every step of the way. The above-mentioned tips offer a complete guide to help you with every aspect of your hair salon design planning, but it is always better to let those who have the experience and the knowledge make execute those plans for you!
Since designing and decorating a hair salon space needs a certain amount of additional planning work and creative thinking, hiring an experienced fitout professional would certainly make things easier and quicker. Call Us On: 1300 LETS BUILD or send us an email on: [email protected]
---
If you enjoyed reading this blog, you may also be interested in: