More and more dental practices are opening doors to cater to unique and advanced services. Running a successful practice is no longer just about the experience a patient has while on the chair, but from the moment they walk in the door. Needless to say, your dental clinic design needs more attention than ever before.
From your waiting area to your chairs and the amenities and incentives that are offered, patients factor in everything when selecting a dentist. Following these dental clinic design tips can help you transform and scale your business to new heights.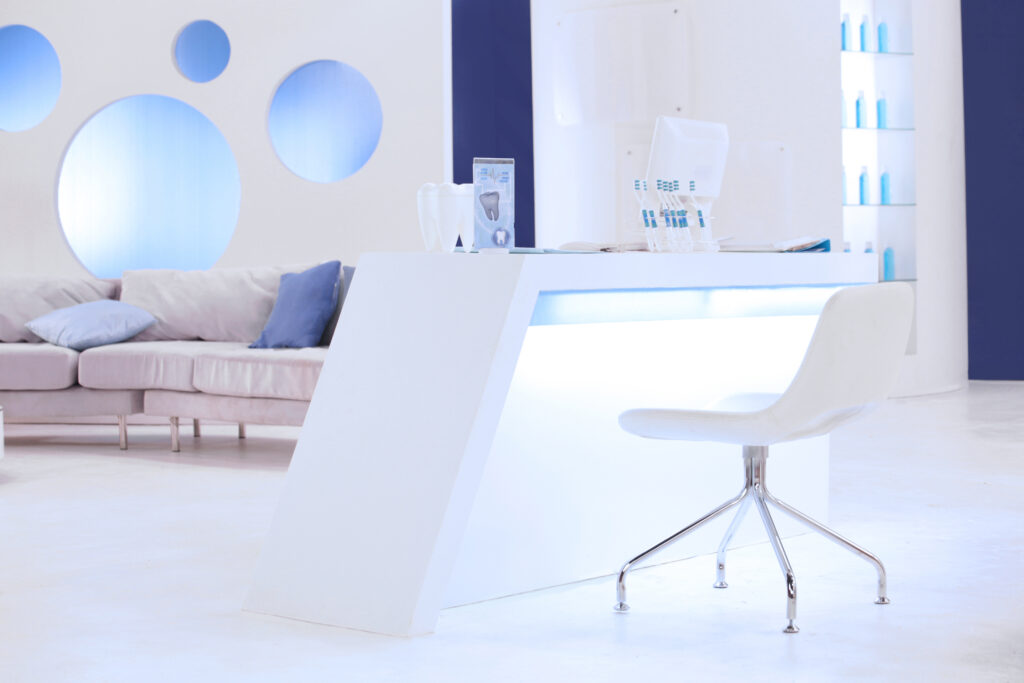 ---
Dental Clinic Design Tips #1
Let Nature Bring the Light
Natural light not helps with day time savings, but its warmth and glow are unmatched by any other source of light. Try opting for larger windows, glass doors, and lighter window treatments so as to let natural light pass through. If natural light is not an option, you could always opt for clever design ideas to give the illusion of natural light. For instance, installing lightboxes and ceiling lights can be great substitutes for natural light to make the space bright and airy.
---
Dental Clinic Design Tips #2
Add Some Greens to Bring the Calm
It doesn't matter what your design aesthetics and styling preferences are, plants and floral arrangements can elevate the look of any room. They help add colour, texture, and calmness to any space. They help make the space look warm and cosy, making patients and visitors feel more welcomed.
If you aren't a big fan of real plants, or just don't have the time or resources to look after them, you can always opt for other ways to bring in the greens in the space in the form of fake plants and/or flowers, or even wall art with natural sceneries.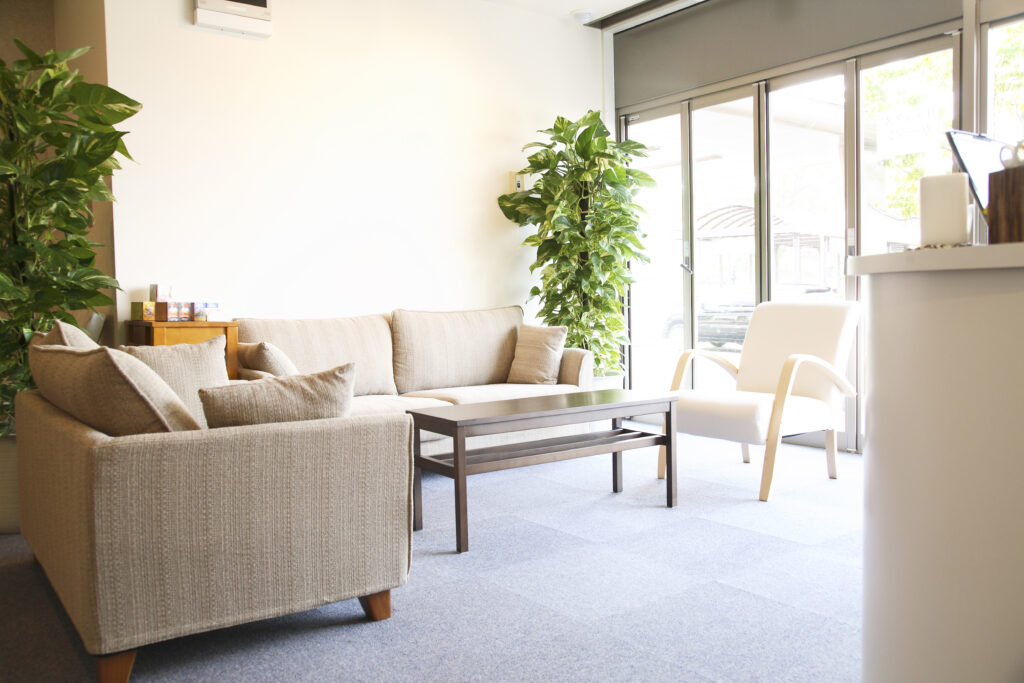 ---
Dental Clinic Design Tips #3
Let Your Brand Reflect in Your Interiors
We live in times when attention spans are shortest than they have ever been and options so many that remembering a business boils down to not just the service you offer but the effort you make in your presence. Branding is an essential and often ignored component of dental clinics. It can help you stand out and get remembered, and it shouldn't just be limited to your social media presence. Your dental clinic interior design should be a reflection of who you are.
Try using the same colour schemes and elements highlighted in your branding strategies. Doing so would help reinforce your vision and ideologies. For instance, if you've branded your business as environmentally friendly, then using plastic cups and spoons at the coffee station wouldn't be a great idea. Similarly, if you have branded yourself as a premium service provider, then you'd want to make sure that your reception area, your waiting area, and the incentives you offer all contribute to that boutique experience.
---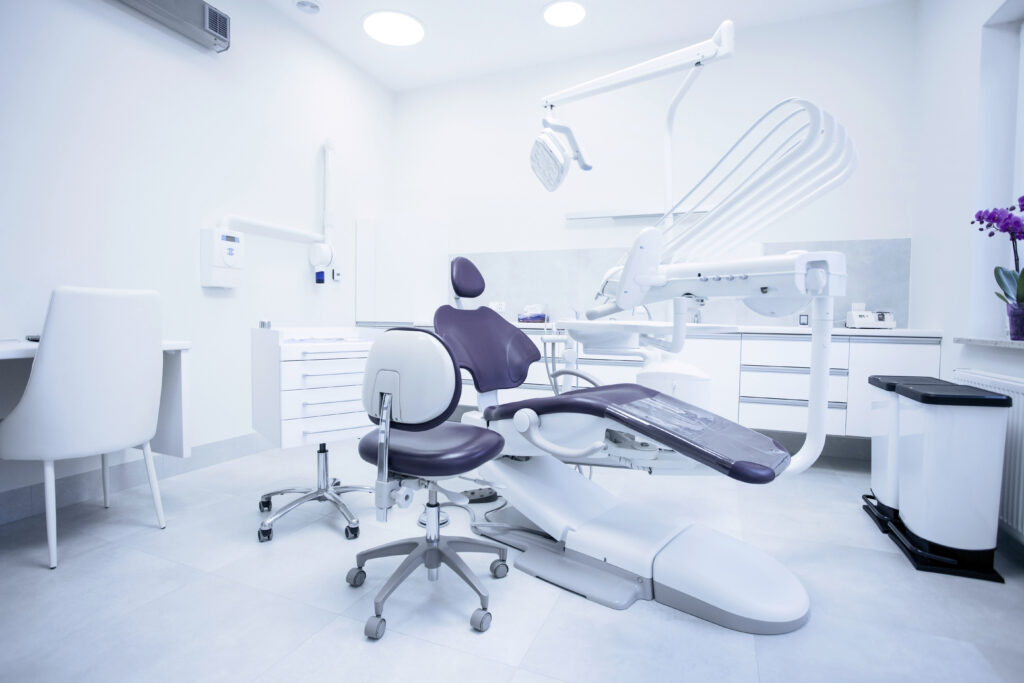 Dental Clinic Design Tips #4
Let it become functional
Your interior styling should be fully functional. Make the best use of space by offering special amenities like charging docs, play areas, coffee machines etc. to help make the patients feel at ease and well taken care of. A patient is likely to walk in the door feeling nervous, and in some kind of discomfort, in most cases. Having functional, and accommodating interiors can make them feel well-taken care of.
They would also help you stand out amongst your competition. Go out of your way to think of ways your dental clinic interiors can cater to their needs. For instance, if your target patients are young professionals, then having a little workspace dedicated to them, where they can set up and charge their laptop can help bring great value to their waiting time.
Another great way to elevate your dental clinic interior designs is to invest in technology. For instance, you could use digital kiosks to streamline the check-in process of patients or gather important information. It can also help the patient provide information that they may be uncomfortable speaking with the staff directly. A good design always focuses on comfort and functionality before anything else.
---
Dental Clinic Design Tips #5
Let them Wait in Style and Comfort
A lot of focus is now put on the waiting areas. This is valuable time that a patient spends in your clinic. A good waiting experience can help shape their overall experience. It is also a great space to reinforce your brand's values and offerings. Design the waiting area smartly to enhance their overall experience. They should feel that they and their time is valued.
Don't just opt for the regular television and some magazines for entertainment. They already likely have their phones to offer all the reading and entertainment they require! Instead, focus on adding value. For instance, providing charging docks, some snacks, comfortable seating, or engaging and beautiful artwork around the space can help make the space feel more welcoming and cosy. Cater to all types of patients. The seating arrangements should be such that they offer a mix of clustered seating, for families, and little private nooks for someone not looking for small talks.
The waiting area is also a great place to highlight your services and offerings. If you are running any deals, incentives for repeat patients, or discounts on referrals, this may be the perfect space to talk about them. You can use wall art, pamphlets on the table or even media clippings on the television to remind your patients of all the value they can expect from you.
---
Dental Clinic Design Tips #6
Bring in the Boutique Experience
You know what they say that people may not remember what you said to them, but they'd always remember how you made them feel. Same is for the customer experience, a term that has become synonymous to a business's success. And your interiors can greatly contribute to it. A patient should feel that no stones have been left unturned to cater to them. And it doesn't always has to cost a fortune! Smart investments in the right pieces can help make your space look and feel luxurious and grand.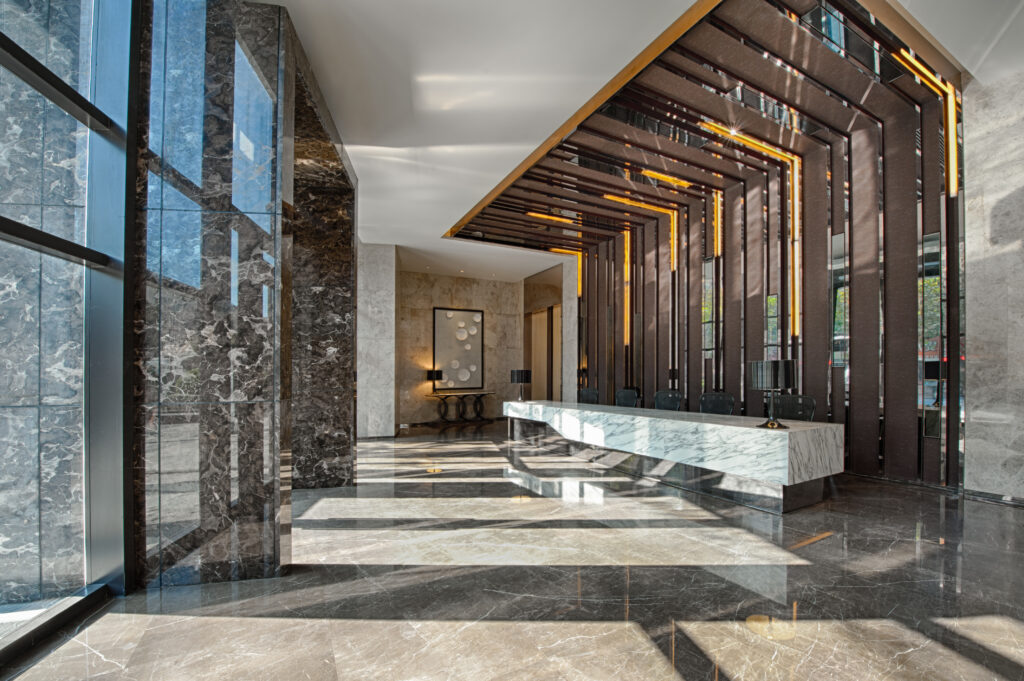 You can use custom seating, light fixtures, and interesting art pieces to add depth and style to your dental clinic. You can use themes, or install custom art pieces for that boutique experience. Even small touches like scented candles, light music, and plush materials for seating can all contribute to that luxurious experience previously limited to the hospitality industry.
Dental Clinic Design Tips #7
Don't Forget About the Kids!
Whether or not you focus on dental services for kids, having a designated space for kids' entertainment will put you instantly ahead of the competition. Many of your patients are likely to bring their kids along, and in many cases, they'd make their dental clinic selections just like they make their dining out decisions- look for a place that entertains the kids.
The good thing is, the kids aren't hard to please. All they need is some space to let them be kids, and a few props to keep their hands and their heads occupied.
Even if you don't have the space for a designated play area, you could always use the vertical space on the walls to install engaging activities or splatter some games around the tables. Another great way to add value for children is to offer pamphlets, activity sheets, or charts to help kids understand the importance of oral health. For instance, you can offer printed brushing charts that the kids can take home with them.
If you cater to kids, then installing a television on the ceiling above the surgical chair can help them remain distracted and calm during the checkup.
Dental Clinic Design Tips #8
Ergonomics Can Help You Stay Ahead
Try sitting in an uncomfortable chair for a few minutes and there's a fair chance you'd remember the experience for a long time to come. Pay attention to not just your surgical chairs but also the seating in your waiting areas. The patients will definitely take home a comfortable experience and rave about it with your prospective patients if their comfort was well taken care of.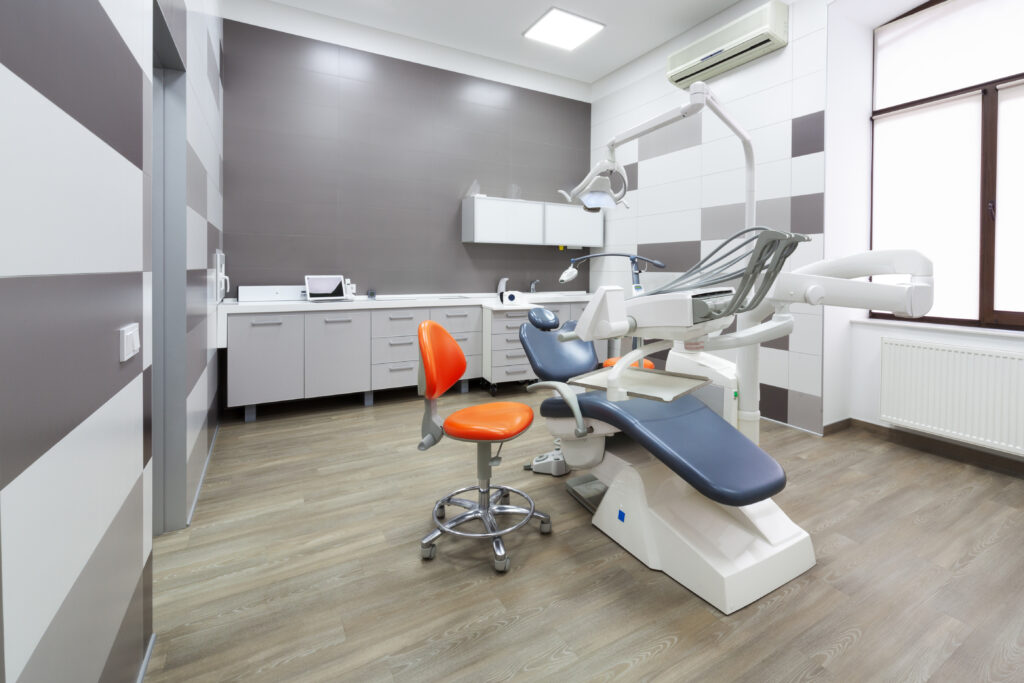 Dental Clinic Design Tips #9
Cater To Your Staff
Your interior spaces should not only lookout for the comfort of your patients but also your staff members. Do they have comfortable seating? Easy access to the coffee machine and some privacy if they need it? Happy staff members result in happier patients. When planning your dental clinic interior design, make sure you keep your staff members comfort a top priority.
There you have it! All the dental clinic interior design tips you could need to make a stylish and comfortable space. Dentist clinics have a bad name for not being anyone's favourite places to go to. Sure, it has more to do with getting dental treatments, than space, but providing a welcoming space can greatly help in making them feel comfortable and relaxed.
Make sure your dental clinic is a reflection of who you are and the level of service you strive to bring to your patients. Which of the above-mentioned Dental Clinic Design tips do you think can help your dental clinic stand out? Which of these can you not wait to integrate into your dental clinic interior design? Can't wait to hear from you
Since designing and decorating a dental space needs a certain amount of additional planning work and creative thinking, hiring an experienced fitout professional would certainly make things easier and quicker. Call Us On: 1300 LETS BUILD or send us an email on: [email protected]
---
You Might Also like:
If you enjoyed reading "Dental Clinic Design Tips", you may also be interested in: