Everywhere in the world, modern offices have fallen in love with the concept of breakout areas! In fact benefits of an office breakout area are so desirable that people are getting them installed irrespective of whether they have a big office space or a tiny one. What exactly is a breakout area and what are these 'amazing benefits' people keep talking about? Read on to know everything.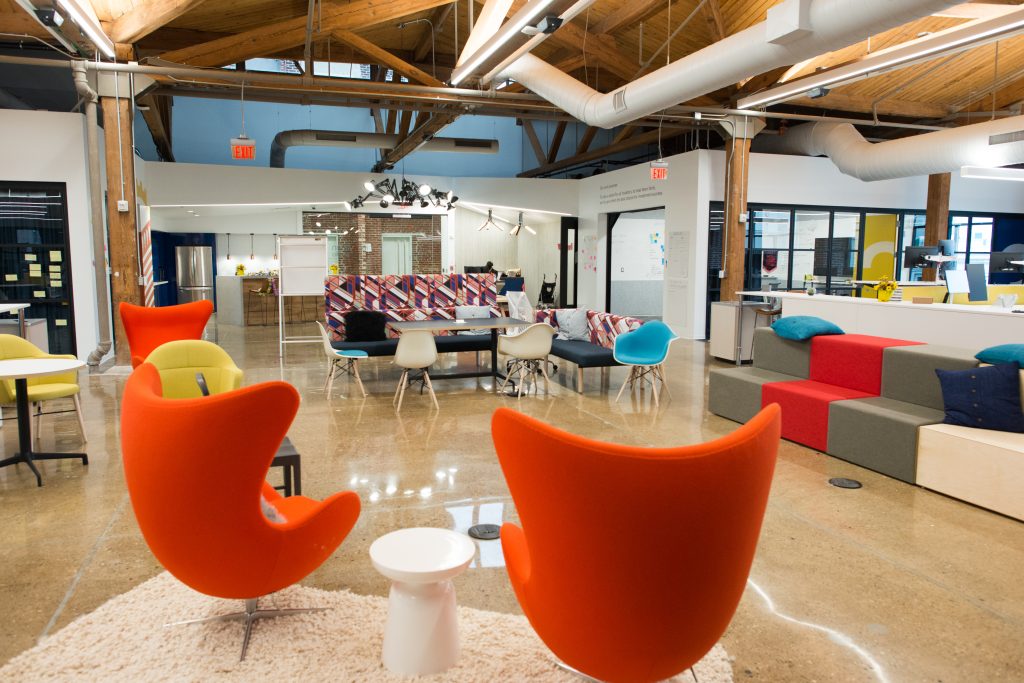 What is an Office Breakout Area?
In simple terms, a breakout area can be defined as a space, which doesn't serve any specific purpose. You can create a breakout area by simply putting together a couple of chairs and a table against a wall or you can create an opulent experiential space where your employees can relax and have an amazing time. Since these areas are pretty unstructured in nature, they can be easily modified depending on the task at hand.
How It Can Be Used and Its Benefits
A breakout space in an office environment can be used as a quick fix for an immediate requirement. It can be used for a brief informal meeting with a prospective client or as a space for your employees to catch up with each other. You can turn the breakout area into a creative hub when required or use it as a space for carrying out small celebrations like birthday parties or promotions. Office canteens or coffee areas can also be converted into breakout areas very easily.
Now, let's discuss some of the key benefits of an office breakout area –
Benefits of an Office Breakout Area #1
Increase in the Productivity Levels
That's one of the main and also the most desirable benefits of an office breakout area. The quality of work in your office directly depends on the quality of the environment you create for your employees to work in. When your employees feel happy and comfortable working in your office space, they naturally work with more involvement and a more creative mindset.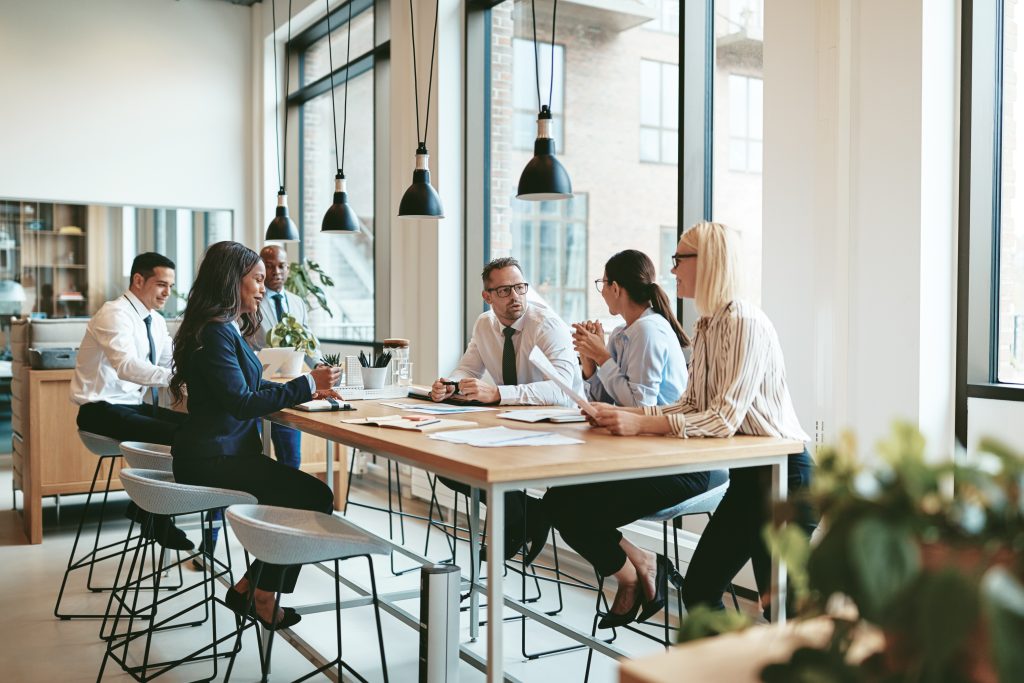 ---
Benefits of an Office Breakout Area #2
Physical and Mental Wellbeing
A breakout area allows your employees to move around quite a bit instead of just sitting in one place throughout the day. They can use this space to take a break in order to recharge their batteries. Moving around like this tends to reduce mental blockages while enhancing their concentration levels, and reducing the risk of developing ailments like diabetes and heart diseases.
---
Benefits of an Office Breakout Area #3
Make the Right Impression
In our list of some of the key benefits of an office breakout area, this one is actually pretty important. Your office space is representative of your work culture and ethics. If you have a well-designed and well-maintained breakout area in your office, it shows that you care about the mental and physical wellbeing of your employees. This creates a positive impression in the minds of your existing or potential clients and it'll also help you attract and retain the best talents.
---
Benefits of an Office Breakout Area #4
A Dedicated Space for Collaborations and Interactions
One of the main benefits of an office breakout area is that it gives your employees a dedicated space they can use for collaborations and interactions. This means they would no longer be confined to their desks and this helps them nurture better and more productive workspace relationships.
---
Benefits of an Office Breakout Area #5
An Unstructured Space for Flexible Usage
A breakout area can be used for discussing or completing tasks for which no specific workspace has been assigned. So, it acts like an additional, super flexible workspace, which can be used by your employees or even your clients if the need arises.
Sitting at a traditional desk for an extended period of time can become tiring and boring, day in and day out. So giving your employees the chance to move around and work in different environments will naturally stimulate their brains and allow them to work more productively
---
Things to Keep in Mind Before Creating a Breakout Area
Now that you are familiar with some of the main benefits of an office breakout area, we're sure you are all set to give your workplace a makeover by creating an appropriate breakout area. Before you do that, we have a few very important tips and tricks for you.
Choose an Appropriate Space
Breakout areas can be of several different kinds and they can be created for all types of spaces that come in varied shapes and sizes. So, the first step is to decide what kind of breakout space you'd want to create. This decision is largely based on the nature of your work and the kind of goals you want to achieve in your office environment.
You need to determine whether you want a quiet space for relaxation and rejuvenation purposes or a lively space, which will be used for collaborations and interactions. What type of breakout area would work for your office also depends on the amount of space you have and its arrangement in the layout.
---
Get the Right Kind of Furniture
The breakout area will be used by your employees mainly for taking a couple of short breaks during the day in order to relax and take their minds off work for some time. And in order to facilitate that, you'd need to pick the right kind of furniture for this setup. Go for comfortable sofas or bean bag chairs. Pod seating is also a good option. Understand the needs of your staff members and accordingly make this decision.
---
Lighting and Colours
Lighting and colours play a very important role in the process of designing the interiors of a space, and designing a breakout area is no exception. Colours can affect the state of mind a person is in. So, by using the right combination of colours, textures, and patterns, an interior designer can create spaces that are to be used for very specific purposes.
For instance, lighter shades of blue can create a pretty relaxed atmosphere while reds and bright yellows make you feel active and alert. What kind of lighting you use also makes a huge difference. Ample natural sunlight is always the best option but if that's not possible, go for lights that have a calming effect.
---
Focus on Flexibility and Movement
Unstructured spaces like breakout areas should be designed in such a way that they offer maximum flexibility and movement. So, it's crucial to keep things simple and at the same time, easily transformable. Consider installing a bench or you can get easily movable furniture like portable partitions, multifunctional cabinets, and foldable chairs.
To promote movement, you can consider ideas like installing table tennis or ping-pong tables, pool tables, or maybe even getting a full-fledged office gym. These kinds of breakout areas can really make a difference when it comes to promoting the culture of physical and mental wellbeing at the workplace.
---
Different Ways to Create an Office Breakout Area
There are so many design options to consider while building a breakout area. Once you've made up your mind on what kind of breakout area would work for your office, go through all the designs you can work with and then make a call. It's advisable to include your employees in this process as well. Here are some ideas to consider –
Breakout Area Cubicles
This is a great idea, especially for a startup company. In start-ups, people tend to work in small groups and multiple collaborations keep happening all the time. Smaller cubicles that can easily accommodate 5-6 people would be a perfect choice. Just make sure these cubicles are equipped with the necessary technological tools like charging points, wifi accessibility, etc.
---
Multi-level Modules
This one is the most exciting option if you have the necessary budget and resources. A multi-level module is a complex where multiple themes are installed under a single roof. Your employees (or clients) can access these spaces according to their personal preferences or work-related requirements. An example of this could be the AirBnB's office in London, where there's a multi-themed breakout space with areas like a library and a market square.
---
Homely Rooms
Some modern offices have opted for 'family rooms' kind of spaces as their breakout areas. These rooms have interiors, furniture, furnishings, and just about everything else similar to that of a traditional home of that culture. A design like this makes your employees feel right at home, allowing them to be truly at ease. This kind of breakout area is a very good option for you if the nature of your business is somewhat artistic. For example, if you have a fashion designing firm or a photography studio, go for this type of theme.
---
Breezy Open Spaces
What could a better place to feel relaxed and revived than an open space with lots of greenery and an open sky! If you can manage to create a breakout area in an open breezy space like on the terrace or a good-sized balcony, just go for it. A space like this can truly break the monotony of being indoors for hours on end, working on projects, feeling stressed out. For this kind of breakout area, install comfortable furniture and add a lot of natural elements like potted plants, grass carpets, and decor made of natural materials like bamboo, jute, and hemp.
---
Conclusion
Creating a well-designed breakout area is always a fabulous idea. This type of space won't only allow your employees to give their 100 per cent, but also, makes your office look so much more aesthetically appealing. On top of that, these areas are needed to help you comply with laws that govern health and safety.
The list of benefits of an office breakout area can go on and on and you should definitely consider getting one for your workplace. However, it's important to plan these things thoroughly and well in advance. It's highly recommended to consult an experienced fitout specialist for a project like this.
---
Book a Consultation at ImpeccaBuild
Since designing and decorating a breakout space needs a certain amount of additional planning work and creative thinking, hiring an experienced fitout professional would certainly make things easier and quicker. Call Us On: 1300 LETS BUILD or send us an email at: [email protected]
---
You Might Also like:
If you enjoyed reading "5 Key Benefits of an Office Breakout Area and How to Create One", you may also be interested in: