In Australia, nightclubs and bar businesses are apart of a whopping 17.9 billion dollars industry. COVID-19, of course, hindered revenues this year, but as restrictions continue to ease across the country, resto-bars and nightclubs are already on their way to make a grand comeback.
So, if you are planning to open a new bar or perhaps redesigning your current one, follow our commercial bar design tips and tricks to attract more customers and increase your sales.
---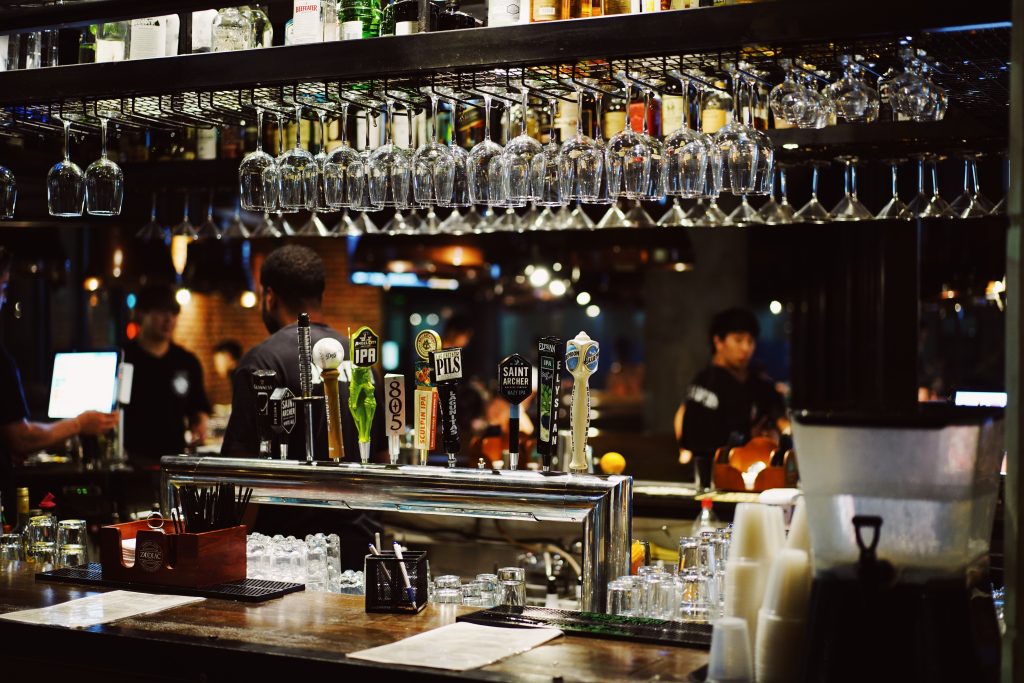 Designing a commercial bar can be a time consuming and overwhelming process, there are a lot of choices to make, and it can be a little daunting to narrow down your options.
So, it becomes crucial to plan every aspect of the process to get everything well-organized right from the beginning. 
To help you come up with a design that's not only stunning but if highly functional as well, we've put together 8 most relevant commercial bar design tips for you to keep in mind.
---
Commercial Bar Design Tips
#2
Who's My Target Audience?
to kick off our first commercial bar design tips you need to ask yourself, What kind of bar design would work for you? Well, first, you need to determine who your target audience is. Your target audience is the typical customer you'd like to see in your facility.
Consider the location of your bar, the liquor and food you sever, answering these questions will help determine your target audience. They could be business professionals, tourists, music lovers, parents, society elites or Millenials. 
If your bar is located near an educational institution, obviously it's the students of this institute who are going to be your primary customers. And if it's located near a business plaza, working professionals would become your direct customer base. 
Now, the kind of bar a student would love to go to is unmistakably different from the type of bar a working professional would want to visit with his/her colleagues or clients, right? So, accordingly, you can decide what kind of commercial bar design tips are best suitable for your business.
Once you know what your primary customer base looks like, it becomes pretty easy to figure out how to attract them using your bar design. Based on your audience, you can make decisions like what kind of seating arrangement would work for your bar and what type of lighting setup you need to install.
Survey your neighbourhood, try to determine what it is that the locals would want in a new bar, and who are your main competitors in the area.
---
Commercial Bar Design Tips
#2
What Theme Should I Choose?
One of our principal commercial bar design tips is to work on a theme or a concept before delving into the designing process. Sticking to a single theme helps you get more organised in every aspect of this endeavour.
Now, how to pick a theme? Our suggestion is to finalise a theme, keeping in mind your core target audience, their needs and expectations, availability of space, and the budget in hand. Depending upon what kind of bar design you have in mind (resto-bar, pub, sports bar, poolside bar, open-air or garden bar, etc.) choose an appropriate theme.
For instance, if your location has a beachfront, go for an open-air, tropical paradise-style, outdoor bar theme with a relaxed and casual atmosphere and lots of options of interesting cocktails in your menu.
If you are planning to open a lounge kind of setting, keep things more formal and organised with tasteful music, low, warm lights, and an overall air of elegance, as your core theme.
As a rule of thumb, a packed bar creates a more casual and lively ambience and an emptier bar looks and feels more formal and sophisticated.
With this in mind, you don't have to stick to these traditional themes for your bar design. These days many bar owners are creating their own new and exciting designs, for example, comic books theme, circus theme, themes based on a film or music genre, etc.
So, explore these options before finalising a theme or a concept, or you can come up with a new, crazy idea of your own. Whatever you think will attract your customers and will help you stand out from the rest.
---
Commercial bar design tips
#3
Choosing the Appropriate Bar Top
A bar top or a countertop in a commercial bar setting is the top part of the bar's counter on which the drinks are served to your guests.
In many ways, your bar top is the centrepiece of your design that makes or breaks the entire look of the bar. So, it's essential to choose a stunning looking countertop for your setup. But at the same time, you need to be practical to ensure that your countertop is functional and durable enough to last. 
To help you decide, here's the next tip from our bouquet of some of the best commercial bar design tips.
Do your research! There are many options to choose from when it comes to deciding on the right bar top for your facility. Each material comes with its own set of disadvantages and advantages, so take your time and get it right the first time around.
Glass countertops look absolutely stunning, but they won't last long. So, if your priority is the look of the design, more than anything else, go with a glass top. Similarly, stones and marble tops are also very attractive looking, but since they have no flexibility (like a wooden top), every time a guest or your bartender would slam a glass a little too hard, it'll end up shattering into a million pieces. 
Wooden bar tops are very popular, especially those made from high-quality woods like – Oaks, Mahogany, and Maples. You can also consider getting a brass or copper bar top, but they require continuous maintenance work—other materials to include – Laminates, Corian, and Granite.
---
Commercial bar design tips
 #4
Priorities Cocktail and Drink Station
While writing this blog on commercial bar design tips we felt a strong need to mention the biggest mistake bar owners make while designing their bars – ignoring the importance of sinks.
Bar sinks allow the bartender to reset the cocktail and drinks station in a quick and efficient manner. 
Ideally, your ice bins and sinks should be at the front of the bar so that they are quickly accessible by the bartender. 
If you are not careful about this, your revenue can get a direct hit. How? Well, because it's not just the speed of preparing cocktails that impacts the revenue, but also the ability of your bartender to reset and reorganise between the rounds. Without a dump sink behind the bar, the bartender inevitably would have to spend some extra time to clear everything away.
To help get those drinks out even faster, we recommend installing a small wash sink to clean the glasses at the bar itself. This will save time, sending them back to the kitchen or some other cleaning area. 
Lastly, make sure you purchase your bar appliances and sinks, including ice bins, and wash station ahead of the construction process. Your contractor will need to know the sizing of each item to ensure they allow enough room for installation.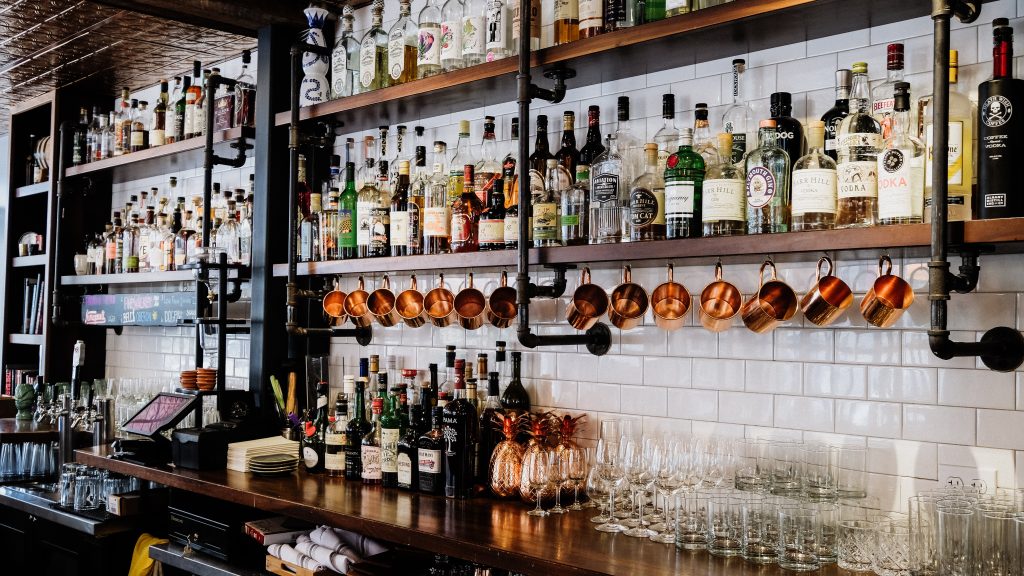 ---
Commercial bar design tips
#5
Where Will the Other Bar Equipment Go?
Furnishing your bar with proper bar tools and equipment should be one of your top priorities. Usually, these are the most commonly used equipment in commercial bar settings – 
Liquor storage

Ice bins

Dump sink and hand sink

Glassware storage

Glass washing station

Refrigeration

Garnishing station

Point of sale station

Cleaning supplies

Speed rail
When it comes to bar equipment, here's one of our top commercial bar design tips.
Design the layout of the actual bar and cocktail station with your employees in mind. There is a lot of equipment you need to organise in a systemised way to ensure your employees can do their job as quickly and effectively as possible without stumbling or bumping into misplaced equipment. 
You want your bar to appear clean, well-organised and effortless as this adds to your customer's experience as well. 
So, it's essential to carry out this task right at the beginning, as you sit down to design the layout of the bar. Otherwise, it becomes challenging to make space for any of these bar equipment later on, if you haven't already decided where they need to go during the designing phase. 
Furthermore, keep in mind the following tips to make sure your bar equipment is well placed and fully-functional:
Ice Bins

 – On average, each glass holds about 8 ice cubes (depending on size and beverage type). So, during the peak hours, you'd need 8 icecubes multiplied by the bar's seating capacity. Accordingly, decide the size of your ice bins.
Glassware Storage

 – Your guests, use approx 2-3 clean glasses per person per hour. And most of the time, bar owners tend to underestimate these numbers. Or they overestimate the capability of their bartender to clean the glasses like a superhero during the busy hours of the business. Don't make that mistake.
Place Noisy Equipment Away from the Customers

 – This is a classic example of choosing convenience over aesthetics. Avoid placing the ice machines and glasswashers under your front bar.
---
Commercial Bar Design Tips
#6
What Liquor Storage Options Do I Have?
One of the most attractive parts of a bar is its liquor storage cabinet or wall display. 
A gorgeous looking, well-placed, well-lit, and well-arranged liquor storage cabinet is the easiest way to display your amazing collection of alcohol in front of your customers.
The liquor display is the real star of your bar and can make or break the overall look and aesthetic. 
So, When designing your bar layout, give special attention to your liquor storage area.
There are so many options to choose from when it comes to liquor storage for a bar design. You can pick cabinets, or you can build shelves or wooden racks.
First, you need to decide how big or small your display is going to be and then accordingly you can decide what kind of storage would work for your bar. Also, keep in mind the core theme of your design while doing so.
Cabinets made with solid hardwood are particularly popular, but they can look dull. Metallic or glass cabinets or wall shelves are also a great option.
Go for specifications like spill-proof material, adjustable shelves, pest-resistant, and additional space for the accessories. Make sure you cross-check all these points from this section of our commercial bar design tips before finalising a liquor cabinet for your bar.
---
Commercial Bar Design Tips
#7
How to Make the Bartender's Life Easier?
Bartenders are the backbone behind your business. They are the ones on the front line, making those transactions and bringing in the income. 
Therefore, its crucial your bar design accommodates for your bartenders in a way that allows them to move quickly and efficiently behind the bar.
Engage Bartenders In Desing Process
It's a good idea to engage bartenders during the design process. Bartenders are your best point of contact when it comes to researching how to design the perfect bar layout. They are the ones who will use this space the most and can tell you what works and what doesn't. 
Confirm Drinks Menu Early On 
Aim to have your drinks and cocktail menu planned before renovations begin. Your menu will determine what equipment, tools, you will need and how much you will need for each.
Another factor that hinders their efficiency is unnecessary movements to access different tools or ingredients while serving drinks. 
This reduces the speed of your bartender and can make him/her feel exhausted. Ideally, more than 80 per cent of what your bartender would need to make some of the most popular drinks should be within his/her arm's reach.  
---
Commercial Bar Design Tips
#8
Should I engage a professional? 
The road from your initial bar design idea, all the way through to your launch opening night can be a challenging one at times. So much goes into designing a bar, and it can very quickly become an overwhelming process.
Therefore, we always recommend engaging with a professional Bar Designer to ensure everything goes to plan. Yes, it may cost you a little extra at the time, but it will save you a lot of time and stress if you were to do it on your own. 
We aren't saying dis-engage from the design process completely. Definitely make suggestions and recommendations because at the end of the day you are the owner and need to be 100% happy with the end product, but, hiring an expert for those tricky tasks will allow you 
 more time to focus on other elements of your business like hiring staff, marketing and advertising and ordering stock levels. 
Furthermore, a bar fit-out expert will be able to help you with the legalities of constructing a bar facility, and ensure that all the regulations set forth by the governing body of your state are met.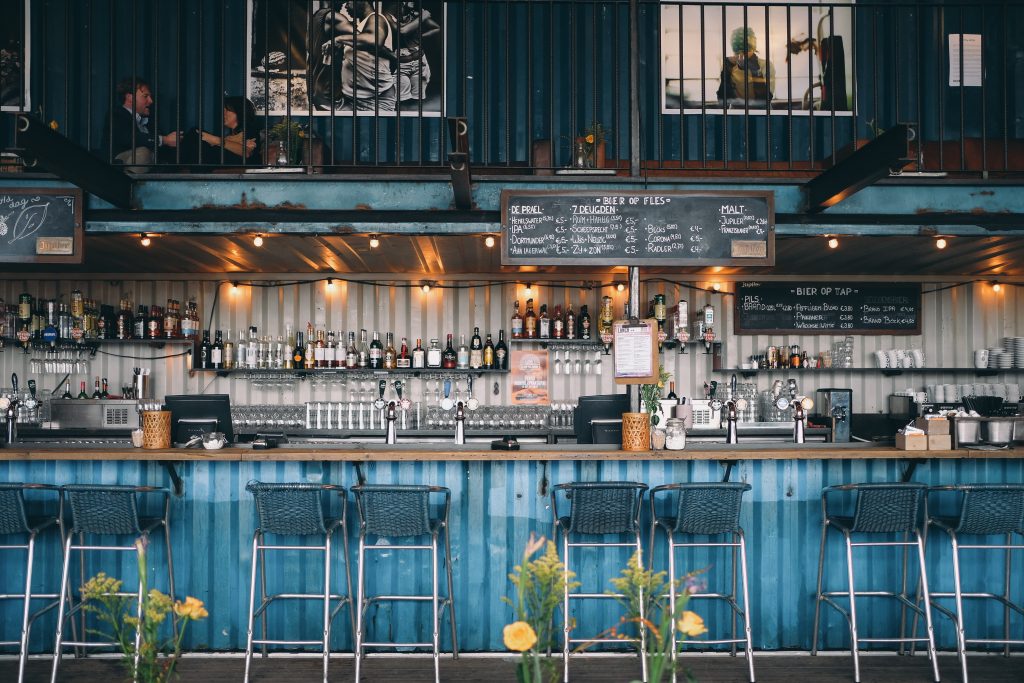 ---
Conclusion
When it comes to designing a bar layout, you have to play with your imagination and creativity. It a competitive industry, and you need to think outside of the box to really set yourself apart. 
But at the end of the day, it all comes down to the users' experience. If your customer isn't enjoying themselves, or have to wait too long for food or drinks, they most likely won't come back a second time. 
To avoid this dilemma, keep your target customer and employees in mind when making each design decision. If you ever feel lost, consult our list of commercial bar design tips, you'll have a stunning, bar business in no time at all!
---
Resources
You may also be interested in: